After a long four-month offseason, the 2023-24 NBA season officially kicks off on October 24. Preseason action is currently underway, with teams evaluating their roster and getting ready for the start of the regular season.
There were a few roster rule changes of note this offseason that were introduced as part of the new CBA. Now, each team can sign up to three two-way players (up from two) who are able to play up to 50 games with their NBA team and spend the rest of their season in the G League. Also, offseason rosters were originally limited to 20 players but have since increased to 21.
Each team needs to be at 15 standard contracts prior to the start of the season, which means a few players on guaranteed deals will have to be cut prior to the season. While some teams have a pretty set roster, others (like the Oklahoma City Thunder) will be forced to part ways with talented players to reach their roster limit.
Looking at the Atlantic Division, let's see how each team's lineup is shaping up and what questions they may need to answer before the start of the season.
(This is part one of a six-part series, with more divisional previews coming soon).
BOSTON CELTICS
Outside of the top-six players, who will be the most reliable depth option?
After acquiring Jrue Holiday, the Boston Celtics may have the best top-six of any team in the league. While we can add the Holiday trade to their list of aggressive offseason transactions, their depth has taken somewhat of a step back.
They will have to replace four rotation players from last year's Conference Finals team with a few players who don't have much experience in playoff situations. Three players who should definitely see more minutes are Payton Pritchard, Sam Hauser and Luke Kornet. Pritchard has played well on both ends of the floor when given an opportunity, notably shooting 40% from three-point range over his first three seasons. The Celtics rewarded him with a team-friendly extension that should see him take up about 5% of the salary cap over the next four years. Hauser has also been a stellar three-point shooter, knocking down 42% since coming into the league.
The frontcourt is probably the most notable weakness on the team's depth chart. Joe Mazzulla has expressed confidence that Kornet should be successful on both ends of the floor and will be their go-to backup center to start the season. The preseason will be important in determining who else (i.e. Oshae Brissett, Jordan Walsh, Svi Mykhailiuk, etc.) may stand out for Mazzulla and get an opportunity for playing time behind Al Horford and Kristaps Porzingis.
Roster Decisions
The Celtics have the least amount of players on guaranteed contracts in the league (10). However, their roster for opening night is likely set unless they want to open up flexibility to sign other veteran players or buyout candidates later this season. If they choose to cut someone, it would very likely be a player on a non-guaranteed deal. Mykhailiuk and Dalano Banton each have a partial $200,000 guarantee that increases to over $1,000,000 if they make the roster. Kornet, Wenyen Gabriel and Lamar Stevens all have non-guaranteed contracts.
Rotation
Current Roster Count: 19 players (10 guaranteed, 2 partially guaranteed, 3 non-guaranteed, 3 two-way, 1 Exhibit-10)
Projected Starters: G Jrue Holiday, G/F Jaylen Brown, F Jayson Tatum, F/C Al Horford, F/C Kristaps Porzingis
Projected Rotation Players: G Derrick White, G Payton Pritchard, C Luke Kornet (non-guaranteed), F Sam Hauser, F Oshae Brissett
Projected Reserves: F Jordan Walsh, G/F Svi Mykhailiuk ($200K guaranteed), F Wenyen Gabriel (non-guaranteed), G Dalano Banton ($200K guaranteed), F Lamar Stevens (non-guaranteed)
Projected Two-Way Players: C Neemias Queta, G JD Davison, G Jay Scrubb (Injured)
Projected Roster Cuts: G DJ Steward (Exhibit-10)
BROOKLYN NETS
What is Ben Simmons' role?
Ben Simmons has only played 42 games since being acquired by the Nets in February 2022, dealing with physical and psychological hurdles that have made him somewhat of an afterthought. Head coach Jacque Vaughn has expressed confidence that Simmons is now 100% healthy and ready to contribute again at a high level.
He seems to be penciled in as the team's starting point guard, starting in the Nets' first preseason game. Though it was just a small 14-minute sample size, Simmons looked a lot like his former All-Star self. Having not played since February 15, he looked athletic, aggressive and confident before sitting out the second half.
"He attacked the rim, I think he played with pace, looked pretty natural out there getting up and down the floor, communicating with guys into the flow of the game," Vaughn said, praising his $38-million man. "Really good to see."
Vaughn has some options when it comes to starting lineups where he could go smaller, with a backcourt of Simmons and Spencer Dinwiddie, or decide to start Dorian Finney-Smith and use Mikal Bridges as a big two-guard.
Roster Decisions
Darius Bazley, Harry Giles and Trendon Watford are all on non-guaranteed deals and are vying for the final two roster spots. The Nets also have an open two-way spot, which I believe they could potentially use on a player like Summer League standout and former Memphis Grizzlies second-rounder Kennedy Chandler.
Rotation
Current Roster Count: 18 players (13 guaranteed, 3 non-guaranteed, 2 two-way)
Projected Starters: G/F Ben Simmons, G Spencer Dinwiddie, F Mikal Bridges, F Cameron Johnson, C Nicolas Claxton
Projected Rotation Players: F Dorian Finney-Smith, F Royce O'Neale, G Cameron Thomas, G Dennis Smith Jr., C Day'Ron Sharpe
Projected Reserves: G/F Lonnie Walker IV, C Noah Clowney, F Dariq Whitehead, F Darius Bazley (Non-Guaranteed), C Harry Giles (Non-Guaranteed)
Projected Two-way Players: G Armoni Brooks, F Jalen Wilson, G Kennedy Chandler* (Projected Signing)
Projected Roster Cuts: F Trendon Watford (Non-Guaranteed)
NEW YORK KNICKS
Who will be the first option off the bench?
New York Knicks coach Tom Thibodeau has his fair share of options to headline his second unit. In his third year, Immanuel Quickley had his best season to date, finishing as the runner-up for the Sixth Man of the Year award behind Malcolm Brogdon. Quickley was the primary scorer for the second unit, but he shouldn't have to carry the entire load on offense with the addition of Donte DiVincenzo.
DiVincenzo impressed last season with the Golden State Warriors as a reliable bench shooter and should spot minutes for Quentin Grimes and R.J. Barrett when offensive pushes are needed. Josh Hart could also be the team's sixth man, just like he was during the Knicks' playoff run. After being traded from Portland, Hart averaged 30 minutes per game despite coming off the bench most of the time. It is worth noting the Knicks-Villanova connection between Hart, DiVincenzo and Jalen Brunson, who should fit seamlessly together on the floor thanks to their pre-existing chemistry. While unlikely to be the first off the bench, Isaiah Hartenstein also deserves mention since he has been one of the league's better backup centers and could see more time if Mitchell Robinson gets in foul trouble. In terms of rotation issues, Thibodeau should see this as a good problem to have regardless of who he brings off the bench first.
Roster Decisions
The Knicks have three spots up for grabs between Ryan Arcidiacono, DaQuan Jeffries, Isaiah Roby and Duane Washington Jr. All are on non-guaranteed deals that won't be fully guaranteed until the league-wide guarantee date on January 10.
Rotation
Current Roster Count: 21 players (12 guaranteed, 4 non-guaranteed, 3 two-way, 2 Exhibit-10)
Projected Starters: G Jalen Brunson, G Quentin Grimes, G/F R.J. Barrett, F Julius Randle, C Mitchell Robinson
Projected Rotation Players: G Josh Hart, G Immanuel Quickley, G Donte DiVincenzo, C Isaiah Hartenstein, G Miles McBride
Projected Reserves: G Evan Fournier, C Jericho Sims, F Isaiah Roby (non-guaranteed), G Ryan Arcidiacono (non-guaranteed), G/F DaQuan Jeffries (non-guaranteed)
Projected Two-way Players: F/C Nathan Knight, G/F Dylan Windler, F Jaylen Martin
Projected Roster Cuts: G Duane Washington Jr. (non-guaranteed), G Charlie Brown Jr. (Exhibit-10), F Jacob Toppin (Exhibit-10)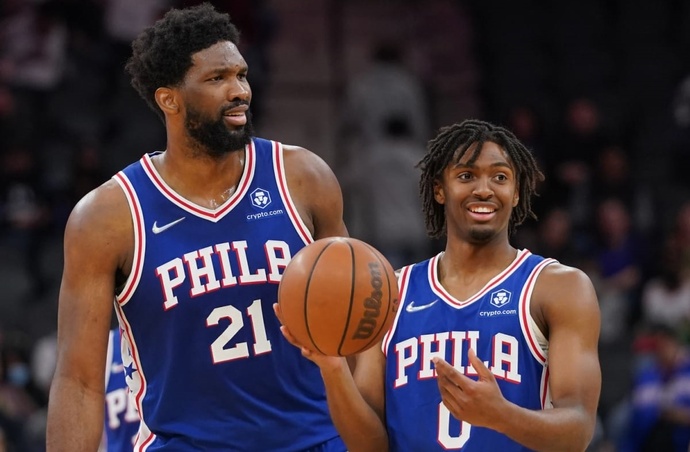 PHILADELPHIA 76ERS
Will Tyrese Maxey become more of a creator and how can that adjust the rotation?
The Sixers' ceiling is contingent on how much Tyrese Maxey can improve this season. Maxey hasn't needed to be the team's primary distributor since James Harden joined the team, allowing him to blossom into a reliable 20-PPG scorer. Regardless of whether Harden's trade situation is resolved, Maxey will need to become a better creator and distributor if he wants to take his game to the next level. Prior to Harden's arrival, Maxey had an impressive 4:1 assist-to-turnover ratio despite his small frame and risk-averse tendencies.
Interestingly, team president Daryl Morey has held off on giving Maxey an extension this offseason, electing to wait until next summer to pay his budding young guard. Maxey will likely demand near max-level money that could harm Philly's flexibility to go after star players next offseason. If he can improve his ball-handling and distribution tendencies, the Sixers' offense should benefit tremendously, helping the offensive output of players like P.J. Tucker and Paul Reed and easing the reliance on De'Anthony Melton and Patrick Beverley.
Roster Decisions
Two players will likely be fighting for the Sixers' final roster spot. The team re-signed veteran Danny Green, who played for the team from 2020 to 2022, to a non-guaranteed deal. They also brought over young big Filip Petrusev, who was drafted by Philadelphia in 2021. Petrusev signed a multi-year deal that was partially guaranteed for $559,782 this season and non-guaranteed next year. Although unlikely, the 76ers could also elect to waive Montrezl Harrell despite his deal being fully guaranteed, as he should miss this season with a torn ACL.
Rotation
Current Roster Count: 21 players (14 guaranteed, 1 partially Guaranteed, 1 non-guaranteed, 3 two-way, 2 Exhibit-10)
Projected Starters: G Tyrese Maxey, G James Harden, F P.J. Tucker, F Tobias Harris, C Joel Embiid
Projected Rotation Players: G De'Anthony Melton, G Patrick Beverley, F/C Paul Reed, F/G Kelly Oubre Jr., F Danuel House
Projected Reserves: C Mo Bamba, F Furkan Korkmaz, G Jaden Springer, G/F Danny Green (non-guaranteed), C Montrezl Harrell (injured)
Projected Two-way Players: G Terquavion Smith, G Ricky Council IV, F Azuolas Tubelis
Projected Roster Cuts: F/C Filip Petrusev ($559,782 guaranteed), G David Duke Jr. (Exhibit-10), G Javonte Smart (Exhibit-10)
TORONTO RAPTORS
What style does Darko Rajakovic bring to Toronto and who will benefit the most?
New coach Darko Rajakovic inherits an interesting Raptors team with plenty of talent, but they may be facing a crossroads in terms of how successful they can be as a group. Rajakovic is in his first NBA head coaching gig after three seasons as an assistant with the Grizzlies and is known around the league as a pick-and-roll guru.
The idea of the Raptors being a primary pick-and-roll team became less appealing when they were unable to retain Fred VanVleet in free agency, replacing him with a less reliable shooter in Dennis Schröder. Instead, Rajakovic will likely rely on Schröder and his newly paid center Jakob Poeltl for more ball movement and playmaking. Rajakovic compared Poeltl to Domantas Sabonis before the Raptors' preseason win over the Sacramento Kings on October 9 and could use him in a similar role. If Poeltl can be 70% of what Sabonis was last season, it can be a huge boost to an inconsistent offense.
Roster Decisions
The Raptors have 15 players on guaranteed deals going into the season, but also carry Jeff Dowtin Jr. on a non-guaranteed deal. Dowtin played on a two-way contract with Toronto last season, appearing in 25 games. With the roster full, Dowtin is unlikely to make the regular-season roster but he has still impressed the coaching staff this preseason. If any player is in danger of losing their roster spot to Dowtin, it would likely be former first-round pick Malachi Flynn. Dowtin's deal becomes guaranteed for $900,000 on October 21, four days before the team's season opener against the Minnesota Timberwolves. I would expect the Raptors to make a decision on Dowtin before then.
Rotation
Current Roster Count: 21 players (15 guaranteed, 1 non-guaranteed, 3 two-way, 2 Exhibit-10)
Projected Starters: G Dennis Schröder, F/G Scottie Barnes, F OG Anunoby, F Pascal Siakam, C Jakob Poeltl
Projected Rotation Players: G Gary Trent Jr., F Precious Achiuwa, F/C Chris Boucher, F Jalen McDaniels, G/F Gradey Dick
Projected Reserves: F Thaddeus Young, G Malachi Flynn, F Otto Porter Jr., C Christian Koloko, G/F Garrett Temple
Projected Two-way Players: G/F Ron Harper Jr., G Markquis Nowell, G Javon Freeman-Liberty
Projected Roster Cuts: G Jeff Dowtin (non-guaranteed), F Mouhamadou Gueye (Exhibit-10), C Makur Maker (Exhibit-10)
Other news from around the web: Barbie and Ken are the hottest couples costume this Halloween