October is almost over, which means two things are right around the corner: the start of the NBA season and Halloween.
There are quite a few NBA players who take Halloween seriously. From hosting lavish Halloween parties to rocking costumes at the arena, many players go big when it comes to their Halloween get-up.
Since Halloween is just two-and-a-half weeks away, BasketballNews compiled a list of the best men's costumes worn by NBA players over the years.
LeBron James, Pennywise and Freddy Krueger
James has splurged on several professional-level costumes in recent years, typically opting for a scary costume from his favorite horror movies. These are two of his best costumes.
View this post on Instagram
View this post on Instagram
James has also been known to throw some great Halloween parties, including his 2016 party where he took some shots at the Golden State Warriors following their loss to the Cleveland Cavaliers in the NBA Finals.
LeBron James went full savage at his Halloween party. pic.twitter.com/9NZFHxchD3

— Alex Kennedy (@AlexKennedyNBA) October 31, 2016
Robin Lopez, Batman
Lopez is a huge fan of Disney and superheros, so it's no surprise that he goes all out on Halloween with some epic superhero costumes.
View this post on Instagram
Stephen Curry, Jigsaw
Curry showed up to a Warriors game in a full Jigsaw costume, complete with the tricyle. We appreciate the dedication to authentic movie costumes. Curry's caption was perfect too: "Hello, I want to play a game. #Jigsaw #DubNation" Maybe this year he'll channel is inner Ken and he and Ayesha will sport some Barbie costumes.
View this post on Instagram
JaVale McGee, Squid Game and Lord of The Rings
Back when Squid Game was all the rage, McGee rocked this costume to look like one of the workers. He gets points for the attention to detail (the gun, gloves, mask, etc.).
View this post on Instagram
McGee also gets a second shout out for this awesome Lord of The Rings family costume. From his terrific Gandalf fit to the scary Gollum child, this one deserves praise. The three-time NBA champion and cosplay costumes fanatic also had a great caption: "LORD OF THE RINGS. GET IT?"
View this post on Instagram
Pascal Siakam, 50 Cent
Not only is this costume great, the video is pretty awesome too. What makes this even better is that several weeks after Siakam rocked this costume, he dropped 50+ points on the New York Knicks in Madison Square Garden.
View this post on Instagram
Grant Williams, Batman
This is our second Batman costume of this list and while Robin Lopez's costume was more professional looking, Williams gets bonus points for wearing it during his interviews and doing his best Batman voice.
Live from Gotham pic.twitter.com/8skgmZd4M2

— Jared Weiss (@JaredWeissNBA) October 31, 2022
Jordan Clarkson, Edward Scissorhands
This is a terrific couples costume, and Clarkson deserves credit for how similar he was able to match the look from the movie.
View this post on Instagram
Bradley Beal, Flintstones
This is an adorable family costume, so it had to make the list.
View this post on Instagram
Tony Parker and Tim Duncan, Ref Killers
This photo actually drummed up a bit of controversy since Parker and Duncan were attacking a specific ref (Joey Crawford), whom they'd had some beef with over the years. Duncan defended the sports costume and said they were just "having fun... in a private atmosphere." We'll give him this: it's pretty funny.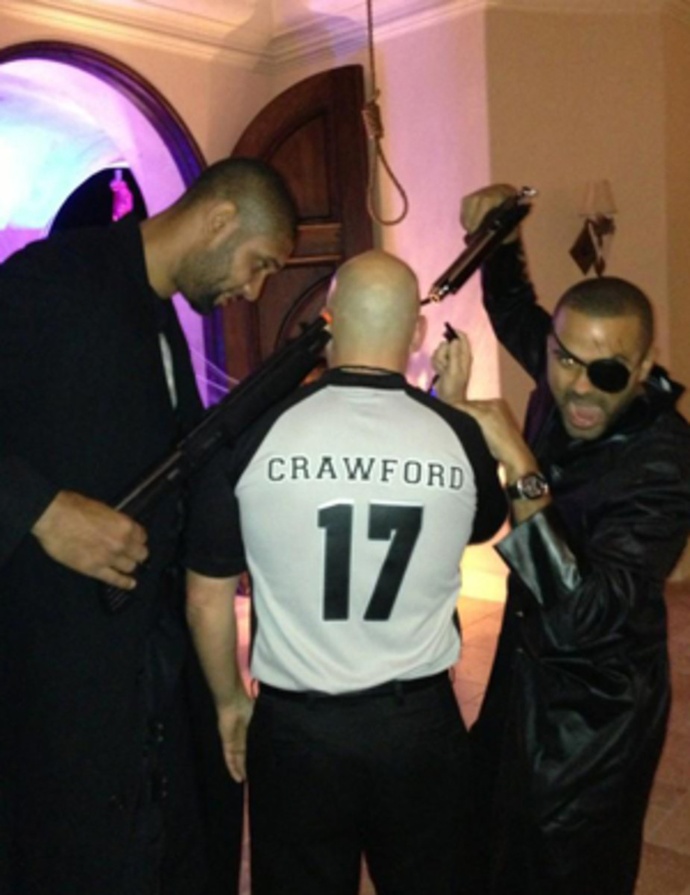 Dewayne Dedmon, The Mandalorian
Here's another great family costume where everyone is carrying their weight. Mando looks great, Ahsoka is on point and you gotta have a Baby Yoda. Terrific work all around!
View this post on Instagram
If you're looking for a men's look, or a sexy Halloween costume for your girl, be sure to check out 3Wishes.com!
Other news from around the web: Barbie and Ken are the hottest couples costume this Halloween