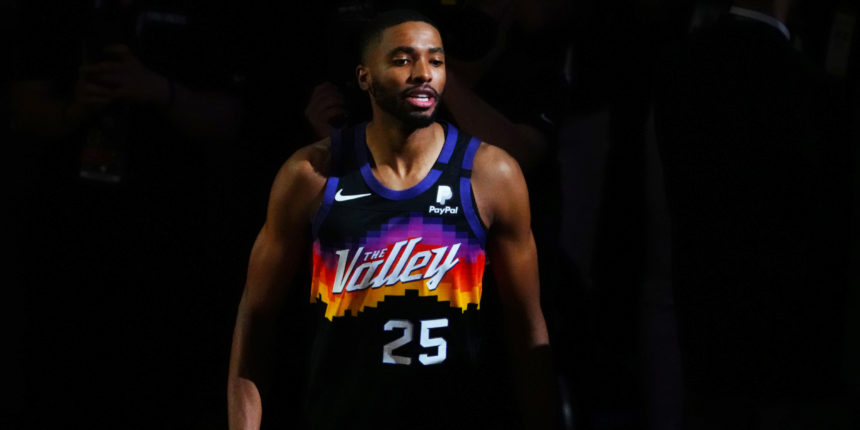 Mikal Bridges' offensive metamorphosis could make Suns a juggernaut
Mikal Bridges is ready to ascend up the ladder of the best two-way wings in the NBA. In order to reach that high benchmark, Bridges must undergo an offensive metamorphosis.
The No. 10 overall pick from the 2018 NBA Draft is already one of the best defenders for his position. Bridges was robbed of an NBA All-Defensive Team spot due to name notoriety, as Kawhi Leonard earned the final wing spot over the lanky 24-year-old.
Speaking of that length, Bridges has become a weapon in knowing how to use it. Possessing a 7-foot-2 wingspan, Bridges harasses lead ball-handlers off the point of attack and players who try to find openings around the perimeter. Entering the league from Villanova — a factory for producing NBA-ready prospects — Bridges immediately made an impact for Phoenix as a high-IQ defender who knew how to produce efficient looks on the offensive end. Already a supreme cutter, Bridges capitalized on knowing when to dive towards the basket when his matchup least expected it.
One point of contention for Bridges that stunted his early professional development as a three-level scorer revolved around a hitch in his shot, which was tweaked during the pre-draft process. Bridges' mechanics looked nothing like the buttery-smooth, rapid-fire motion on display at Villanova. Instead, Bridges would slowly load up and bring his elbow in front of his face and crank it like a catapult. It was an ugly form, but Bridges' tireless work ethic helped get rid of the issue midway through his sophomore campaign. For over a year and a half, Phoenix was waiting for "Villanova" Bridges to arrive.
In 2020-21, that version of Bridges returned full-time with a vengeance, averaging 13.5 points, 4.3 rebounds, 2.1 assists, 1.1 steals and 0.9 blocks. Notably, he converted on 42.5% on three-pointers at high volume, a massive jump as a perimeter scorer from 33.5% in his rookie season and 36.1% the year after.
Bridges was always built to play on a winning team that sustained success for multiple years. He showed it at Villanova, and now, with the Suns, he's repeated history with the team making an NBA Finals appearance in its first playoff berth since 2010. Devin Booker and Chris Paul are the pistons that keep the Suns' engine running. Deandre Ayton is the group of tires keeping it on the road as an interior force on both ends of the court. Meanwhile, Bridges is all the safety features in the vehicle.
He helps cover up problems when they arise, or helps avoid them altogether. With an extremely savvy ability to read the game, Bridges is Inspector Gadget-like with his freakish wingspan, making sure everything goes off without a hitch. As he showcased throughout last season, Bridges is an underrated piece to the Suns' puzzle. Moving forward, entering his age-25 season, Bridges figures to play an even more prominent role over the next few years as Paul ages falling back further into a secondary action.
(Editor's Note: BasketballNews.com's Spencer Davies spoke with Mikal Bridges early last season to discuss his potential as a player and Phoenix's long-term picture.)
Mikal Bridges STEPPED UP tonight for Phoenix 🗣

27 points
7 rebounds
8/15 FG
3/9 3PT
8/8 FT

Difference maker.

(via @Suns)pic.twitter.com/b5MqMB4tO1

— Overtime (@overtime) July 9, 2021
Bridges is projected to be a restricted free agent after next season, but Phoenix will hammer out extensions with its franchise-altering 2018 draft class before the regular season begins. There's no way either one of Ayton or Bridges will even sniff the potential of restricted free agency. Phoenix will pay the young duo on potential, banking on an even more fruitful run throughout the 2020s and beyond.
Ayton is set to receive a five-year max extension, while Bridges figures to make between $20-to-$25 million over a new four-year deal. For Bridges, that number may be viewed as too high on the annual value spectrum, but the Suns' starting small forward is just now beginning his evolution as a more aggressive basketball player.
Bridges brings the tenacity each game as a defender, but too often will he disappear into his own shell. The 2021 NBA Finals against the Milwaukee Bucks showed the best example of Bridges' somewhat frustrating offensive flow. In Game 2, Bridges scored a playoff-best 27 points on 15 field goal attempts. Then, in Game 3, Bridges went 2-of-4 for four total points. Far too often right now does Bridges rely on others to help him create opportunities on the offensive end. Last season, 85% of Bridges' shots were assisted, per Cleaning The Glass. Throughout Bridges' career, that number has been above 80%, showing that he knows how to flow within an offensive structure and his role, but not really knowing when to assert his own shot flow. As a low-usage player, Bridges doesn't need many chances to impact the box score, which is fully on display with his elite defensive tendencies.
However, if the Suns end up coughing over a $100-plus million extension to Bridges prior to the 2021-22 campaign, he will need to become a more well-rounded offensive player who can impact games outside of structure when necessary. For the Suns, Bridges being aggressive has shown magnificent success. Last season, Phoenix was 34-7 when Bridges attempted at least 10 shots in a game. Over an 82-game sample size, that's a dominant 68-14 record. Aggressive Bridges is the unlocking point for the Suns becoming an even more impressive team following their surprising rise up the Western Conference standings last season.
Bridges is just now scratching the surface of his offensive outlook. Only seven wings averaged at least 10 points, 1 steal and shot 40% on three-pointers during the 2020-21 campaign: Paul George, Khris Middleton, Gordon Hayward, Bojan Bogdanovic, Norman Powell, Evan Fournier and Bridges. That's a super impressive list to be a part of, and it gets even more promising for Bridges' future scoring ceiling when you factor in wings under age 25 to do this over the last decade: Wesley Matthews, Kevin Durant, Klay Thompson, Bradley Beal, Middleton, Fournier, Otto Porter Jr., Gary Harris, Jayson Tatum and Bridges.
At the moment, Bridges' game best mirrors Porter off the players mentioned. Both players are plus-40% three-point shooters that provide ample defensive versatility. Bridges right now is a better, more well-rounded version of Porter. However, both players struggle to create their own shot consistently. Washington matched a four-year, $106 million offer sheet from Brooklyn in restricted free agency on Porter in 2017. Quickly, the Wizards offloaded Porter's contract to Chicago when they realized his offense wasn't going to leap forward to an even higher level.
Phoenix hopes that isn't the case for Bridges, and he's shown already exactly what a future could look like with him being more of a primary option offensively. Bridges will always be the third option in Phoenix behind Booker and Ayton, but he's absolutely perfect in that role while maintaining All-Defense production on the other end of the court.
If the offense eventually clicks for Bridges, he has all the makings of a Middleton-like player — someone who can drop 18-20 points on any given night while holding up defensively. Middleton showcased in the Finals what Bridges' ceiling could eventually be.
If Bridges ever reaches those levels as a scoring threat, Phoenix is going to become a juggernaut that rules the West for the next decade. Bridges is the lynchpin to how high the Suns' eventual ceiling could truly become.