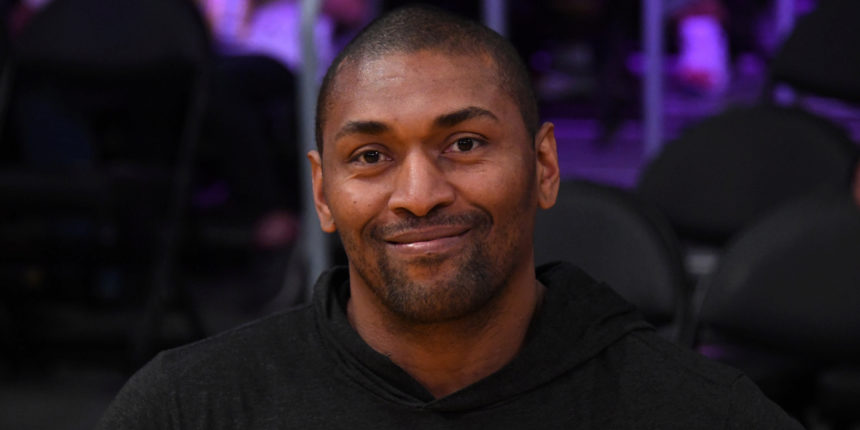 Q&A: Metta World Peace on the Finals, Team USA, gambling in the NBA
Throughout his 17-year NBA career, Metta World Peace averaged 13.2 points, 4.5 rebounds and 1.7 steals, while becoming an NBA champion, All-Star, All-NBA selection and Defensive Player of the Year. Recently, he joined Chris Sheridan on his podcast "The Sheridan Show." You can listen to their conversation above or read the transcription below.
What are your impressions of the NBA Finals? What has caught your attention about this series? (This was recorded when the series was tied.)
Metta World Peace: "Besides all the injuries that have just been plaguing a lot of the great players, what has caught my eye about this series really is Chris Paul. I don't necessarily believe right now, especially that it's 2-2, that the Suns are going to win. But going into the series when it was 0-0, I kind of thought the Suns would win. You know, people and boys change their picks. I thought the Suns would win. And when they went up 2-0, you think they would win. Now that it's tied 2-2, it's showing that Giannis [Antetokounmpo] is the greatest player. Now imagine, Giannis, one of the greatest players in the league, doesn't really have to go up against the greatest team, then you would say Giannis was going to win. Because the Lakers got hurt. The Lakers were going to beat Phoenix before Anthony Davis got hurt. So with that being said, Chris Paul stands out, Giannis stands out. And Chris Paul, it's a situation where he is a killer; Chris Paul is an amazing player and got a killer instinct, and he can very well take advantage of this moment. I know he had a bad game, but it's just interesting. It's hard to really say who is going to win, I really don't know, but it's been a very interesting playoffs."
It seems Chris' right wrist is hurting him, he had a lot of turnovers in Game 4. But some guys are stepping up. Pat Connaughton has been very good for the Milwaukee Bucks. Deandre Ayton has been a beast for Phoenix. Ayton has become the key to the series as much as Devin Booker.
Metta World Peace: "As much as Chris Paul is a controller, Chris Paul controls the game like I've never seen before, but I do not think he is as talented as a Booker right now in his career. And I think Deandre Ayton and Chris Paul are about equal talent. You're probably going to lean on Booker and Deandre. Deandre is young, but he is also an old soul. He is very mature. He reminds me of Tim Duncan. He is so smart. So, yeah, I think those guys are the two x-factors."
You got it done on both ends of the floor. You were the Defensive Player of the Year in 2004 and made the All-Defensive First Team in 2004 and 2006 and a couple All-Defensive Second Teams as well. Why are there so few players in the NBA who get it done on both ends of the floor? Giannis is one of them, he was All-Defensive First Team, but it's hard to make a list of five-to-six guys who are great two-way players.
Metta World Peace: "It's not easy because you've got to work at it and have to want it. It's not hard, it's not impossible, but you have to be in condition and you have to work on your game. It's that extra time. In summertime, you're probably working on your offensive game, you're not working on your defense. But when training camp comes and you see someone you want to lock up, then you're gonna flip that switch. So you're going to be a little tired, but can you keep going? And do you mind sacrificing a couple of points (especially as a wing defender)? With the exception of Michael Jordan, I don't know many wing defenders that were getting their numbers and locking up. Kawhi could be one of those guys, but Kawhi, if he didn't play defense, he would score even more points. So, defense is a sacrifice."
You teamed up with DraftKings for the NBA Finals, and it's kind of cool: You're actively betting against the public on every game. Whichever way most of the bets are going, Metta is going the other way, and DK is boosting the public's bet. It's a promotion known as Metta vs. The World. So, for example: if most people are taking the Phoenix Suns on Saturday night, he's taking the Milwaukee Bucks. How did this deal come along? And how do you like it?
Metta World Peace: "It's fun. I'm really excited. I've always wanted to work with big brands and big corporations, and now I'm getting a chance with DraftKings. DraftKings wasn't around when we first came into the NBA, but DraftKings came around and betting is becoming more of the norm. It's fun, and it's a great campaign: Metta vs. the World. I'm able to bet on a legal platform, I don't bet illegally, and DraftKings is providing that platform to have a great time against the fans. This has been one of my best experiences."
There's a lot of gambling that happens on NBA team flights. The game of choice has always been bourré or poker. What is the biggest loss you've ever seen on an airplane or in an NBA team hotel?
Metta World Peace: "The biggest loss I've seen is someone exchanged wallets or put their jewelry or chain on the table or maybe even their car keys. It depends how much cash you have in your pocket."
That tends to hit rookies the hardest, right?
Metta World Peace: "It depends what type of rookie you are, but I would not advise the rookies to play with the big boys. Wait until you get that big-boy contract. I would not advise a rookie to play with that little contract [especially given] that inflated money that these guys are getting in the league now."
On the subject of international basketball, you played a season overseas and played under FIBA rules. We're about to start the Olympics with Team USA undergoing some changes. Bradley Beal is off the team. Kevin Love is off the team. Keldon Johnson and JaVale McGee joined the team. How do you see the Olympics playing out for Team USA?
Metta World Peace: "For me, the Olympics is a bitter situation for me. I love the Olympics, and I feel like I've been shortchanged. Even though I was a head case and a real volatile player when I did play, I just always felt like I should have had an opportunity to play [for Team USA]. The year I was going to play, I got suspended - and when you talk about legacy, that gold medal is very important to legacy. And I was a player, third-team All-NBA. I should have had a tryout. I remember when I didn't get called for the Olympics, and I thought at least I'd play on the team that played against the people who got selected (the Select Team). And when that didn't happen, I called my agent and said, 'What the hell is going on here?!' And we could not get no response. So then, I had to call the Olympic office myself. And I got no return call. And I was like, 'Just let me try out.' I understand I wasn't the greatest player to be around at that time and some players did not want to play with me, but I was like, 'Give me a chance to take that player's spot.' At that time, in that era, my defense was so incredible, I was going to take someone's spot. I'm 100 percent sure."
That would have been the 2004 Olympics in Athens when the U.S. lost to Puerto Rico by 19 in the opener and ended up taking home the bronze.
Metta World Peace: "Yeah, you see what I'm saying? We [wouldn't have] taken home a bronze. We'd have a gold. I wasn't on that team. The USA had a goal in 2004 and there's no way we lose with me on that team. There's no way. How? I'm averaging 24 and the best defender in the world at that point in time. I got Defensive Player of the Year in between sharks and blue whales, Ben Wallace and Duncan and Garnett. This is who I had to navigate through in order to get that award. Hall of Famers. With that being said, I understand why. But I just want people to hear: If I could rewind time, that is something that is supposed to be on my resume. Now, granted, a lot of things are not on my resume because of me, but I got Defensive Player of the Year, I was close to being MVP one year, I got champion, All-Star, everything but the Olympics. But I've been to the Olympics in high school. I got the USA high school history. One day, I hope they pick me. Sometimes they pick veterans, they pick guys who don't play [anymore]. I hope I can play in the Olympics; I deserve it just as much as anybody, I believe. Some people would argue that other people deserve it also. That's true, but I am the one yapping about it. So hopefully one day an honorary jersey, end of the bench. I even told them I would get the water. I literally called the office. I told my agent, 'Can I even be the water boy? Something?' So every time someone brings up the Olympians, I rant, I rant I rant. I am an Olympian, for sure. I am an Olympian, a gold medalist, and I truly believe that.
"When you look at it from a basketball standpoint, in terms of being that professional at that age, I wasn't. But I was a hell of a basketball player, and I felt like a hell of an American basketball player, one of the best American basketball players in the world. And although I'm very much from Queensbridge and as urban as it gets in the NBA, at the same time I always wanted to represent the USA. And another reason why I wanted to represent the USA: Chris Mullin was an Olympian, I went to St. John's. Vern Fleming was a gold medalist Olympian, and Vern Fleming is from my neighborhood and everybody knows where I'm from. Vern Fleming experienced all the things I talked about, just picture those situation with Vern Fleming, and he was an Olympian. He's from the same block, the same exact block as me. There's a lot of reasons why I wanted to be an Olympian. No matter what anybody says, I am an Olympian, I am a gold medalist. I didn't cut myself from that team."
You mentioned before we started recording that you want to get into coaching. Where does that aspiration come from, and what can you do to make that happen?
Metta World Peace: "Coaching is something I'm excited about. One person gave good advice to me: Don't say you want to be a head coach because nobody is going to hire you. But at least you can see me coming. I want to be a head coach. The reason is because it's fun. Not because of anything else. I just think it's fun. If I never become a head coach, that's fine. I won't be crying over it. But if I do, I'll for sure be cheering over it. I definitely want to be a head coach, one of the main reasons is because I have kind of a unique view on kind of being a go-to-guy and being a role player. I think Jason Kidd might have that viewpoint also. He was a role player once, and he was a go-to player. And he was a point guard, so he was always controlling the game. Anybody who ever had that experience of seeing both sides of the game, that's something I really enjoy. I have played under a lot of good coaches back home… some amazing coaches even before I got to the NBA. And then playing for coach Fran Fraschilla - everyone knows how great of a coach he is - all the way to Tim Floyd to Rick Adelman to Phil Jackson. When you take all that into consideration, it's fun to know that you have all that knowledge, and potentially being able to give it back in the form of youth. And me, I'm coaching now. I got about 10 teams that I am coaching right now. Even though it's not NBA, it's fun. It's pretty much run-and-gun and dive on the floor. It's that simple. I enjoy it, and if I'm ever able to do that in the NBA, I want to push the pace a little bit."
Run-and-gun and hit the floor, that's the way you played. Who is the best teammate you ever had?
Metta World Peace: "All my teammates. When you're in a locker room, especially when there is that much pressure of winning, and the pressure of being away from your family, those types of things, [it's tough]. If you read all the stories that came out in the media over the years, that's something we go through together in the locker room, at dinner, over phone calls. Like all the players, it's not as easy as one may think. Even though the money's great, I'm saying as a human, it is not as easy as you think. I am really grateful to all my players, but the ones that kind of stand out: Shane Battier stands out, Yao Ming stands out, Derek Fisher stands out, Reggie Miller stands out. Stephen Jackson, Kobe. A couple of people stand out. And then I played with some great vets: Will Perdue, Dickey Simpkins, Randy Brown, Greg Anthony, Dale Davis. I'm very grateful, very grateful."