March Madness is underway!
Across the country, teams are competing in conference tournaments and trying to punch their ticket for the NCAA Tournament. Selection Sunday is just three days away, and then the tourney starts next Tuesday.
If you missed any of the Day 1 action, here's a recap of what went down on Wednesday.
Tickets Punched
Colgate defeats Navy 74-58, Patriot League Championship
Jack Ferguson: 17 points, 5 rebounds, 5 assists, 2 steals
Greg Summers: 18 points, 8 rebounds, 3 steals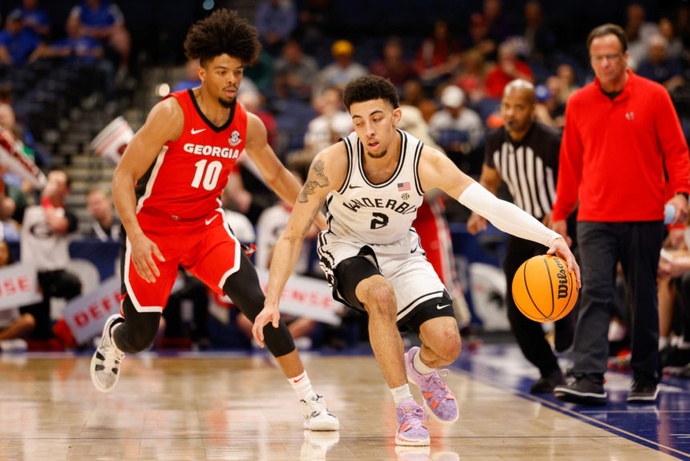 SEC
Missouri defeats Ole Miss 72-60, faces No. 5 LSU
Kobe Brown: 16 points, 7 rebounds, 4 assists
Matthew Murrell: 16 points, 4 rebounds, 2 assists
Vanderbilt defeats Georgia 86-51, faces No. 6 Alabama
Scotty Pippen Jr.: 14 points, 2 rebounds, 2 steals
Braelen Bridges: 15 points, 11 rebounds, 2 assists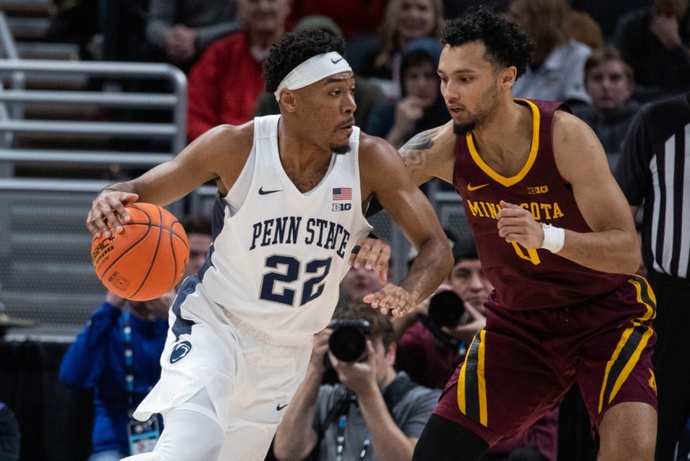 Big Ten
Northwestern defeats Nebraska 71-69, faces No. 5 Iowa
Boo Buie: 16 points, 3 assists
Alonzo Verge Jr.: 21 points, 9 assists, 7 rebounds
ð—–ð—"ð—¥ð——ð—œð—"ð—– ð—–ð—"ð—§ð—¦ 😼

This is March ‼ï¸#GoCats | @NU_Sports pic.twitter.com/9dBLxaSHDW

— Northwestern Basketball (@NUMensBball) March 10, 2022
Penn State defeats Minnesota 60-51, faces No. 6 Ohio State
Jalen Pickett: 22 points, 7 rebounds, 4 assists
Jamison Battle: 19 points, 6 rebounds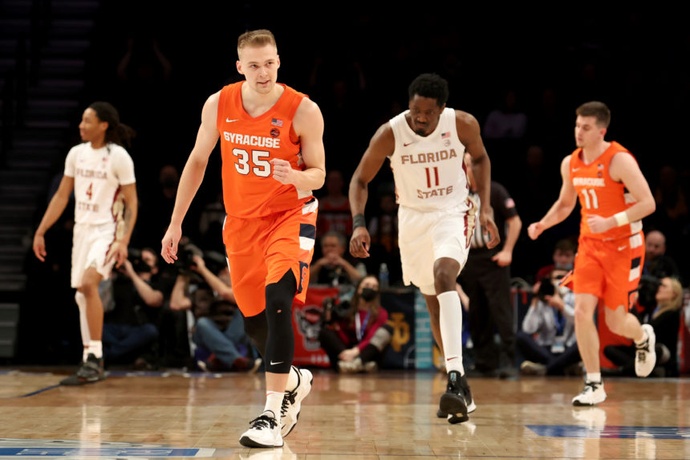 ACC
Virginia Tech defeats Clemson in OT 76-75, faces No. 2 Notre Dame
Keve Aluma: 19 points, 10 rebounds
PJ Hall: 16 points, 5 rebounds, 3 assists
ð—§ð—›ð—œð—¦ ð—œð—¦ ð— ð—"ð—¥ð—–ð—›!!!! pic.twitter.com/hBrAMmBl4P

— Virginia Tech Men's Basketball (@HokiesMBB) March 10, 2022
Boston College upsets Wake Forest 82-77 in OT, faces No. 4 Miami (FL)
DeMarr Langford Jr.: 19 points, 4 rebounds, 3 assists
Jake LaRavia: 21 points, 7 rebounds, 4 assists, 4 steals, 3 blocks
Syracuse defeats Florida State 96-57, faces No. 1 Duke
Cole Swider: 28 points, 13 rebounds, 9-15 FG
Joseph Girard III: 16 points, 4 assists
Virginia defeats Louisville 51-50, faces No. 3 North Carolina
Jayden Gardner: 17 points, 4 rebounds, 7-12 FG
Maliik Williams: 11 opints, 13 rebounds, 3 steals, 3 blocks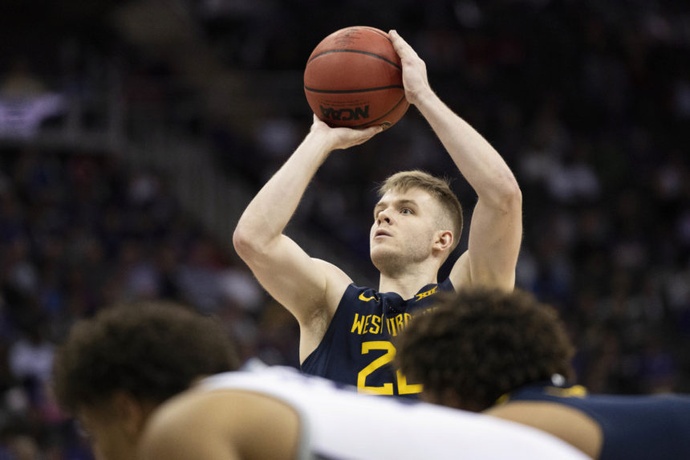 Big 12
West Virginia defeats Kansas State 73-67, faces No. 1 Kansas
Sean McNeil: 21 points, 6 rebounds, 7-10 FG
Nijel Pack: 18 points, 6 rebounds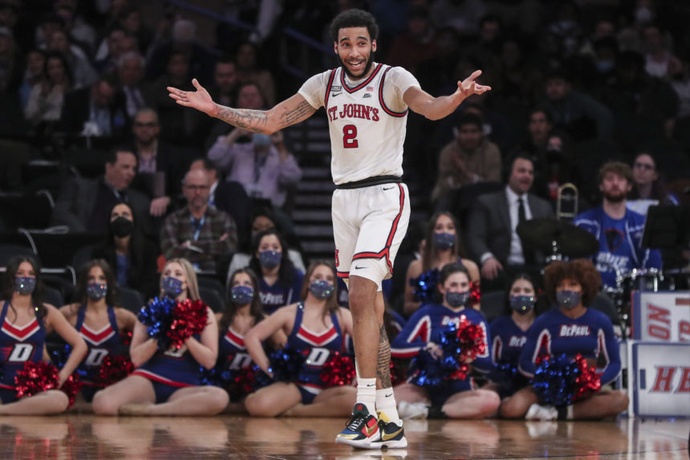 Big East
Butler defeats Xavier 89-82, faces No. 1 Providence
Chuck Harris: 29 points, 2 assists
Simas Lukosius: 27 points, 7 rebounds, 2 assists, 11-13 FT
DOWN GOES X‼ï¸#ButlerWay | #Team124 pic.twitter.com/CAHgoom1CY

— Butler Basketball (@ButlerMBB) March 10, 2022
St. John's defeats DePaul 92-73, faces No. 2 Villanova
Julian Champagnie: 26 points, 7 rebounds, 2 steals
Javon Freeman-Liberty: 17 points, 6 rebounds, 5 assists
Seton Hall defeats Georgetown, faces No 3. Connecticut
Jared Rhoden: 17 points, 4 rebounds, 2 assists
Aminu Mohammed: 12 points, 10 rebounds, 3 assists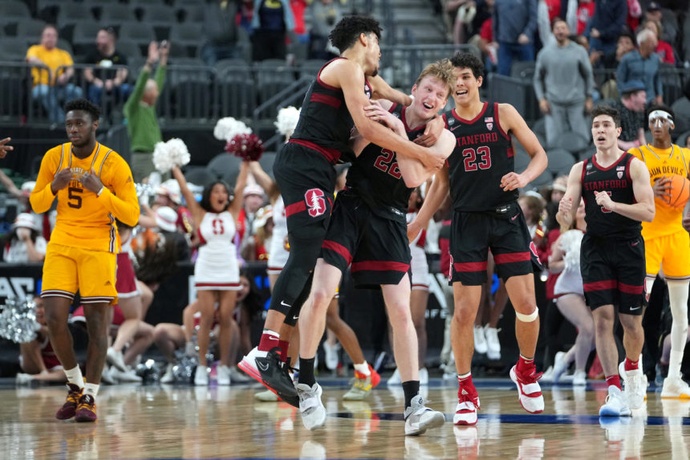 Pac 12
Stanford defeats Arizona State 71-70, faces No. 1 Arizona
Spencer Jones: 26 points, 6 rebounds, 6-12 (3PT)
DJ Horne: 21 points, 8-17 FG
Heck of a comeback, @StanfordMBB 😳🤯 pic.twitter.com/AqCzhETS30

— Stanford Athletics (@GoStanford) March 9, 2022
Oregon defeats Oregon State 86-72, faces No. 4 Colorado
Jacob Young: 23 points, 11 assists, 6 rebounds
Jarod Lucas: 22 points, 2 rebounds, 6-10 FG
Washington State defeats California 66-59, faces No. 2 UCLA
Efe Abogidi: 19 points, 5 rebounds, 2 steals
Jordan Shepherd: 16 points, 4 rebounds, 4 steals, 2 assists
Washington defeats Utah 82-70, faces No. 3 Southern California
Terrrell Brown Jr.: 22 points, 5 assists, 4 rebounds
Marco Anthoy: 18 points, 2 assists