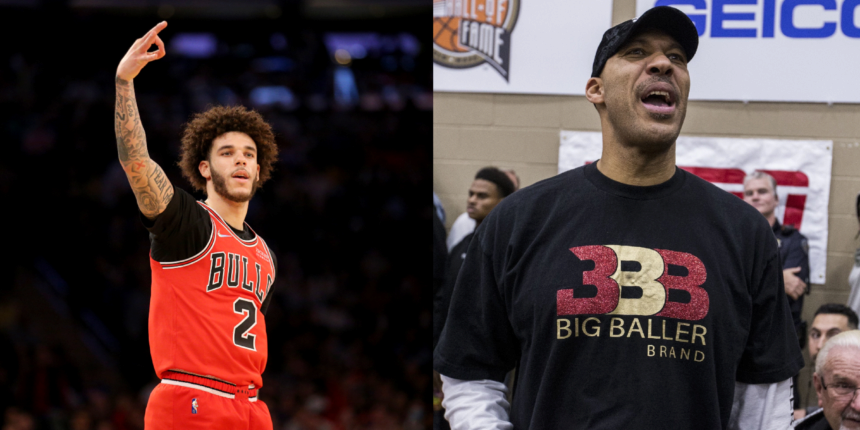 Lonzo Ball still considers LaVar the toughest matchup he's ever had
The following article first appeared on BasketballNetwork.net:
Lonzo Ball shared an interesting anecdote about how the toughest player he ever had to guard was his dad, LaVar Ball.
Playing 1-on-1 with LaVar

After joining the Chicago Bulls, Lonzo Ball found himself back on a winning team with high aspirations for this season, and Lonzo is one of the vital pieces of that squad. He is having a solid season and continues to show improvement in every aspect, especially his shooting, which he's taken to the next level at a career-high 42.9% clip from deep. This is Lonzo's fifth year in the NBA, and it seems he's finally found a team that is a good fit for him and can utilize his versatility in the right way.
In an article he penned for The Players' Tribune, Lonzo talked about his life before the NBA and how his father LaVar Ball was preparing him and his younger brothers for their journey to the league. Lonzo reminisced about all the times he played his dad LaVar 1-on-1, which he considers the toughest matchup of his entire life.
"The toughest player I've ever guarded was definitely my dad," Lonzo wrote. "He used to kill me in the backyard growing up. He had no jump shot. No handle. He was just all size and strength. Didn't matter if I was 9, 12, or 15 years old — he would post me up and talk all this trash about how I couldn't stop him."
LaVar was extremely tough on his sons, and when they played 1-on-1, he set up a few rules that made things more challenging for the Ball brothers to beat him. They had to face adversity early on in their life when playing basketball, and nothing was given easily to them because they had to earn it and put in the extra work.
"And he was right. I couldn't. I was just too small. But he never let me back down. He wouldn't allow that," Lonzo reflected. "He'd get me in the post and run me over — just go right through me — then I'd get up, and he'd come right back at me and do it again. He did it to LiAngelo and LaMelo, too. We couldn't do nothing with it. But we had to try to stand our ground."
LaVar motivated Lonzo to be better
Interestingly enough, Lonzo admits he couldn't beat his dad until he was a senior in high school. He feels grateful for it because it prepared him for his college career and even the NBA. Getting trash-talked — and in some ways, pushed to the limit — helped him develop a mindset to not give up no matter who he was playing against. Watching him with the Bulls this season, you can see he's applied that.
"It wasn't until near the end of my high school career — when I was maybe 17 or 18 and like 6-foot-6 and could actually move — that I was finally able to lock him down and stop him from getting to the rim. But man, those days in the backyard? They definitely prepared me for high school ball, college, and even the NBA," Lonzo said.
"So I knew coming in that every time I stepped on the court, I was gonna get everybody's best. And you have to have a certain mindset to go out there every night with that target on your back and be able to take the hits and keep going — like I did in the backyard growing up."
There's been a lot of criticism pointed towards LaVar Ball, primarily because of numerous, and arguably outlandish, statements that he's made in the last couple of years. Looking back, some of that was justified because LaVar was just building up the hype surrounding his sons or the family's Big Baller Brand. You have to appreciate LaVar, though, because he now has two sons in the NBA putting together solid careers in Lonzo and LaMelo (and LiAngelo playing in the G League, looking for an opportunity to join his brothers in the NBA).
LaVar's dedication to his sons is a testament to the statement, "Anything is possible." Having spent so much time with his sons to help them perfect their craft, it's one of the reasons why they are now among the most recognizable players in the NBA. It shows that LaVar was right when he was hyping up his sons — because he knows them better than anyone, and he sees that the sky is the limit.
Check out more articles from BasketballNetwork.net here.