A champion will be crowned in the Basketball Africa League (BAL) today, as Tunisia's US Monastir and Angola's Petro de Luanda face off at noon ET.
The game will reach fans in 215 countries and territories, and will air in Africa on ESPN, Canal+, VisionView TV and Voice of America (VOA) radio, and around the world on American Forces Network (AFN), ESPNews, NBA TV International, Tencent Sports, TSN, the NBA App and NBA.com. The BAL featured the top 12 club teams from 12 African countries.
On May 22-23, Indiana Pacers assistant coach Lloyd Pierce and Detroit Pistons assistant coach Bill Bayno led a BAL Coaches Clinic for more than 70 local basketball coaches in the Rwandan capital Kigali. The clinic offered tools and strategies to help the coaches enhance their player-development curriculum. Former NBA players Joakim Noah and Ian Mahinmi were in attendance along with BAL players from US Monastir.
BasketballNews.com caught up with Coach Pierce to discuss the camp, his growth as a coach, his experience as an assistant coach with Team USA, the Pacers' young core and more.
You and Coach Bill Bayno just wrapped up the BAL Coaches Clinic. How did it go?
Lloyd Pierce: "First and foremost, you have to give credit to the NBA and especially NBA Africa and the staff. [BAL President] Amadou Gallo Fall has done an amazing job of taking a vision and executing that vision to bring this together. The BAL league is really taking off over here in Africa, and I think the next layer of really trying to get this thing to grow and develop properly is teaching and trying to educate the coaches on the strategies and techniques so that they can not only coach it, but coach it better and find their passion. They have a huge impact by finding these players in the early stages in their career and teaching them and giving them the proper tools so that they can take off.
"So, this Coaches Clinic is probably as important as the games because it's education. It's educating an entire continent on the game of basketball that we all know so well, and they are eager to learn more and more about the different things that we have. I really feel blessed to be a part of this Coaches Clinic along with Coach Bayno and working with these coaches here and seeing the excitement that they have to teach the game, which really excites us as coaches as well."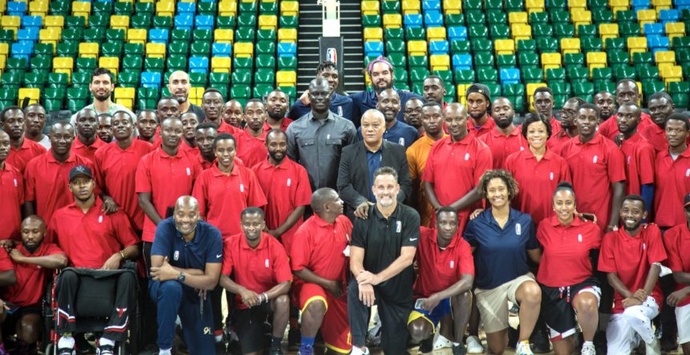 There was a classroom component and an on-court component. Can you walk me through each session and what kind of stuff you covered?
Pierce: "Coach Bayno spoke in the classroom and really just gave them a ton of gems on player development and the different techniques that a coach needs to help a player get better. Using your imagination as a coach, the sweat equity – being able to get out there with your guys and work. But also the sweat technique – as you're working with those guys, giving them the proper technique and the essential tools to not just do it but do it correctly. The importance of that one-on-one relationship when it comes to connecting with players. Focusing on development, but being able to give them that same energy that you're expecting from them in return. He did a tremendous job on the player-development side.
"I tried to do more of a team-focused [lesson], both offensively and defensively. Offensively, we talked about some general principles and spacing – what spacing looks like, using cuts, using screens, using respace, our first three steps to open the floor up. These are a lot of strategies and techniques that we use in the NBA, but I think it's very important for young players too. There's commitment and a selflessness to spacing the floor that they have to learn and buy into. And defensively, we talked a lot about positioning, taking pride in being a good defender, understanding what a help defender looks like and just sticking to the basics – so a lot of shell-drill emphasis and a lot of one-on-one defensive emphasis."
The NBA has really prioritized globalization in recent years. What are your thoughts on the NBA's globalization efforts?
Pierce: "I think it's probably one of the most important things that we do. As the top professional basketball league in the world, I think it's an obligation of ours to help grow the game globally. Our game benefits from the globalization of [basketball] and from the millions of viewers who watch across the world, so it's our obligation to give back. And there's no shortage of talent on this continent, so our main contribution is not only discovering talent but helping develop that talent. You're looking at a guy like Joel Embiid or Giannis Antetokounmpo or any of these players who have come from different countries. But [when it comes to] players with African heritage, the [talent pool] is plentiful on this continent. I think they've done a great job of not only discovering these players, but also trying to get to them early about the right habits, techniques, nutrition and strength development. I don't know if there's a more important global impact that we can have in our sport than being here on this continent and helping spread the game."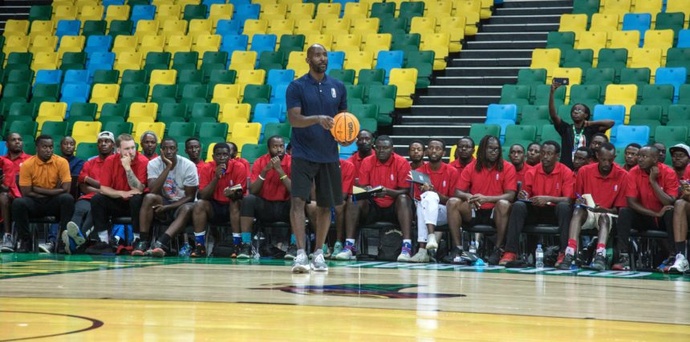 I want to discuss how coaches can develop over time. There are many examples of a coach struggling early on and then doing a much better job after they've learned from their mistakes and gained experience. Someone like Jason Kidd was labeled a "bad coach," but he's gotten better over the years and silenced those doubters. Do you think fans and media sometimes throw that label around prematurely and underestimate how much coaches can grow over time?
Pierce: "Yeah. I'm a reader, and I try to learn things that I think can apply to basketball. In Malcolm Gladwell's book 'Outliers,' he talked about the 10,000-Hour Rule. If you spend enough time on something, you're going to get better at it. As coaches, that can be youth development, that can be personal development (or how to connect with players), that can be strategy and technique. As a former head coach and current assistant coach, you have to continue to work at your craft – whether it's decision-making, making reads, connecting with players or finding your joy and the energy that you bring to the game. That last one is important; there are a lot of coaches you hear from who burn out – they lose [their passion], have a lack of energy and aren't as motivating anymore. I think it's important to go and find ways to challenge yourself.
"For me to be over here in this beautiful city of Kigali, Rwanda – one of the cleanest cities I've ever been in – to work with players who are excited about us being here, there's a renowned joy of coaching because it's purposeful for me. That helps us as coaches grow. So, you see a lot of coaches like Jason Kidd who get their second or third opportunities and find a renewed sense of energy and strength and strategy. They see the game a little differently. Things they may have over-complicated before, they simplify those things now. These things are important for us. I have a saying that I use all the time: For me, coaching is about getting better and helping others get better. And I truly, really mean that. I'll get better if I'm helping others get better, and that's my purpose in coaching."