Instant. Classic.
In a game of runs, and with huge swings of momentum, the No. 1 seed Kansas Jayhawks pulled off the largest comeback in NCAA Championship history, beating the eighth-seeded North Carolina Tar Heels, 72-69. The Jayhawks trailed by 16 points in the first half and fought back to enter the record books.
Jalen Wilson and David McCormack led them in scoring with 15 points each. Arizona State transfer Remy Martin scored his 2,000th point in this one and provided 14 huge points for Kansas off the bench, including multiple threes in the second half.
Armando Bacot and RJ Davis each posted 15 points for the Tar Heels, while Caleb Love and Brady Manek each scored 13 points.
Kansas' Ochai Agbaji opened this one the same way he started the win against Villanova — with a three. He took the dribble handoff and drained a deep three from the wing as the Jayhawks jumped out to a 7-0 lead.
Ochai for THREEE 🎯

Agbaji picks up where he left off@KUHoops | #NationalChampionship pic.twitter.com/u2K3lKN86U

— NCAA March Madness (@MarchMadnessMBB) April 5, 2022
Manek answered with a triple of his own to get the Tar Heels on the board. Carolina battled back to take a 12-11 lead and would extend it to 29-22, which was Kansas' largest deficit of the entire tournament at 7 points. After a 14-0 run late in the first half, the Tar Heels led 40-25 at the break, leaving Kansas with its lowest first-half point total in the tourney.
Kansas was 6 of 21 in the paint in the first half, as the team simply could not convert at the rim. McCormack and Mitch Lightfoot were both in foul trouble early as well, which forced Kansas to go with smaller lineups and allowed the Tar Heels' Armando Bacot to impose his will inside.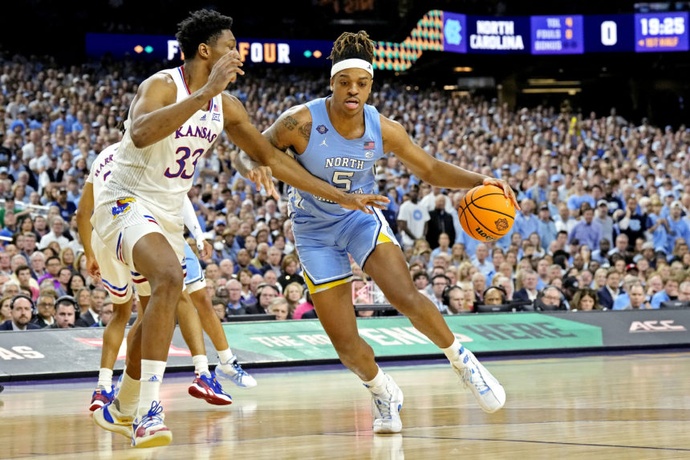 Bacot posted 12 points and 10 rebounds in the first half, giving him 31 double-doubles on the season. That extended his own ACC record and tied the NCAA record set by Navy's David Robinson in 1985-86. Going into halftime, Davis had 11 points for Carolina, while Agbaji had 8 points for Kansas.
McCormack got the second half started with a powerful alley-oop in hopes of setting the tone for the Jayhawks. Christian Braun would follow with a bucket of his own, but Love had an answer. Wilson connected on a transition and-one to make it 45-38, and you could start to feel the momentum shift.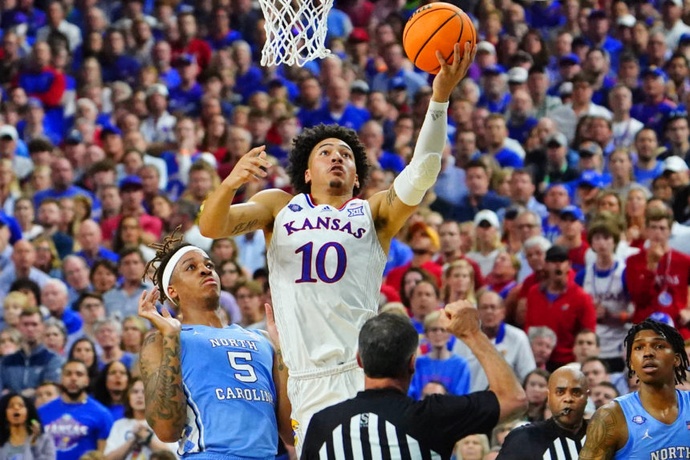 Tar Heels forward Leaky Black picked up his fourth foul with 13:52 to play in the second, which was big, as he's one of the team's best defenders with his size and length. Braun immediately followed with a transition layup to make it 46-45 to make it a whole new ballgame. Agbaji then converted an and-one of his own to tie things up at 50.
OCHAI AND-ONE WE ARE ALL TIED UP 😱@KUHoops #MarchMadness pic.twitter.com/gtjx8p7Vbp

— NCAA March Madness (@MarchMadnessMBB) April 5, 2022
Carolina's Puff Johnson hit a big corner three with just over eight minutes to play to knot things up at 57, providing huge minutes off the bench. After some more back-and-forth action, Manek — the Oklahoma transfer — knocked down two free throws for the Tar Heels to tie it up again at 65 with three minutes to play.
The Jayhawks led 70-69 with a minute left in regulation, when McCormack was simply not going to be denied in the paint for another basket. Bacot then rolled his right ankle again after injuring it in the Final Four game against Duke, and your stomach just sank for the young man, who provided an amazing, gutsy performance on the big stage.
With 4.2 seconds to play, Carolina turned the ball over after a couple of game-tying attempts from deep, but Kansas guard Dajuan Harris Jr. stepped out of bounds on the ensuing pass, giving the ball back to the Tar Heels. Love was unable to hit the pull-up three as time expired, leading the Rock Chalk Nation to a celebration.
McCormack said postgame, "Coach lost his father so we played for him. This was about more than just us, it's about Coach and all that Kansas stands for."
Bill Self and the Jayhawks hoist the trophy in New Orleans.
What a night.