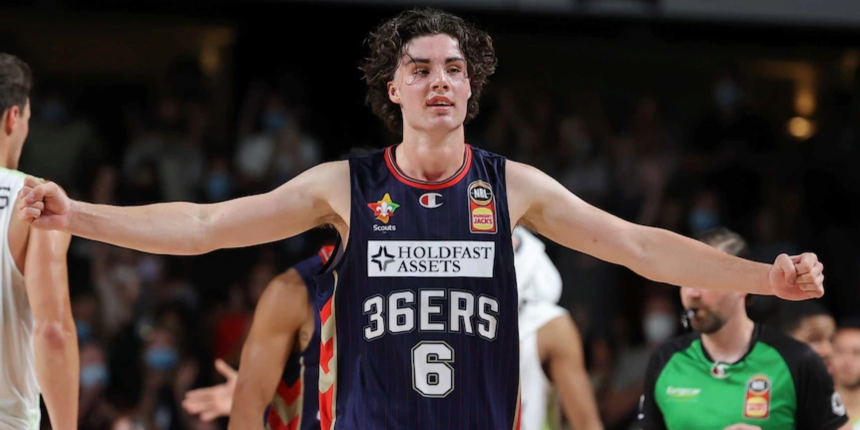 In the blink of an eye, Josh Giddey ascended to top NBA Draft prospect
Five years after the NBA Global Academy opened its doors, Australian swingman Josh Giddey is set to become the first graduate selected in an NBA Draft on Thursday night.
"I give a lot of credit to the NBA Academy," Giddey said at his pre-draft media availability. "They got me in there at an early age, when I personally thought that I didn't have a big future in basketball. They got me in and they believed in me when I didn't necessarily believe in myself. I was there for 18 months and they worked with me every day, so I give 'em a lot of credit.
"They developed me and pushed me in the right direction and set me up to where I am today, essentially. So, the NBA Academy was big for me. It allowed for me to go overseas and get the exposure that I wouldn't have gotten if I stayed back home in Melbourne. It's a big honor and it makes me pretty happy to be the first NBA-Academy player to be drafted."
Chris Ebersole, the NBA's senior director of international basketball operations, worked closely with Giddey during his time at the NBA Academy and Basketball Without Borders (BWB), and he's watched as the son of two professional basketball players went from an off-the-radar prospect to a top-10 projected pick in rapid fashion.
Ebersole knew Giddey from an early age through Marty Clarke and members of the Academy's coaching staff. (Clarke was actually teammates with Giddey's father, Warrick, in the NBL.) Having shown promise at BWB Asia, Giddey found his way to the Academy in 2018.
When Giddey arrived in Canberra, Australia, he was around 6-foot-5 with a good amount of potential. When he left, he was a 6-foot-8 sensation who was highly coveted by NBA decision-makers. Even Ebersole couldn't predict that his ascent would happen this fast.
"To be completely honest, I don't think any of us had potential lottery pick in the 2021 draft in our sights for Josh at the outset," Ebersole told BasketballNews.com in a phone interview.
To be fair, Giddey didn't see this coming either.
"Up until I moved to the Academy, I was a good player, but nothing special," Giddey told our Matt Babcock back in March. "I was challenged every day by my teammates and my coaches, and at times, I struggled early on and didn't enjoy myself. But as I grew into it, I fell in love with wanting to get better, and my coaches never took it easy on me – and that was a massive part of my development."
Giddey didn't make an Australian junior national team until he played for the U18 club. But as he grew literally, Giddey also grew skillfully. Between sprouting three inches to 6-foot-8, developing his perimeter skills, improving as a playmaker and asserting himself as a lead ball-handler, it was clear that his ceiling was rising as a player -- and that was before any draft buzz.
"I think from that point [of making the U-18 squad], that was maybe when a switch sort of went off that he had a chance to be special in basketball," Ebersole said. "I think it's always been a dream for him, but the fact that he went through some of that adversity at a young age and the disappointment of not making some of those teams probably fueled him. And by the time he was 18, he was not only making a state team, but he was excelling on it and leading those teams.
"In basketball terms, in relative terms, you could sort of label him as a late-bloomer in terms of how quickly his stock has risen. I think a lot of those traits have been there the whole time, but a lot of times it's confidence, it's putting it all together on the court, and I think that's the part that's really blossomed."
It's not just his size that stood out, either.
"Beyond that, he's also developed his game, and that part is really the key. There are not a lot of 6-foot-8 people out there who are able to do what Josh can do on the court," Ebersole said. "I mean the size certainly helps, but the development of his game in terms of growing into such a rare level of passer and leader of an offense on the court, I think that's the part that catches most people's attention – just how advanced he is in those areas of his game."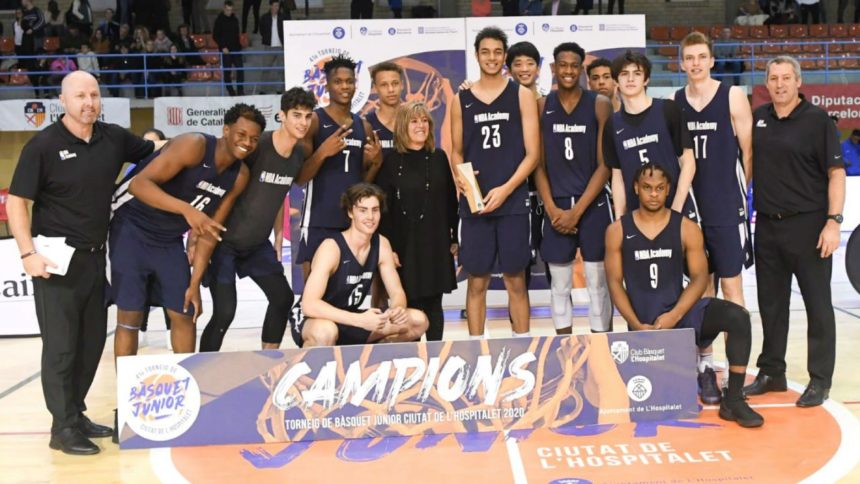 The Academy traveled to different tournaments and took on varying levels of competition. Ebersole recalls the 2020 Torneo Junior Ciutat L'Hospitalet, a tournament that featured the top junior teams around Europe. Giddey led the Academy to a win in Spain over the local FC Barcelona club and earned MVP honors after averaging 11.2 points, 8.4 rebounds and 4.6 assists per game.
Giddey saved his best performance for last, contributing 15 points, 11 rebounds and three assists in the tournament final.
"He was never fazed," Ebersole said. "He elevated his game... He makes those jaw-dropping plays look routine. Just an interesting part of his game is that he's able to make passes that no one else on the court, or watching the games, could see [coming]. And so, he'll make a pass and you're almost wondering where the ball is going, and it'll end up in the hand of his teammate right under the hoop. He does that multiple times a game (laughs). He can throw all different types of passes with both hands from any angle, and so he actually ends up making these extraordinary plays look very routine in his game.
"There have been countless examples of that just watching him, whether it's games at some of our events [in the] States or overseas; you see him make those types of passes and you just kinda look at each other on the sidelines and you sorta shake your head. It's so advanced, it's so rare to see a player of his age with that understanding of all the moving pieces on the court."
Just two months later, instead of coming to the United States to prepare for the NBA via college or the G League Ignite, Giddey elected to sign with the Adelaide 36ers of the National Basketball League as a part of its Next Stars program (just like LaMelo Ball and R.J. Hampton). It turned out to be a brilliant choice, as Giddey boosted his stock even further.
With the 36ers, Giddey won the NBL Rookie of the Year Award. He averaged the most assists in the league (7.6), and led Adelaide in rebounds per game (7.3). Giddey also scored the fourth-most points per game (10.9) on the team, while playing the second-most minutes per contest (32.1). The 18-year-old also became the youngest player in NBL history to record a triple-double (taking the record from LaMelo). Then, he did it again the very next night, making him the only Australian to have triple-doubles in consecutive games.
"Obviously, his time in the NBL [was] a huge factor in developing his confidence," Ebersole said. "He was handed the keys in a lot of ways when he got to Adelaide. The fact that he was able to translate all those skills in a league of that caliber... the NBL is a league of grown men and really talented players. For him to go in and showcase his skills at that level and translate them so quickly at that level, I think, is a huge boost for his confidence. I think at each level, he's able to now realize that he can impact these games and he's not out of place and he can hold his own."
"Great kid, very nice," Giddey's 36ers teammate and former NBA pro Brandon Paul told BasketballNews.com. "I think he's more mature than his years the way he carries himself on and off the court, and he's just someone who's got a crazy ceiling."
Giddey's stint with the 36ers ended on May 16, when both parties agreed to allow him to begin preparing for the 2021 NBA Draft. He carried over the momentum from the NBL into this summer, joining the Australian team's pre-Olympic training camp as one of 24 invitees and giving him a chance to play with some fellow Aussies whom he'd looked up to. Many NBA scouts and executives were in attendance to observe the practices and exhibitions.
"He's definitely garnering significant attention throughout this whole process," said Ebersole, who was present with Giddey in Las Vegas. "And of course with his time in Adelaide in the NBL – although there was maybe some limitation on how many scouts could get there to see him just given some of the restrictions on travel – it was clear the buzz around him was picking up during that time frame... I think he's gotten somewhat used to it."
Even though the Boomers left Giddey off their Olympic roster, they did name him as a replacement player and the experience was beneficial.
"It was fun. Obviously, it sucks I didn't make that team, but I still got to be around the guys and be able to train and compete against them every day right up until they left," Giddey said. "So for me, it was great because I got to compete against guys like [Matthew Dellavedova], Patty Mills, Joe Ingles – and then learn and train against them every day. So it was such a beneficial kinda month, two months for me, being able to learn from those guys.
"And then, it's such a good environment to me. I think for me going forward, it's gonna be critical to get this early taste of it because hopefully [in] the next 12-15 years, I'm gonna have a long career playing with the national team."
Ebersole is a California native, and he describes Giddey's personality as similar to his own: laid-back and self-deprecating. He says that Giddey is always fun to be around and has great leadership qualities. He can lead by example, but he's also a good communicator with both teammates and coaches alike.
"I've seen him interact with people and [he's] always very welcoming, even when he's being hounded," Paul added.
Ebersole assures that Giddey is a "hooper at heart." As for his off-court interests, the young Aussie is a sneakerhead.
When asked what kind of team or situation would be conducive to Giddey thriving as a rookie, Ebersole confidently said "anywhere."
"I don't think there's necessarily one team or type of team that sticks out," Ebersole said. "I think he does have such a versatile game that he'll be able to have an impact anywhere he goes... He's sort of proven that he can be that primary ball-handler, lead operator out of the pick-and-roll. But if he goes to a team where he's asked to play off the ball and go into some of those secondary actions, I think he's fully capable of doing that as well. When he was with our Academy, he played both roles at different points, so I think he's fully capable offensively playing either role.
"Defensively, I think that's one part of his game that people may be questioning. But I think he actually has a chance, just given his size, to be a multi-positional defender too and be able to guard multiple positions. He's versatile on both sides of the ball, and that's gonna allow him to thrive [in] whatever situation that may be. I think he's got a good chance – whether it's the primary guy or the secondary ball-handler – to impact offenses and keep the ball moving, which is his number one NBA skill at this point."
"I love passing the ball and he loved shooting the ball"

🇦🇺 @joshgiddey on his friendship with @Adelaide36ers guard and fellow NBA Academy alumni @Mojaveee and how they continue to push each other. #GiddeyUp

Watch the 2021 NBA Draft, July 30 on @ESPNAusNZ and NBA League Pass. pic.twitter.com/IyEf9UQiyt

— NBA Australia (@NBA_AU) July 25, 2021
Ebersole acknowledges that he's impressed with how Giddey has handled the pre-draft process and the hype surrounding him. The 18-year-old has approached it with humility, staying grounded and true to himself while "keeping those blinders on."
"I don't think it's easy for a young person to have this amount of pressure and success and expectation placed upon them in such a short amount of time, especially in Josh's case – where only a few years ago, he was not on anyone's radar in terms of the NBA-draft potential," Ebersole said. "[It] speaks to the type of worker he is, the type of focus he has.
"And that, of course, bodes well for his future – because once he gets to the NBA, that noise only grows. The fact that he's been able to sort of stay on course through all of this and not get side-tracked or distracted, I think, speaks to that character he has."
In a day's time, Giddey will hear his name called by NBA Commissioner Adam Silver.
"It's a dream come true for him to be drafted, and I think even for him growing up, this was obviously a dream, but only in the last two years has it really accelerated and evolved into reality," Ebersole said. "I think for him, it's somewhat surreal – but I know he's really excited and probably somewhat anxious to figure out where he's going to end up, as is the case, I think, with every prospect in the draft. But I think he's just beyond excited to finally realize his dream."
And the moment that Silver utters those words, Ebersole will not only be happy for Giddey, but for those who will come after him in the NBA Global Academy.
"We're definitely proud of him, obviously. To have our first graduate to be drafted be somebody like Josh – who's a selfless player, who has just a great approach to the game and approach to life – I think it makes it that much more special," Ebersole said. "I think it opens the doors to future breakthroughs.
"Our first draft pick in the 2021 draft will likely be Josh, and then you turn around and look at the door that's gonna open. In 2022, we expect to have multiple draft picks coming out of the NBA Academy program. We've now had NBA-Academy alumni in each of the first two years of the G League Ignite program (Princepal Singh and Dyson Daniels) and expect that to continue to grow... It's going to inspire future generations. There's a generation of young Australian players who are looking up to Dyson Daniels, young Argentinian players looking up to Francisco [Caffaro], young Indian players looking up to Princepal Singh. All of these individual successes are great in their own right, but they also open up the possibilities to so many others, so that's the part that really gets us excited. It's much bigger than any one player."
Giddey echoes those sentiments, and is honored to be a part of a global movement in basketball that is only getting stronger.
"On the international scale, you see how big the game's growing worldwide, outside of America. I think it's good for players all around the world because they can look at role models in their countries and see how well they're doing, and it allows the next generation to come through," Giddey said. "So, it's exciting times for basketball all around the world. And I think it's evident now, with countries beating the States – when 10 years ago, it was America just dominating on a world stage. So, it's really good to see."
BasketballNews.com's Senior NBA Draft Analyst Matt Babcock has Josh Giddey projected to go No. 7 overall to the Golden State Warriors in his latest 2021 NBA Mock Draft.