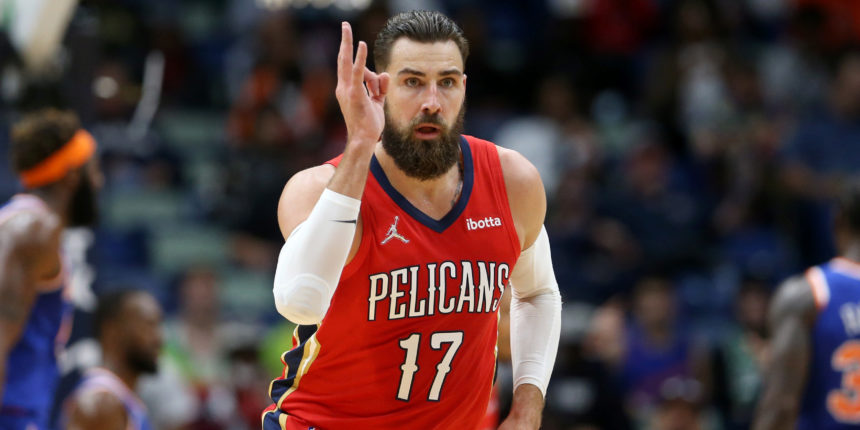 Jonas Valanciunas on unprecedented 50-40-90 pace for an NBA center
The following article first appeared on BasketballNetwork.net:
When fans think of the 50-40-90 club, the likes of Steve Nash and Steph Curry instantly come to mind. However, it's possible that the club could soon have an unprecedented addition: its first-ever center.
New Orleans Pelicans big man Jonas Valanciunas is currently on pace to join the 50-40-90 club, as he's shooting 51.0% from the field, 57.7% from three-point range and 90.0% from the free-throw line.
Many fans questioned the Pelicans when they flipped Steven Adams and replaced him with Valanciunas. The two centers are very similar in age, experience and size. However, this season, Valanciunas is proving he's more than just your average center.
According to Basketball-Reference, through 14 games, JV has the NBA's best three-point percentage (an impressive 57.7%). If anyone looked at his stats without checking the name, they would think it's Curry or Kevin Durant. The improvement in Jonas' game is just phenomenal at this point.
Compared to last season with the Memphis Grizzlies, he only made 36.8% of his shots from the deep and 77% from the free-throw line. If Valanciunas keeps this up, he will likely enter the Most-Improved-Player conversation by the end of the season.
What fueled his improvement?
The game is evolving, and we are seeing Valanciunas adapt to fit in today's NBA (similar to Brook Lopez's transformation earlier in his career). The two were known as banger, back-to-the-basket types of traditional big men, but now that the league is placing more importance on spacing and outside shooting, they have adapted and suprised many.
It remains to be seen if JV can sustain this over the course of the season. He is getting big minutes and a ton of touches because the Pelicans have been missing several big men (including Zion Williamson) due to injuries. Once the roster is fully healthy, it's expected that Jonas will revert to his old role, which is to provide defense and crash the boards.
Joining the elite 50-40-90 club is an accomplishment for any player, and it speaks to their accuracy and efficiency on the floor. Even Michael Jordan, Kobe Bryant and LeBron James, whom many consider the three GOATs, aren't part of this exclusive fraternity. Dirk Nowitzki is the only other big man in NBA history to accomplish this feat.
Valanciunas proves that getting traded to a rebuilding team isn't always a bad thing for one's career. This season, he's putting up personal bests in points, rebounds and assists, and he's doing it at historically efficient rates. Valanciunas has done his part to hold down the fort while the Pelicans await the return of Zion. When the roster is finally at full strength, New Orleans should be an exciting team to watch.
Check out more articles from BasketballNetwork.net here.