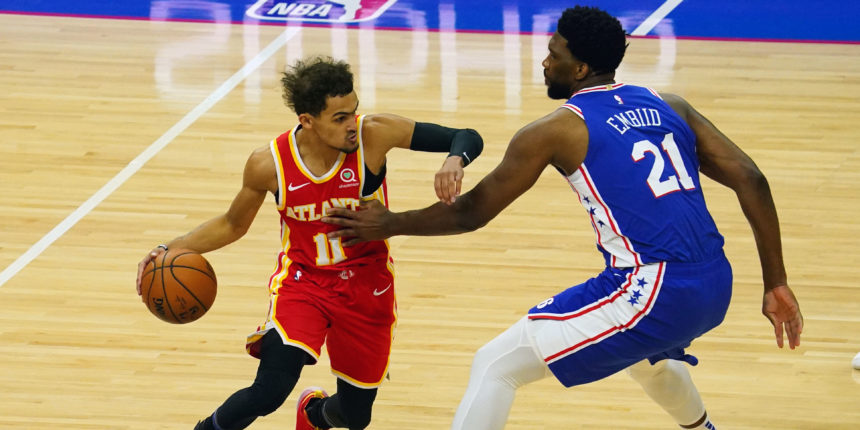 Joel Embiid has met his theatrical match in Trae Young
The understated highlight to Trae Young's Game 1 performance against the Philadelphia 76ers was a simple turnaround floater on the left baseline in the fourth quarter. Philly's defenders were frozen in place, and one of the many pushes the Sixers made in the final minutes was snuffed out again. Young made the shot and promptly skipped away, seemingly pleased with his performance and the arena's relative silence -- the equivalent to kicking sand in the eyes of the Sixers' animated, blue-collar crowd.
The Atlanta Hawks' first-round matchup against a darling New York Knicks team introduced everyone to a necessary character in the league's postseason soap opera: the villain. In order to fill this role, a player must be skilled enough to frustrate opposing fans and confident enough to relish the role by absorbing blows from detrimentally competitive players and fans alike. Young was bodychecked by Nerlens Noel on his way to the locker room, which led to cleared benches and a scuffle behind him as he continued his stroll and straightened his posture, looking a little impressed at his ability to provoke. He was spat on by a fan before an inbound pass, declining to press charges and opting to continue the series without distraction.
It's at this point that Knicks fans came to a terrifying realization: with every shaken fist and raised middle finger, Young consumes their energy like a Dragon-Ball-Z alien antagonist, ready to return the enthusiasm on the court in the form of deep threes and woven pick-and-rolls.
This dynamic that audiences enjoyed so much in Atlanta's first-round matchup will likely carry over into round two. And in Joel Embiid, we may get twice the chosen violence. Both stars love talking to hostile crowds as monolithic viewers, mouthing taunts and smirking, skipping, shuffling, and thrusting their hips after especially impressive baskets. It's great.
These two franchise cornerstones have an alternative understanding of their positions as NBA superstars, an understanding more camp and audacious. Young and Embiid see cameras, a tipsy audience and adjust accordingly — as evidenced by Young's literal bow after a 30-foot exclamation point against the Knicks in Game 5.
As self-appointed performers, the overzealous joy and villainy they bring is in refreshing contrast to the players too cool for such antics. Yeah, you may get a smirk out of Kevin Durant, a blank expression out of Kawhi Leonard, and maybe a gesture to Dame Lillard's imagined watch when he's feeling particularly sassy, but these measured responses don't compare.
When players behave as theatrically as Embiid and Young, they do so completely prepared for the inevitable response and potential embarrassment they'll undoubtedly receive for those inefficient, off nights. Young will bow after eliminating your team, but he'll take a loss on the chin too. Embiid will taunt opponents after an and-1, but he'll cry when he loses on a Game 7 buzzer-beater. They have an ability to remind us of the fun in the game -- a reminder that enjoying these moments rather than focusing on long-term narratives is where this excitement exists. Also, both sides of the spectrum show how much they care about this game.
To be treated to not one, but two agents of chaotic confidence has already proven special after Game 1.
Being listed as a game-time decision wasn't enough suspense for Embiid; he had to up the ante. WWE star Triple H was the franchise's bell-ringer for this matchup. As a reference to what has become a viral on-court celebration for the big man, Embiid walked onto the court alongside Triple H donning a DX 'Thrust The Process' shirt. This latest addition to his 'Process' lore (following the 'Phantom of the Process') set the stage for the antics we can expect to see all series long.
this is the absolute peak for any Attitude Era/NBA fans out there. haven't been this hype since Rodman walked out with the NWO. pic.twitter.com/2O2iVF9tWW

— Rob Perez (@WorldWideWob) June 6, 2021
But 'Ice Trae' is an equally pompous competitor who loves the spotlight. Young utilized his every acquired skill in a single Sunday afternoon, slicing up the Sixers' defensive gameplan by forcing a multitude of adjustments in the form of traps and full-court presses, all while contributing 10 assists to get his teammates involved.
The Sixers were initially taken aback by the way the star guard immediately dictated the rules of engagement, though it didn't take long for Embiid to join in on the fun, repeatedly calling for the ball in the post during the final minutes of the game and contorting his body into layups to induce contact (punctuated with an accomplished yell each time).
Atlanta ultimately came away with the win, but it's already safe to say that this series is primed to be a bright spot of the postseason, and these stars are ready for the challenge… to say the least.
"All the individual stuff is for the birds..." Young said following the Game 1 win. "All we care about is wins."