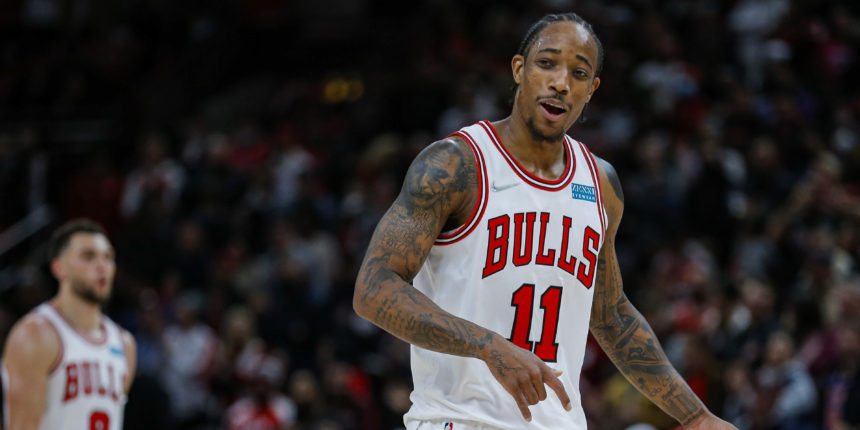 JJ Redick: DeMar DeRozan is 'worthy of a top-5 MVP discussion'
The following article first appeared on BasketballNetwork.net:
The deeper we get into the season, the more we get an idea of who is a legitimate Most Valuable Player candidate. At this point, the usual suspects are populating the various MVP ladders: Stephen Curry, Kevin Durant, Nikola Jokić and Paul George. Over the last several seasons, with the exception of PG and omittance of Giannis Antetokounmpo, these names have routinely popped up in the discussion for the league's top honor.
JJ Redick, a sharpshooter-turned-podcaster, has become one of the well-known voices in basketball media in recent years. Redick isn't afraid to throw out a take, but unlike many former players who are hot take-ish, he is more in the "common sense" camp, and feels like one guy is a no-brainer MVP candidate.
"In the first 14 or 15 games, let's acknowledge that DeMar DeRozan is worthy of a top-five MVP discussion," Redick said on The Old Man and The Three podcast.
(Redick also said something similar on ESPN last week.)
"If you were to have an MVP power rankings as of today, I'd put DeMar DeRozan third after Steph and KD."

👀 @jj_redick pic.twitter.com/r85AAcjh9Y

— NBA on ESPN (@ESPNNBA) November 16, 2021
This isn't some hot take from Redick, as more and more analysts have begun to notice that DeRozan should be in the MVP conversation. A lot of it has to do with the Chicago Bulls' 12-6 record, which has the team tied for second place in the Eastern Conference.
When the Bulls added DeRozan, Lonzo Ball and Alex Caruso to the fold with two All-Stars in Zach LaVine and Nikola Vučević, fans expected an exciting up-and-coming team. So far, so good, but this new collection of talent needs ample time to mesh and develop. As such, the outside expectation for the Bulls was for them to at least make a playoff appearance as a mid-tier squad.
Thus far, the Bulls have exceeded expectations, overpowering bottom-feeder teams like the Detroit Pistons and the New Orleans Pelicans while standing their ground against playoff teams like the Boston Celtics, Brooklyn Nets and Denver Nuggets. Coming into the season, everyone expected them to do well, but nobody expected them to be this good.
DeRozan himself is aware of the MVP whispers around him. It has become impossible to ignore since this is the first time his name has been included in these talks in quite some time. This hasn't changed his demeanor one bit, though. Like any other competitor playing a team sport, what matters is that the team is doing well. Everything else — even an MVP trophy — is nothing but extraneous matters.
"I'm going to be honest with you, I never once think about [MVP talk]," DeRozan said via the Chicago Sun-Times. "Winning takes care of everything, and as long as we do what we're supposed to on the court, winning, everything you desire will come with it and you take it as it comes."
It remains to be seen if DeRozan can make the unthinkable happen and etch his name in history. But from the looks of it, DeRozan would rather raise the Larry O'Brien trophy than any other trophy in the world.
Check out more articles from BasketballNetwork.net here.