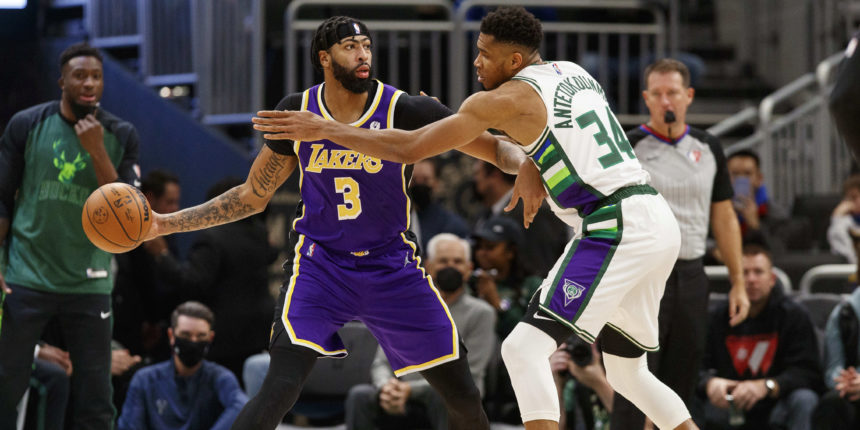 Richard Jefferson: It's unfair to compare Anthony Davis to Giannis
The following article first appeared on BasketballNetwork.net:
In a recent segment on ESPN's NBA Today, Richard Jefferson said that it is unfair to compare Giannis Antetokounmpo and Anthony Davis because they are not similar at all as players.
In the recent battle between the Los Angeles Lakers and Milwaukee Bucks, the latter came out on top, 109-102. The Greek Freak finished the game with 45 points, while Davis had a relatively modest game with only 18 points. Obviously, that sparked a debate over which of these two superstars is a more impactful player for their respective teams.
According to Jefferson, a former NBA player and current analyst, the comparisons are unfair. While AD and Giannis are somewhat similar in terms of their height and frame, their skill sets are very different, as Jefferson highlighted on NBA Today.
"We had so much conversation about Anthony Davis being a top-five player or top-75 ever. I am going to say this: it's unfair to Anthony Davis to compare him to Giannis. It's disrespectful to Giannis to compare him to Anthony Davis," Jefferson said. "They are two different individuals with similar body styles... If anything, I would say Anthony Davis is more talented than Giannis. He can shoot free throws at an 80% clip; he can knock down three-pointers in the mid-30s. Giannis can't do any of those things.
"But you know what Giannis can do? Giannis has a dog in him. He is a dog, and we haven't seen that from many players, so at this point in time, it's unfair to compare those two players."
"It is disrespectful to Giannis to compare him to Anthony Davis."

😳😶 @Rjeff24 pic.twitter.com/I6b0xkJxvw

— NBA on ESPN (@ESPNNBA) November 18, 2021
Unlike Anthony Davis — who we've seen this season playing the center position when the Lakers go with small-ball — Giannis often plays with force and bullies his way into the paint. On top of that, as Jefferson mentioned, their mindset is different, and Giannis has that old-school mentality.
When you look at the actual stats, Giannis is having a better season so far individually. Still, both of their teams are underperforming, and nobody expected that the Lakers and Bucks would struggle so much early on.
Davis had an excellent opportunity to showcase that he can lead the team now with LeBron James sidelined for most of the season, but that hasn't quite happened. He is already taking some slack for not being the leader that the Lakers need him to be, while Giannis has showcased on multiple occasions that he is the ultimate leader for the Bucks — ready to will his team to a win at all costs.
Check out more articles from BasketballNetwork.net here.