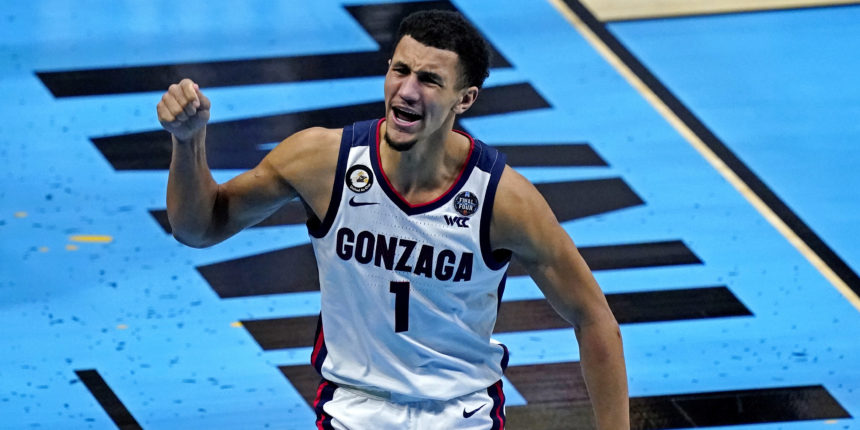 Jalen Suggs thinks 2021 draft 'definitely has a chance to rival 2003'
Jalen Suggs has won at every level. High-school state champion (in basketball and football). U-19 gold medalist. National-title-game run in his lone collegiate season at Gonzaga.
Wherever Suggs goes, winning follows, and he doesn't expect that to change in the NBA.
Finishing with a 31-1 record, Gonzaga ran roughshod over their competition in large part due to Suggs' all-around excellence. The five-star recruit from Minnesota averaged 14.4 points, 5.3 rebounds, 4.5 assists, and 1.9 steals per game on an elite 59.5 True Shooting percentage.
While Suggs is projected to be a top pick in the 2021 NBA Draft on Thursday, he nearly went down a very different path. He was also a star football recruit, ranked as the second-best overall player in Minnesota and the 15th-best dual-threat quarterback in the country, per 247Sports. He led his team to a 4A Minnesota state championship as well as a runner-up finish.
As a senior, he totaled 2,213 passing yards and 25 touchdowns as well as 978 rushing yards and 12 touchdowns on the ground. Defensively, he had nine interceptions (and returned two for touchdowns). Suggs, who is the second cousin of NFL star Terrell Suggs, became the first athlete to earn Minnesota's Mr. Football and Mr. Basketball honors in the same season. He received scholarship offers from Georgia, Ohio State, Iowa State, Iowa, Nebraska, Minnesota and Michigan State (while also drawing interest from Alabama's Nick Saban).
Jalen Suggs, also an INSANE football player

pic.twitter.com/jqlsB7KEhT

— PFF College (@PFF_College) April 4, 2021
Suggs ultimately decided to go the basketball route, which has paid off in spades for the 6-foot-4 combo guard. There are several traits taken straight from the football field that Suggs constantly displays on the court.
"I mean, you of course see it in the aggressiveness," Suggs said when BasketballNews.com asked about his football background. "The way I embrace contact [and] bring contact on the basketball floor, I think that directly comes over from the football field. And the vision, I think, is the biggest one, honestly. From being a safety, reading eyes, reading body language, seeing where guys are turning to make a pass or make a certain move. And then quarterback-wise on offense, just reading defenses. Seeing different windows to throw the ball in and have the ability to fit in those tight windows. I do think those are the two biggest things that go directly from the football field to the basketball court."
Prior to his time at Gonzaga, Suggs never had the opportunity to fully focus on basketball. As an elite multi-sport athlete throughout high school, he would go months without touching a basketball. In the summer and fall months, Suggs' main priority was football. Now, as a basketball player 100% of the time, he feels he's just now scratching the surface of his potential on the hardwood.
"The sky's the limit, honestly," Suggs said. "It's funny, I haven't been a full-time basketball player. I've always had to split the time between football season. And during football season, I never touched the basketball for the five months I was locked in on football. All the basketballs were put up in the closet and weren't touched until I was done. I mean, I think I have actually the most improvement to make out of anybody in this draft. So, I mean, couple that with the work ethic that I know I carry and, honestly, it's scary to think how good I can become."
Suggs rounds out the top tier of the 2021 NBA Draft class, which also features Cade Cunningham, Jalen Green, and Evan Mobley. When asked how this draft stacks up to some of the top classes in NBA history, Suggs sounded very confident that this group could be special.
"For as good as the top is, the rest of it is amazing as well," Suggs said. "I mean, I've gotten the pleasure to play with some guys. It's funny, when you look at the top-five, it's me, Jalen [Green], Cade [Cunningham], Scottie [Barnes], Evan [Mobley] – all guys who I played with on USA basketball. For as great of talents as they are, they're even better people. That's what makes it so special. Our talent on the floor speaks for itself, but off the floor, in locker rooms, we're guys who lead, guys who you want in your locker room. So, man, just a special class, better people. I couldn't be more excited to go in and get this process started with these guys, and go through it with them too.
"I think it has real potential to be exactly like that [2003 draft class]. We're all hard workers, all guys who are going to come in and make an impact. I can't speak highly enough about the guys at the top, to be honest. We definitely have a chance to rival that 2003 class that was legendary."
There aren't many holes in Suggs' game that stand out. The main areas where he could use some improvement are his outside shooting (33.7% from three-point range) and ability to create contact around the basket (3.8 free-throw attempts per game). Now, Suggs has hit the pre-draft process hard, working to perfect everything in his repertoire.
"The best players in the league go into offseasons, or in-season, [and] there's always room to improve on everything," Suggs said. "The best shooters can always get better. The best ball-handlers, the best finishers… I think, just overall, I'm really looking to become a perfectionist in all the areas I feel like I'm really good at. I don't feel like there's a true weakness, when you look at my game. I think [I'm] just looking to perfect all those things and get them to an elite level, a top-notch level, in this league that I'm going into is my focus.
"As far as finishing around the rim, I think I've always had a good floater, but sharpening that up and getting it to an elite level. Coming off of ball screens, the amount of spacing that's in this game right now — the way that everyone defends ball screens with the drop coverage — you get your floaters to look like lobs and lobs to look like floaters. If you got it money, it's honestly an easy shot — a simple two points and something that's really hard to guard. I think really getting that to an elite level will open up getting to the basket and finishing at the rim more, so I'm focusing on that."
Projected as a consensus top-five pick — currently slotted at No. 5 overall to the Orlando Magic in BasketballNews.com's latest mock draft — Suggs' competitiveness oozes out when asked where he could land. Putting a proverbial chip on his shoulder, Suggs says he will remember every team that passes on him and every prospect who is selected above him on Thursday night. Whenever a team passes on him, it will only add fuel to Suggs' internal fire.
"I mean, as far as where I go, that's not something I'm really too worried about; I'll thrive in whatever system, whatever city, I end up in," Suggs said. "Wherever I do end up, that's God's plan, so it's meant to be. I will say: the ones that do pass on me and take another prospect, it will come back. It will be to their detriment, honestly, because you can look at my track record —what I've done and where I've been — it's always win at the highest level. And my play has been at the highest level.
"As far as that goes, if somebody makes a decision that's not me, that's their opinion and I can never be angry at them for that, but I don't forget those kinds of things. That's just how competitive I am."