Jaren Jackson Jr.'s story is one of perseverance, though not in the traditional sense.
Unlike, say, Fred VanVleet or Alex Caruso — who had to claw and fight their way into the NBA, whose names were not called on draft night — Jackson was a top-four pick in 2018; he was supposed to be good.
Jackson fit that prestigious billing in his rookie season, averaging 13.8 points and 1.4 blocks while shooting 35.9% from three, though Year 1 was cut short by a right quad injury. Still, Jaren was able to finish fourth in Rookie of the Year voting. Certain outlets, like Yahoo Sports, were wondering aloud if Jackson could wind up being the best of his class after his signature 36-point outburst vs. the Brooklyn Nets.
Though he was able to build on his strengths in his sophomore season (17.4 points on 39.5% from three, and 1.6 blocks per game), alas, he met a similar demise to close Year 2. Jackson tore his meniscus against the New Orleans Pelicans in the Orlando Bubble, thereby ending his season and sending him home as his Memphis Grizzlies teammates trudged into the first play-in game in NBA history.
The compressed nature of the 2020 offseason meant that Jaren's meniscus tear doomed his 2020-21 season. With just an 11-game regular-season runway, he struggled mightily in his first postseason; Memphis was nearly 10.3 points better with him off the floor, per PBP Stats, in the 2021 playoffs.
Even with his lackluster postseason showing and three fairly injury-riddled seasons, Memphis decided that it had seen enough and agreed to a lavish four-year, $105 million extension, a move that caught experts by surprise. Skepticism only intensified after Jackson's slow start to the 2021-22 season.
Which brings us to the present day, where Jackson is... wait... who exactly is Jaren Jackson Jr. as we head into the year (shudders) 2022?
Loosely speaking, JJJ could best be described as a "stretch big," a term we tend to associate with behemoths who live off standstill shots and the occasional slow-mo pick-and-pop (e.g. Jonas Valanciunas). Jaren's no exception to that rule, and is quite proficient with the easy ones, connecting on 37.1% of his catch-and-shoot threes over his career to this point.
But Jackson does a whole lot more to separate himself from his peers, and whew, that's where things really get fun.
The diversification of Jackson's shot profile is frankly astounding. He'll hit threes while flowing off screens, and is capable of running into his looks in the midst of a full-speed transition sprint. If pressured, he'll even catch the ball on the move and take a solo dribble to create more profitable windows of opportunity. When Memphis runs pick-and-roll with one of its rim-runners, Jackson can space the floor and slide up the wing for some "shake action," allowing the Grizzlies to maintain their double-big alignments.
A sluggish month of October from three (27.3%) has tanked his overall numbers, but JJJ has since then connected on 36% of his long-rangers — right in line with his career average (36.5%).
The dude is simply a full-blown shooting specialist, incredibly one who is 6-foot-11. He's taken more three-point shots than anyone 6-9 or taller, per StatHead. That list includes Karl-Anthony Towns and Kevin Durant.
The clip below is a great example of just how devastatingly versatile Jackson is as an offensive player. On this ATO, Jackson initially slides in to set a screen for the cutting Killian Tillie. With jarring quickness, he then comes off a flare screen from Steven Adams, catches, pirouettes and sets his feet perfectly for a quick-strike three-ball like a 7-foot Patty Mills. In a single possession, Jackson smoothly transforms from a big man to a guard without losing an inch of stature.
His ability to completely change directions to square up from deep allows Grizzlies head coach Taylor Jenkins to get creative with Jackson's utilization. Below, Jaren sets the back screen and pops to three during this Spain pick-and-roll set — a role mostly reserved for guards and wings with this specific playtype.
Jackson does come with his fair share of limitations as a shooter though. Self-creation as a volume three-point guy is a bit of a sore spot. Because of his... shall we call them "unorthodox" shooting mechanics?... he's prone to being sped up a bit with tight closeouts. That's the pitfall of having such a low release point. He's connected on just 26% of his contested long-range looks this season, right in line with his career average of 28% on such shots.
By shooting from his chest, Darius Bazley has less ground to make up when Jaren steps back from three. At nearly 7 feet tall, Jackson should rarely, if ever, have his three-point shot blocked. Yet, he's tied for first in the league in this category with 6 blocked three-point attempts, per PBP Stats, alongside Tyler Herro, Duncan Robinson, Cade Cunningham and Buddy Hield — all of whom are 6-7 or shorter.
Still, as an established shooter with multiple avenues to hurt a defense, JJJ commands defensive attention behind the arc, and this opens up his catch-and-go game. Give Jaren a hard closeout, and he'll eagerly put the ball on the floor and crash to the rim with the determination of Banzai Bill. When provided with an advantage, he's tough to stop with the ball in hand.
Jackson's aggressiveness took a glaring jump when Ja Morant sprained his left knee, with Jaren's drives jumping from just 4.0 per game to 6.8, per Second Spectrum. Increased aggressiveness has led to more contact in the lane, and JJJ has drawn fouls on 14.1% of his shot attempts since Morant's injury — 65th percentile at his position, per Cleaning the Glass.
His handle has moments of absolute splendor. Behold, a spin move stitched snuggly into a between-the-legs dribble, followed by a change-of-pace Eurostep that perfectly evades some pretty outstanding defense from Kristaps Porzingis. Just a quick reminder for those that missed it: JJJ is 6-11.
That said, those glimpses of superstardom are exactly that: glimpses. Jackson is having his worst finishing season to date at the rim at 62%, which is in the 34th percentile at his position. He's prone to early pickup points in the lane, which isn't necessarily surprising given his size; he's got more distance to cover from his palm to the floor when dribbling, making him an easier target for digs and steals.
Picking up his dribble at the free-throw line limits his options — one extra bounce and he's at the rim using his body to draw contact.
Fortunately, JJJ has seen some improvement with his off-hand finishing. Again, while his overall numbers are down, there were moments where I had to remind myself that, "Oh yeah, this guy is not left-hand dominant." Spinning hooks after up-and-unders, layups high off the glass, and running floaters are all at JJJ's disposal with his left.
Here's a bold prediction: At some point, Jaren Jackson Jr. is going to be an absolute hassle to deal with in transition. Right now, the numbers scoff at that notion; he's currently averaging only one point per fastbreak possession, per Synergy, just shy of the 30th percentile league-wide. Still, the flashes are preposterous.
With the north-to-south zip of a bullet train and the brazenness of the Unstoppable Juggernaut, Jackson can be a living nightmare to contain when blazing trails in transition. Combining his dribbling package and newfound confidence with the rock, plus an extended runway to get into his elongated fourth and fifth steps, is a winning formula for JJJ — and a recipe for disaster for any transition defense.
Jackson's brashness as a driver — both in the half-court and in transition — can, of course, get him into many a pickle. Often, it'll feel as if JJJ finds a pocket to the rim, yet doesn't read what the defense gives him; he's not particularly proficient at lay-down reads to his big men when opposing centers pull over to stop dribble penetration, for example. His processing speed works as fast as dial-up internet.
On other plays, he'll be doomed from the start, driving without a plan. Come to think of it, that's a good way to describe JJJ: he is a planless driver, finishing like a guard on downhill attacks at a 43.8% success rate. His floor mapping is skewed to what is directly in front of him. Here are two great examples to illustrate that:
In the first clip, Talen Horton-Tucker is put in a "split the difference" decision, tasked with guarding both Desmond Bane (41.2% from deep) and Tyus Jones (40.8%) by the time JJJ takes his second dribble. Yet, instead of Jackson making the read to his two snipers flanking the weak side, JJJ pummels into LeBron James for the turnover. In the second clip, Jackson has room for a pass to Killian Tillie in the corner, but drives into a window that really isn't there in the first place.
This remains the most troubling part of JJJ's offensive game; he's assisting on just 5.4% of his teammates' baskets, the lowest of his career and a bottom-20 mark among the 100 big men that qualified on Cleaning the Glass. In order to be a high-octane creator and a true-blue secondary option on a championship team, he's going to need to be able to create for others. Right now, he's falling short.
Jaren is one of only 25 players ever to record one assist or fewer while averaging at least 25 minutes and 16 points in a single season, per StatHead.
But look, it's not all bad. The dude has been absolutely mashing dudes in the post this season.
Because he's such an outstanding pick-and-pop option, defenses will regularly switch and send guards his way to snuff out looks from three. With added strength, JJJ has gleefully taken those smaller dudes down to the block for a clinic in overpowering bully ball, or just by simply shooting over the top. And similarly, prototypical bigs don't stand a chance against Jackson when facing up — he can simply dash right on by them.
His newfound ambidexterity has only simplified the game, and he's got a pretty nifty drop step. After ranking within the 52nd and 34th percentile as a post-up player in his first two seasons, Jackson's efficiency has ballooned all the way up to the 83rd percentile in Year 4, per Synergy.
A bigger wing who can push him off his spots without getting left in the dust is JJJ's kryptonite in the post. Below, PJ Tucker absorbs his body blows and shoves him into a 10-foot hook shot, while LeBron cuts off the middle and just straight up stonewalls the 22-year-old. Though really, how many teams enjoy the luxury of a super-predator wing who can tussle with bigs on the block? The answer? Not many!
Defensively, he's taken great strides while recording a career-high 1.8 blocks and a career-low 3.5 fouls, a huge point of weakness for him throughout his first three seasons. Only three players have recorded more total blocks this season: Myles Turner, Rudy Gobert and Mo Bamba.
Per Second Spectrum, opponents are shooting just 47.5% at the rim with Jackson hawking nearby, a top-three mark rivaled only by Giannis Antetokounmpo and Gobert (min. 100 attempts). Memphis is a whopping 7.7 points per 100 possessions better defensively with Jackson on the floor, which ranks in the 91st percentile at his position per Cleaning the Glass.
Basically, the dude is a certified shot-swatter.
Jackson's 7-4 wingspan was his defensive calling card coming into the league, and man, those arms truly go on for days. (Decades, even.) Just watch how much ground he covers in the clip below.
No, seriously. Watch it again. At the 6:53 mark, he's extinguishing a shot at the rim...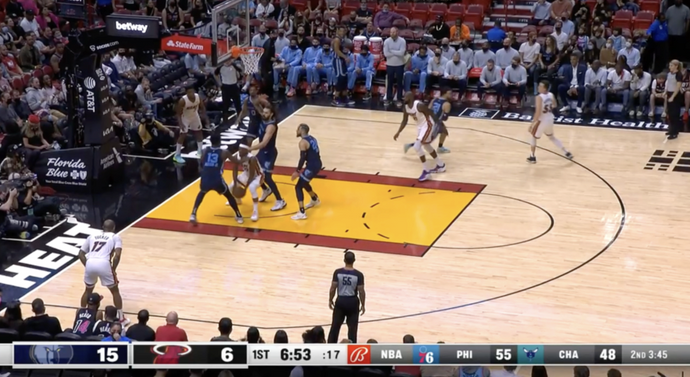 And by 6:52, he's practically got his fingertips on the ball while contesting the corner shooter.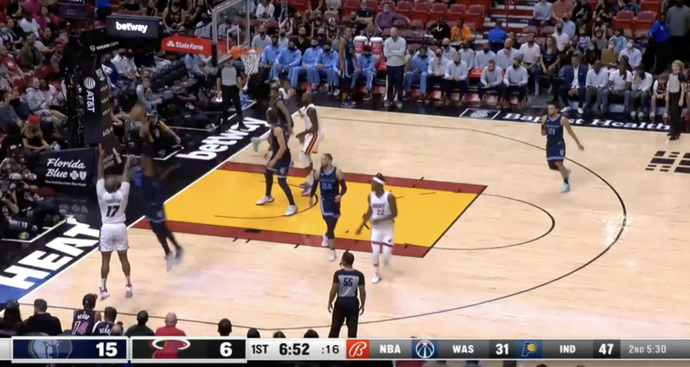 Just insane.
Granted, Jackson is a pretty anemic rebounder, averaging just 5.3 boards per game. Thus, he's fairly limited as a frontcourt player; in the 148 minutes that he's played center, Memphis has gotten crushed by 9.4 points per 100 possessions, per PBP Stats.
The Grizz have instead chosen to deploy Jackson in double-big lineups alongside Steven Adams, Brandon Clarke and Xavier Tillman for 83% of his total minutes to hide that weakness. That strategy has been one of prudence; all three double-big alignments have yielded positive Net Rating data, again per PBP Stats.
Sharing the floor with another big typically leaves Jackson stashed away in the corners, and that's fine! He is a devastating shot-swatter as the weak-side low-man.
Like any young player, Jackson has his warts defensively. His effort wanes from game to game, his closeouts can be a little wild, he'll still look jumpy on pump fakes on occasion and he's prone to ball-watching in opportune moments; though, his absurd wingspan can certainly make up for his mistakes.
For as good as he is, there's room for improvement. Crazy.
So it begs the question: Who is Jaren Jackson Jr.?
And is he a star in the making?
Jaren is one of only 12 players in NBA history to have recorded 240 blocks and 250 made three-pointers before turning 23 years old, per StatHead. He's effectively a 3-and-D big man with some serious promise off the dribble and back-to-the-basket.
Yet, he's barely putting up a league-average True Shooting percentage this season (55%) due to his struggles inside 7 feet, and his limitations as a passer may render him predictable. Worse, his decrepit rebounding could make him lineup-dependent. The holes in his game will keep him out of All-Star consideration until further notice. He's still got a ton to work on.
Having said that, Jaren Jackson Jr. is one of the most tantalizing young players to sit down and watch, a unicorn impaling the league with a barrage of threes and blocks. Even in Year 4, he's only played in 157 total games — less than two seasons' worth of basketball.
If the extra things ever fully click, watch out.