New York Knicks big man Julius Randle is having a monster season, which helped him earn his first NBA All-Star appearance. From a betting perspective, Randle has become an overwhelming favorite to win the NBA's Most Improved Player award.
Randle is listed at -2000 at DraftKings Sportsbook, meaning the race is over. Jerami Grant comes in second at +500, followed by Michael Porter Jr. at +2000. Just two weeks ago, Randle was listed at -305 to win MIP, so you can see just how big of a favorite he has become over the past month.
Up until March 23, Grant was actually the favorite, but that night, Randle went off for 37 points while leading the Knicks to a victory against the Washington Wizards. The Knicks' stud has not looked back since, and neither have his odds to win the award.
Randle has been one of the best players in not only the East, but the league, averaging career-highs in points (24.0), rebounds (10.3) and assists (5.9) this season.
One of the keys to his success on offense has been his ability to step outside the arc. He averages 2.3 makes and 5.4 takes a game from three, all while shooting 41.5% from deep. Not only is Randle the NBA's Most Improved Player, he should get some consideration for league MVP.
Jerami Grant (+500)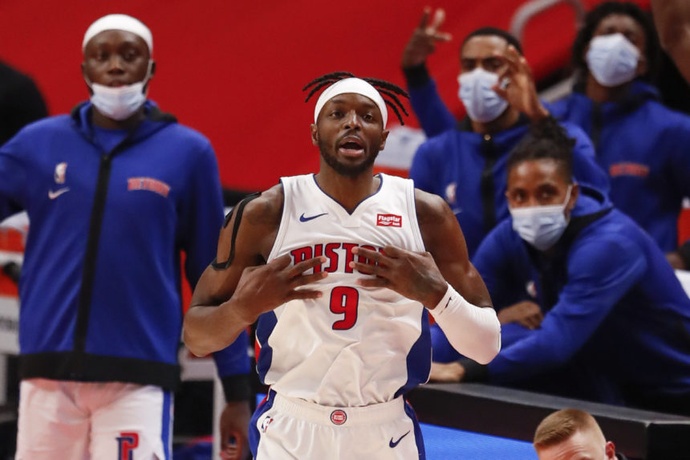 Grant is currently listed second when looking at the odds to win the award. Grant is having a great season in his own right, scoring 22.3 points per game for the Detroit Pistons. That's a huge jump, considering he's never topped even 14 PPG prior to this season. Jerami has also more than doubled his assist rate this year, another big leap.
Grant is a guy who has worked hard on his game and it shows. If he was going up against anyone other than Randle this season, he'd have a tremendous case for winning the award.
Michael Porter Jr. (+2000)
Denver's Porter Jr. has made the leap this year, and he's been on fire over the past month. With Jamal Murray going down due to injury, Porter Jr. has stepped up offensively for Denver. In the 14 games without Murray, Porter has averaged 25.4 points and 6.1 rebounds, and has hit a sizzling 50.9% of his threes on over eight perimeter attempts per game.
Unfortunately just like Grant, Porter's terrific play is going to be overshadowed by Randle's dominance, at least when it comes to the MIP award. Porter Jr. came on strong, but it won't be enough to overtake the favorite Randle.
Verdict: No one is catching Randle.
Julius Randle hits the dagger over PG 😲

Knicks win. pic.twitter.com/G7SIRceG51

— Bleacher Report (@BleacherReport) May 9, 2021
Here's a fun fact, per Tommy Beer: "Julius Randle is on track to become just the second player in NBA history to average more than 10 rebounds and more than 5 assists per game while shooting greater than 40% from three-point range and greater than 80% on free throws. The only other player currently in this club is Larry Bird."
Beer broke down Randle's terrific season and why he deserves some MVP consideration (in addition to MIP love), which you can check out here.
Ultimately, with the season all but over, it looks like a wrap for Randle to win the award -- especially with the Knicks getting to the playoffs for the first time since the 2012-13 season.
If you missed the boat on winning a Most Improved Player bet then make sure you check out BetQL for picks on tonight's slate of games, where you can find a pick for every game and every bet type. BetQL also has the most updated NBA odds, lines, and spreads for every game, so even if you aren't tailing their picks it can be a helpful tool for any NBA bettor.