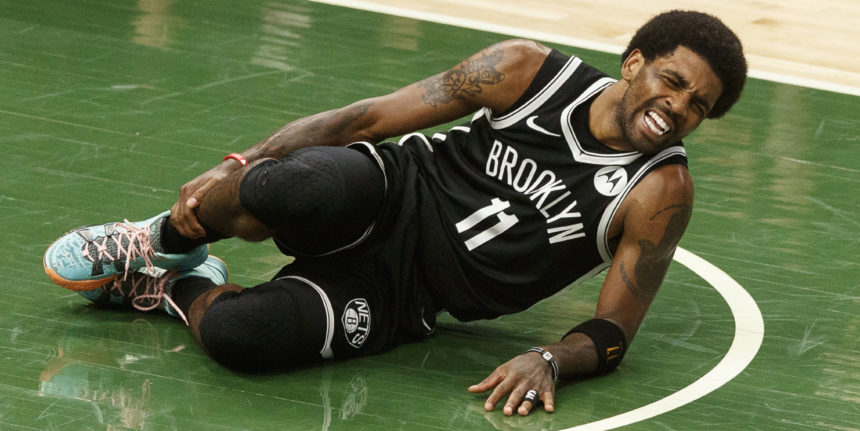 Injuries causing big odds swings for 3 remaining NBA playoff series
Injuries have decimated star players during the 2021 NBA Playoffs, causing ripple effects for championship contenders and bettors alike. There have been huge swings and adjustments to the odds for the remaining three series, most notably in the Milwaukee Bucks-Brooklyn Nets series.
Milwaukee is now favored to win the matchup for the first time. Brooklyn had been the favorites to take the series ahead of each of the other four games. Before Game 1, Milwaukee was at +145, while Brooklyn was at -175. Ahead of Game 2, the Nets were -250, while the Bucks sat at +200. Prior to Game 3, the odds were at their highest for Brooklyn, who were -500 favorites and Milwaukee was +375. And, before the Bucks tied the series in Game 4, Milwaukee's odds were at +310, while the Nets were still big favorites at -370.
Milwaukee tied the series at 2-2 with a 107-96 victory in Game 4. However, that was not the only loss Brooklyn suffered on Sunday. Superstar guard Kyrie Irving went down with a terrible ankle injury. His injury along with Harden's ailing hamstring have resulted in Milwaukee being favored at -186 to win the series ahead of Game 5. Brooklyn now sits as +150 underdogs.
Irving's X-rays came back negative, but an MRI confirmed the sprain. Whether he will return at all for the remainder of the series is unknown.
"I have no idea what's going to happen with [Irving] in the coming days," Nets head coach Steve Nash said after Game 4. "We'll cross our fingers and hope that it's better than… better than missing the next game."
Milwaukee is now favored by four points to win Game 5. The Bucks are also at -150 on the moneyline. The Nets do have possible reinforcements coming tonight, though. ESPN's Adrian Wojnarowski reported earlier that Harden was going to try to test out his hamstring in shootaround tonight. If there was ever a time Brooklyn could use The Beard, it's now.
"The Bucks now stand as PointsBet's favorite to win it all at +325 (Nets at +375, Suns 4-1, Jazz 5-1), and are -180 favorites to beat the Nets (+150) in their ongoing series," per Michael Korn, Sports Analyst at PointsBet Sportsbook.
Check out BetQL for the most updated odds, lines, and spreads for tonight's pivotal Game 6 in this series. You can also check out which side BetQL's expert pick model is betting for this game.
The other Eastern Conference matchup featuring the Philadelphia 76ers and the Atlanta Hawks has been more fun than anticipated. The Sixers opened as -165 favorites at most books before going down to the Hawks in Game 1. The price then came down to where you could've had Sixers at -115 to win the series at PointsBet before Game 2. After Philadelphia won Game 3, the series price went to Sixers -250. But, even after Atlanta took Game 4 to tie up the series on Monday, their odds to win the series got even longer. Currently, the Sixers are listed at -315 to wrap this series up at DraftKings Sportsbook.
Over in the Western Conference, we've also seen a slight shift in the price of the Los Angeles Clippers vs. Utah Jazz.
Los Angeles started 0-2 in their matchup against Utah. The Jazz opened in the -160 range before Game 1 and, after starting the series 2-0, their odds got as high as -210 to win the series at DraftKings Sportsbook.
The Clippers have now roared back with a vengeance with two back-to-back wins at home. Utah is still favored to win the showdown at -137, but Los Angeles' odds have gotten shorter, as they currently sit at +112.
Title Odds
Along with the series odds, the odds to win the NBA Championship have also moved over the past week. The Bucks are now favored to win it all at +320 at DraftKings Sportsbook. Milwaukee is followed by Brooklyn (+375), Phoenix (+400), Utah (+400), Los Angeles (+550), and Philadelphia (+650). Atlanta remains a huge longshot at +6600, despite being tied 2-2 with Philly.
This week will have a huge impact on the title odds, so if you see some value in teams like the Clippers, Sixers, or Hawks, today would be the day to throw a few bucks down on their futures. As for this year as a whole, we can't remember the last time the race to win the NBA Title was this open. Depending on who you have money on or are rooting for, this parity makes it more interesting for both bettors and fans.
"We are in a great spot in terms of our NBA outright winner book -- no terrible results left for PointsBet," Korn said. "In terms of conferences, our biggest liability to win the West is the Suns, and our biggest liability to win the East is the Hawks."
Finals MVP Update

If the Nets do get eliminated, it would help books in a different way as well. Kevin Durant, James Harden, and Chris Paul are the biggest remaining threats left to win the Finals MVP award.
"Kevin Durant is the betting favorite to win NBA Finals MVP," Seamus Magee, Sports Trade at, BetMGM, said. "However, Durant's odds to win the award have slipped from +145 last week to +400 after the Bucks tied the Round 2 series 2-2.
"Currently, Durant and James Harden are the biggest liabilities to win Finals MVP."
PointsBet is on the same page as BetMGM. Per Korn, "Harden is our biggest liability here, by a significant margin, but we have also started to amass a decent liability on Chris Paul, who opened the playoffs at +3000 and now stands at +850 to win NBA Finals MVP."
If you want to get in on the action of any of these NBA series make sure to check out the sportsbook promos available in your state. Sportsbooks are giving away free bets just for signing up for a new account.