Injuries Galore: The NBA's all-too-soon return has made losers of us all
Twice, like a thief in the night, Lady Luck picked his pocket cleaner than even Allen Iverson could've.
That fistful of rings that Magic Johnson possesses could've easily been seven, but she — perhaps put up to it by the Basketball Gods — had other plans.
A five-time champion, the legendary Magic Johnson won the league's MVP award in 1989. His Los Angeles Lakers were looking for a three-peat, which seemed inevitable. They'd be squaring off against Isiah Thomas and the Detroit Pistons in a rematch of the prior year's Finals, one in which the Lakers prevailed in seven games.
Au contraire.
After losing Game 1 in Detroit, Johnson suffered a season-ending strained hamstring in the third quarter of Game 2. The Lakers would go on to lose that one, as well as both Game 3 and Game 4 — neither of which saw Johnson take the court.
Two years later, after Michael Jordan knocked off the Pistons and ascended to the Eastern Conference's throne, he would see Johnson in what was the Laker legend's ninth and final trip to the championship series. Those 1991 NBA Finals should have been a clash of the titans... But Jordan's Bulls rolled over the Lakers in just five games.
James Worthy, the Lakers' leading scorer that season, suffered a sprained ankle during the Western Conference Finals. It hampered him before a reaggravation caused him to check out of the series for good with 2:49 remaining in the third quarter of Game 4. The Bulls, in all fairness, led the series 2-1 at that point. But the Lakers would lose Game 4 and Game 5, the second of which was played without both Worthy and key reserve Byron Scott.
As a result of those absences, in that fateful game, the Lakers played only seven players.
Magic wouldn't see the Finals again. His 5-4 record there is pretty good, but not nearly as spectacular as a 7-2 record would have been. But that's okay… Injuries always have and always will be a part of the game.
Somewhere, Kevin Durant is nodding in agreement. And Kyle Lowry is raising his eyebrows and shrugging his shoulders.
As safe a bet as there is, your last nickel can confidently be wagered on injuries playing a part when it comes to the Larry O'Brien trophy. One of LeBron James' Finals losses came without Kyrie Irving or Kevin Love by his side. Doc Rivers would quickly remind you about Kendrick Perkins' torn ACL.
So yes. It happens…
But damn, bro… Not like this.
The 2021 NBA Playoffs — where asterisks abound.
Unlike Magic's first NBA Finals in 1980, and still quite dissimilar to his last one in 1991, today, the NBA is a billion-dollar business. We love the game. We watch players like Steph Curry, Damian Lillard and Durant make Herculean feats looks routine. Larger than life in every sense of the word, having an in-person conversation with an NBA superstar — no matter how long you've been around the business — is pretty damn cool.
For most of us, making eye contact with LeBron or giving a fist bump to Zion Williamson is the closest we'll ever get to meeting a superhero. We can't help but wonder what it feels like to fly.
So we watch games and we buy tickets. Now, we place bets. StubHub wants in on the action, so does BetQL. And the likes of ESPN and TNT pay the NBA billions of dollars to televise everything from preseason games to the newest phenomenon: the All-Star Game Draft.
The trickle-down effect of that — thanks to a player-friendly collective bargaining agreement that usually distributes the majority of revenue to the players — is merely "decent" pro players becoming centimillionaires.
They employ agents, business managers, public relations professionals, bodyguards, nutritionists, strength trainers, chauffeurs and nannies. And in each their own right, NBA players have become their own economic solar systems with their own individual sets of celestial objects.
So when there's a work stoppage and Player X doesn't have the means to earn his millions, the aggregate economic impact for those within his ecosystem is catastrophic.
For that reason, as we learned in the Orlando Bubble last season, the game must go on, even if the NBA's players don't necessarily want it to.
It's just sad now that everyone seems to be paying the price.
The powers that be in the NBA and its players union jointly agreed to ask its workforce to play 80 regular season games and two postseasons in less than one year. For the Lakers and the Miami Heat, specifically, their 2019-20 season ended on Oct. 11, while their 2020-21 season began on Dec. 22 and Dec. 23, respectively.
Neither would get out of the first round this time around. Maybe it was a coincidence, but it's hard to make that argument based on what we've seen transpire before our very eyes.
Between then and now, scores of impact players have had their seasons derailed by injury. Without knowing better, you could believe the names to be a recital of some All-NBA teams.
Jamal Murray, Jaylen Brown and Victor Oladipo never played a minute in the 2021 playoffs. Neither did Myles Turner or Gordon Hayward (whose teams didn't qualify for the playoffs but did make it to the play-in tournament, where perhaps they could've secured a spot if they were at full strength).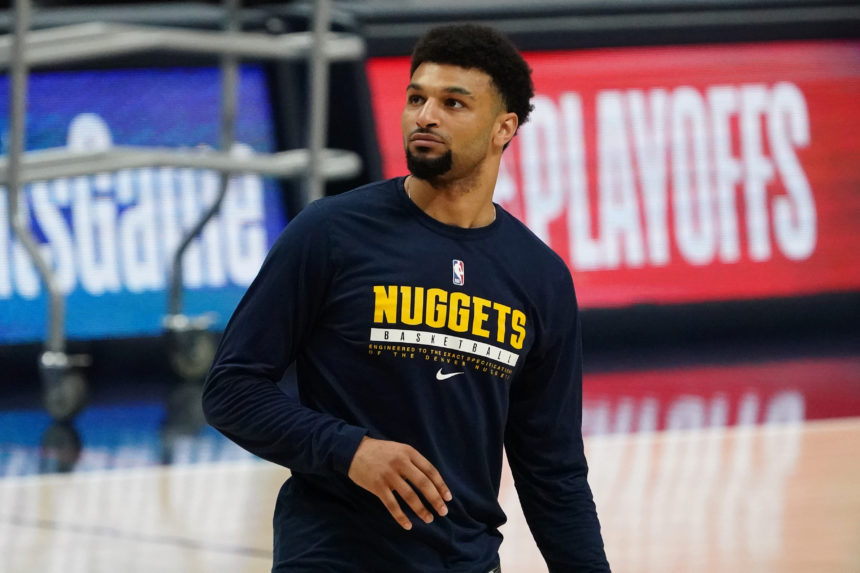 Among the difference-makers who sustained significant injuries, but played through them, are LeBron, Luka Doncic, Russell Westbrook, Bradley Beal and Michael Porter Jr.
Many others weren't as lucky.
Anthony Davis, who officially missed only one playoff game, was essentially absent from the Lakers' final three. Chris Paul will likely begin the Western Conference Finals on the shelf after testing positive for COVID-19, but let's not forget about the shoulder injury that threatened to derail the Suns' title run before it even began. He was favoring the shoulder as recently as Game 3 against the Denver Nuggets.
Kawhi Leonard's season is potentially over, while many other participants in the NBA's Elite Eight are attempting to shake off their ailments and return to form. Entering play on June 18, James Harden, Joel Embiid, Donovan Mitchell, Kyrie Irving and even Mike Conley, in their truest forms, are still M.I.A.
Ja Morant and Devin Booker have arrived. Porter grew up. Durant returned. But we've been distracted from it by the fact that many of our favorites are dropping like flies.
Thus far, eight of the 26 players selected as 2021 NBA All-Stars have missed playoff games which, according to the Elias Sports Bureau, is an all-time record.
That sobering statistic led to LeBron — still the face of the NBA — going on a mini-rant on Twitter, essentially wagging his finger and saying, "I told you so!"
James reportedly advocated for the start of the 2020-21 season to be pushed back until at least some point in January due to, according to him, fears of increased injury probabilities due to fatigue.
James obviously lost. And now, unfortunately, so has everyone else.
Superheroes they may be, but the exploitation of their talents — and our collective willingness to watch it, talk about it, and yes, write about it — is the NBA's business. The decision to begin the 2020-21 season days before Christmas was made with careful thought, and after balancing many factors. But for the NBA, as is usually the case, business won out.
From the beginning, it was always a zero-sum game: playing as close to 82 games as possible was the priority and completing the season with enough time to get the 2021-22 season back on its traditional schedule was necessary.
The beauty of an NBA Finals played in June has always been not having to compete with Major League Baseball's pennant races or with the NFL. This year in particular, the league had to consider the Tokyo Olympics, which is set to commence on July 23.
So business won out. It's just a shame that, in the form of their health, the league's players had to pay the bill.
When the smoke clears, the 2021 NBA Champion, without question, won't be able to flatly lay claim to being the best team — not with so many impact players hobbling into the postseason.
What we've seen this postseason in terms of injuries, is unprecedented, and even though injuries have always been a part of the game, Magic Johnson himself probably can't help but to be blown away.
Jamal Murray should've had a chance. Kawhi Leonard's season shouldn't end with him in a suit. Kyrie Irving isn't supposed to be sidelined for a Game 7. Nobody ever wanted to see Anthony Davis limp off the floor, just like nobody wants to see Joel Embiid reduced to being a wounded warrior.
We now know that LeBron was right. We've seen enough to say that, with confidence, the NBA returned to action much too soon. We all understand why, but in deciding to do so, Adam Silver, Michele Roberts and the powers that be decided to sigh, inhale, look up into the sky and shoot the dice.
With one flick of the wrist, they decided to take a monumental risk and bet that their players would hold up over the long haul.
Defiantly, they shook up the dice and shot. And with it all on the line, they rolled snake eyes.
In the end, they've made losers of us all.