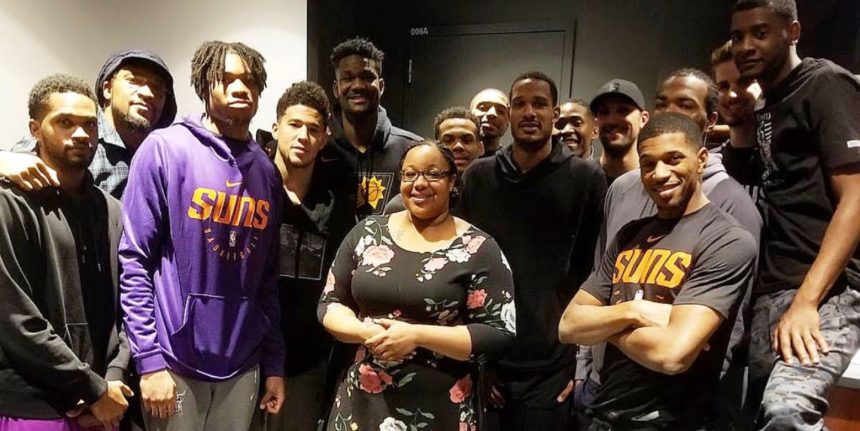 How an emotional conversation made Emerald Garner a lifelong Suns fan
Eric Garner took his last breath on this earth seven years ago today, after being killed by NYPD officer Daniel Pantaleo. Garner was guilty of selling loose cigarettes outside of a convenience store and the officer administered an illegal choke hold despite him repeating the phrase "I can't breathe" 11 times. An unmoved group of fellow police officers stood around and did nothing as he was murdered in broad daylight.
This led to worldwide protests and demonstrations, which spilled into NBA arenas. Derrick Rose was the first NBA player to wear an "I Can't Breathe" shirt during warmups, followed by LeBron James, Kyrie Irving and Kevin Garnett and many players from the Boston Celtics, Los Angeles Lakers and Phoenix Suns.
I have worked closely with Garner's daughter, Emerald, since inviting her to speak at a Black Lives Matter panel that I put together at Canaan Baptist Church in Harlem during the 2015 NBA All-Star Weekend. The panel also included Isiah Thomas, Alonzo Mourning, Chris Broussard, and John Wallace among others.
Fast forward to 2019: the Suns' players were interested in activism and wanted to make an impact, so they brought Emerald and I to Phoenix to speak to the team. It was an emotional experience for the players, but one that was greatly appreciated by Emerald.
When I told Emerald about the invitation, the first thing she said was, "I don't know much about the Phoenix Suns, but they were one of the teams who wore the 'I Can't Breathe' shirts, so I would love to speak to them."
And with that, we were off to Phoenix.
We sat down and watched the Suns go through a light practice. I hugged James Jones, who I have known for years from working with him on the NBPA's executive board (and I'm so happy for him and his success as a GM). After practice, they all assembled in their media room and sat and listened for nearly an hour and a half as I asked Emerald questions. It was originally slated for only 45 minutes, but when I asked if they wanted us to wrap it up or continue, Jamal Crawford (who was an elder statesman on the team) replied, "No, please continue. This is important and we don't have anywhere pressing to go right now." He looked around at everyone and the entire team nodded in agreement, so we continued.
I remember a young Deandre Ayton watching and listening intently to every word. Devin Booker forgot all about the fact that he had ice on his knees and the trainer had to peek in and tell him to take it off. I saw him shake his head, snap out of his trance, take his ice off and apologize for making any noise.
At one point, Emerald leaned over to me and asked, "Do you think this is too heavy for them?" And I told her, "No, keep talking, you're doing great."
We discussed how her family was devastated after her father was killed by NYPD officer Daniel Pantaleo, how they were still holding out hope for some type of justice, how afraid and traumatized she felt, and how much she appreciated athletes like them supporting her.
At the time, some people questioned whether an athlete wearing a shirt is activism and if it meant anything at all, so I asked her about that. The players heard directly from someone who was immediately impacted by their gesture, and she shared exactly what it meant to her and her family. She said she was so thankful for them because it made her feel like somebody cared.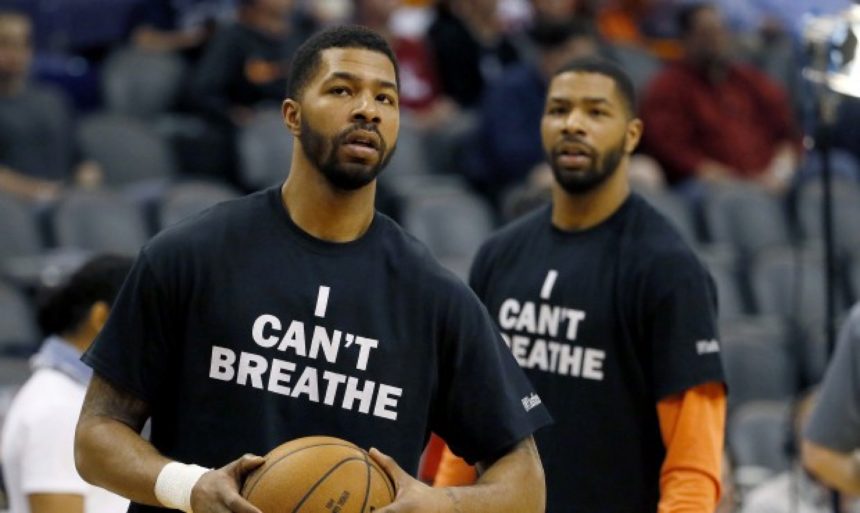 At one point, she said something that caused a player who I won't name to have tears in his eyes.
"Imagine your father being murdered, and every time you turn on the TV, you see people justifying why he deserved to die," she said. "I can't thank you enough for doing the opposite."
To wrap up, Emerald personally thanked each and every one of them for their support. After our talk, another player came up to her, with tears in his eyes, and asked if he could give her a hug.
I recently asked Emerald what she remembered about the talk and how she felt about the Suns bringing us in.
"I was benefiting from it just as much as they were," Emerald said. "I enjoyed answering all of their questions and I was amazed that they were that focused and locked in for the entire time. They just had practice -- one guy kept messing up the play and got in trouble -- but they were really interested in how they can get involved and be a part of the change, and I really appreciate that. Sometimes, talking about everything is really therapeutic for me. Sometimes, I feel like I'm rambling and you always do a great job of keeping me focused."
Whenever a similar tragedy occurs, Emerald said it's very hard for her and her family.
"People don't understand the after effects of how it impacts the entire family structure every time [something like] this happens. It's not just another case or just another hashtag; we are people and it impacts our entire family," she said.
I also asked her if she remembered the player who teared up and gave her a hug afterward.
"Yes, I remember that very well," she said. "I had to look up who he was after, so I have been rooting for him ever since that day. He was so moved by my story. They all asked such good questions. Sometimes, the media will ask the stupidest, meanest, most insensitive questions, but their questions were really good. But that's usually how it is with younger people. When we go speak at schools, whether it's Horace Mann or The Eagle Academy, I'm always blown away by the questions of the students, and this was no different. They cared. They didn't want us to stop. We went way past the time, and they wanted to keep talking to us.
"From that day, I've been a fan of the Phoenix Suns, and all of the athletes who supported my family after my father was taken away from us. It means a lot. More than people know."