As an NBA fan, there's a special thrill in discovering diamonds in the rough who exceed all expectations relative to their draft slot.
The NBA Draft isn't an exact science, and there are many examples of prospects who slip through the cracks and become franchise-changing players.
Today, let's look back on some of the biggest draft steals in NBA history.
Nikola Jokic, No. 41 overall in 2014
Coming from Serbia, Nikola Jokic was relatively unknown entering the 2014 NBA Draft. When the Denver Nuggets snagged the versatile big man with the No. 41 overall pick, nobody could have expected him to become a two-time MVP, a Finals MVP and one of most skilled centers of all-time. Jokic is the lowest-drafted MVP in NBA history and it isn't close, since every other Most Valuable Player was a top-15 pick. Just to give you an idea of how overlooked Jokic was entering the NBA, Nuggets GM Tim Connelly wasn't asked a single question about Jokic during his post-draft press conference back in 2014. Every question from the assembled media was about Jusuf Nurkic or Gary Harris, causing Connelly to comment, "So, no one wants to ask about our second-round pick Nikola Jokic? We are really excited about him." Perhaps the lack of buzz was due to the fact that Jokic was selected during a Taco Bell commercial.
As the broadcast mentioned, Nikola Jokic was the No. 41 pick in the 2014 NBA Draft. But let's not forget that Jokic was selected during a Taco Bell commercial. 😅 pic.twitter.com/m8zm1kxZDt

— Alex Kennedy (@AlexKennedyNBA) June 10, 2023
Giannis Antetokounmpo, No. 15 overall in 2013
Entering the 2013 NBA Draft, there was a bit of buzz about Giannis Antetokounmpo given his length and athleticism, but he was incredibly raw. Some scouts and executives had seen him play overseas, but the competition was deemed to be weak. Nobody knew what to expect from the young, lanky project from Greece. The Milwaukee Bucks decided to draft him with the No. 15 overall pick, and their gamble paid off spectacularly. Antetokounmpo developed into a generational talent, winning multiple MVP awards and leading the Bucks to their first NBA championship in decades. What makes Giannis slipping to No. 15 look even worse is the fact that many players who went ahead of him ultimately struggled, including Anthony Bennett (No. 1), Cody Zeller (No. 4), Alex Len (No. 5), Nerlens Noel (No. 6), Ben McLemore (No. 7), Trey Burke (No. 9), Michael Carter-Williams (No. 10) and Shabazz Muhammad (No. 14).
Kobe Bryant, No. 13 overall in 1996
In 1996, the Charlotte Hornets selected a teenage Kobe Bryant with the 13th pick and immediately traded him to the Los Angeles Lakers in exchange for Vlade Divac. This move was undoubtedly one of the biggest draft blunders in NBA history, as Bryant became one of the greatest players the game has ever seen. His work ethic, talent and competitive spirit allowed him to become a five-time NBA champion, an NBA MVP and one of the game's all-time greats. While the 1996 NBA Draft was loaded, players like Todd Fuller, Samaki Walker and Vitaly Potapenko had no business being drafted before Kobe. It's worth noting that Bryant was the first guard to enter the NBA straight out of high school, which scared some teams off.
Draymond Green, No. 35 overall in 2012
Draymond Green slipped to the second round of the 2012 NBA Draft because he was viewed as a "tweener" without a clear-cut position. However, Green's success helped eradicate that term, as teams started seeing the value in versatile players who could fill multiple roles. Green's defensive prowess and basketball IQ have been instrumental during the Golden State Warriors' dynastic run. With his fiery leadership and two-way impact, Draymond is widely regarded as the Warriors' heart and soul. Also, his resume is incredible: four NBA championships, a Defensive Player of the Year award, four All-Star appearances, two All-NBA selections and eight All-Defensive Team nods.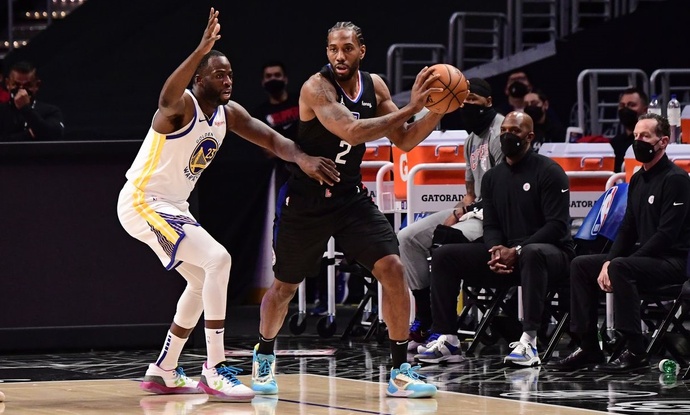 Kawhi Leonard, No. 15 overall in 2011
One of the most shocking storylines during the 2011 NBA Draft was Kawhi Leonard slipping outside of the lottery. Finally, the Indiana Pacers drafted Leonard with the 15th overall pick and quickly traded him to the San Antonio Spurs for George Hill. It didn't take long for Leonard to make the teams that passed on him look foolish. Right away, Leonard made an impact with his lockdown defense and improved jumpshot. He played a huge role in the Spurs' 2014 title, taking home the Finals MVP award. Leonard just kept getting better and better until it became clear that he was a superstar and one of the game's most dominant two-way threats. Now, he's a two-time NBA champion, two-time Finals MVP, two-time Defensive Player of the Year and five-time All-NBA selection, as well as a member of the NBA's 75th Anniversary Team.
Manu Ginobili, No. 57 overall in 1999
Manu Ginobili spent the first few years of his career playing overseas, where he was very successful. While he was drafted with the 57th overall pick in the 1999 NBA Draft, Ginobili would ultimately remain abroad until the 2002-03 NBA season when he finally joined the Spurs as a 25-year-old. Ginobili's fearless style of play and exceptional basketball IQ turned him into a key cog in the Spurs' dynasty. Ginobili became a four-time NBA champion, an Olympic goal medalist, a Sixth Man of the Year and a first-ballot Hall-of-Famer. Not bad for someone who was nearly Mr. Irrelevant!
Isaiah Thomas, No. 60 overall in 2011
Speaking of Mr. Irrelevant, Isaiah Thomas was the 60th and final pick of the 2011 NBA Draft. Thomas thrived in Sacramento and had a brief stint in Phoenix, but he played his best basketball in Boston. At the height of his stint with the Celtics, Thomas averaged nearly 30 points per game – becoming a two-time All-Star and a fan favorite. Thomas is the ultimate underdog, from his draft-day story to his 5-foot-9 frame. Thomas proved his doubters wrong and became one of the league's most exciting scorers before injuries impacted his game.
Gilbert Arenas, No. 31 overall in 2001
Gilbert Arenas slipped to the 31st overall pick in the 2001 NBA Draft, where he was ultimately selected by the Golden State Warriors. Despite slipping into the second round, Arenas' terrific scoring ability allowed him to become one of the most exciting guards of his era. His time with the Wizards was particularly memorable, as "Agent Zero" was a three-time All-Star during his stint in Washington. It's worth noting that Arenas played so well as a second-rounder that the NBA added the Gilbert Arenas Provision in the CBA, which made it easier for teams to keep talented second-rounders or undrafted players who hit restricted free agency after breaking out.
Steve Nash, No. 15 overall in 1996
Selected with the 15th overall pick in the 1996 NBA Draft by the Phoenix Suns, Steve Nash was not an immediate superstar. However, with his exceptional court vision and terrific work ethic, he transformed himself into one of the most skilled point guards of his generation. While leading the Suns' high-octane offense, Nash won back-to-back MVP awards in 2005 and 2006. In addition to being a two-time NBA MVP, Nash would become an eight-time All-Star, seven-time All-NBA selection, five-time assist champion, first-ballot Hall-of-Famer and a member of the NBA's 75th Anniversary Team.