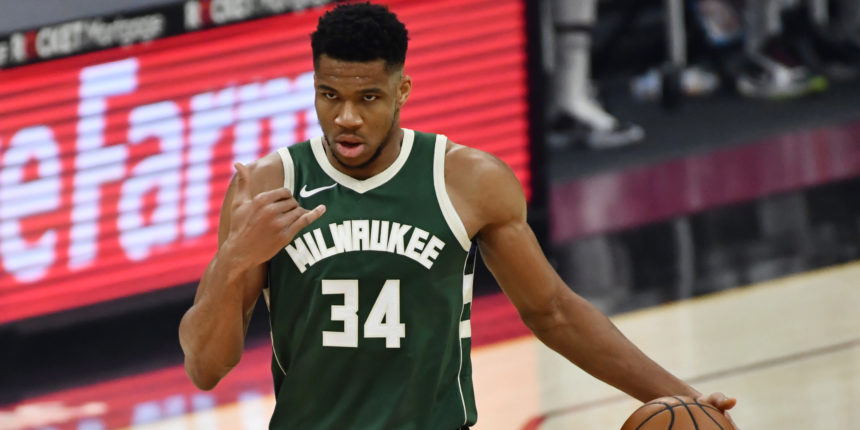 Giannis Antetokounmpo's MVP case is hiding in plain sight
Recent history has shown that there is no universally-accepted criteria for the NBA's Most Valuable Player award. It's about winning. It's about stats. It's about impact. It's about the storyline -- boy, do we, collectively, love a good storyline. That concoction of ideals, however you split them in your importance pie, is how the MVP is decided. The "valuable" portion in MVP is intentionally vague for that very reason: for voters to decide what matters the most.
With that being said, I have a very simple question: why the heck are we overthinking this?
To be more frank about it: why the heck is Giannis Antetokounmpo getting screwed in the MVP race right now?
Before moving forward, it's important to point out that this year's race is pretty stacked. Joel Embiid and LeBron James have put together fantastic two-way seasons with the insane on-off splits usually affiliated with MVP winners. Nikola Jokic and Damian Lillard have had to carry insane offensive loads due to the injuries and/or defensive ineptitude around them. James Harden is in that class too, though he's been sandwiched between (offensive) superstars since forcing his way to Brooklyn.
Cool. Pleasantries out of the way. The NBA is a talented league, etc. Here's the kicker: Giannis' case for MVP is just as good, if not flat-out better.
THE NARRATIVE
The narrative portion is what seems to be keeping Giannis out of the highest tier of MVP candidates. He's failed in two straight postseasons, both of which came after winning the MVP award. Winning three MVPs in a row is hard; doing so after leaving a sour taste in the mouths of voters due to second-round flubbings puts the difficulty level on Hall of Fame.
Put another way: voter fatigue is a real thing, and Giannis has done himself no favors by coming up short in two consecutive postseasons.
Speaking of the Hall of Fame, only three players -- Bill Russell, Wilt Chamberlain, Larry Bird -- have won three MVPs in a row. And as ESPN's Zach Lowe pointed out on his latest podcast, all three of those players won rings in the midst of their three-peats.
Now, factoring in (a lack of) playoff success for a regular-season award is pretty stupid for reasons I should not have to spell out. As inherently silly as it is, it does matter. But if the postseason narrative is going to matter, why not spin this the other way?
The Bucks' (read: Giannis') shortcomings in the postseason have boiled down to a lack of flexibility. No counters in the half-court, no counters defensively.
You knew the drill when the Bucks came into town. They were going to give Giannis the ball at the top of the key, five-out alignment around him, and bludgeon you with shots at the rim or easy kick-outs for three. On defense, they were going to play a deep drop coverage in order to wall off the rim, and dare you to beat them with pull-up threes.
The Raptors did just that in 2019, throwing a multitude of All-Defensive team-caliber bodies at Giannis while forming a wall outside of the paint. Mix in some tough-shot goodness from Kawhi Leonard and Fred VanVleet torching the nets over the back-half of the series, and the Bucks went home.
The Heat followed a similar formula the following season. Jae Crowder got the primary assignment, with Bam Adebayo and Jimmy Butler coming with timely digs at the nail or shot contests at the rim. Mix in some tough-shot goodness from Butler and Crowder torching the nets over the front-half of the series, and the Bucks went home.
So, what did the Bucks do? What did Giannis do? This season, they've altered their approach.
Gone (mostly, anyway) is the five-out alignment, instead replaced with a four-out, one-in style that stashes a guy in the dunker spot. Gone is the reliance of drop coverage -- and Giannis operating as a weak side helper for what felt like 90 percent of the time -- instead replaced by some much-needed diversity. There's more switching on the perimeter. There's more hedging. There are more possessions where Brook Lopez is venturing out of the paint.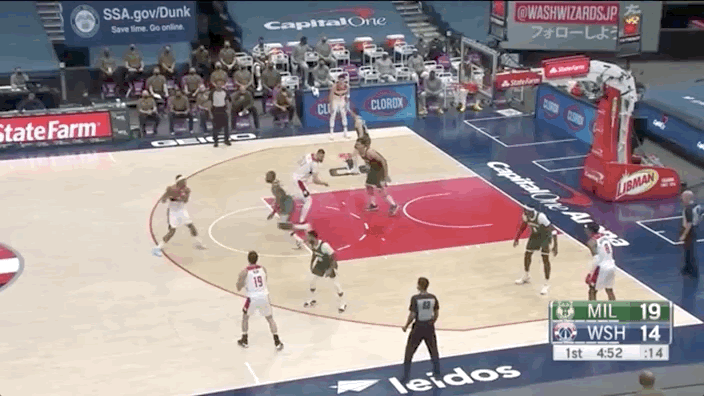 So, let's start there. The Bucks are using their previous failures -- against really freaking good teams, by the way -- to inform their plan this season. They've been intentional about going through uncomfortable growing pains. That's a team-wide thing, but it especially applies to Giannis.
And he's still been dominant.
THE ON-COURT CASE
Let's not get it twisted: Giannis knows where his bread is buttered. He remains the NBA's most dominant paint presence, even with a teammate occupying some of that space on a regular basis.
Per PBP Stats, Giannis has converted 79.6% of his 377 rim attempts this season. If that efficiency holds, it'll eclipse his previous career-high by nearly six percentage points. Of the 56 players that have taken at least 150 shots at the rim so far, nobody has been a more reliable finisher.
The leaderboard of rim efficiency is filled with traditional big men; seven of the top 10 are centers -- eight if you're counting Bam Adebayo as traditional -- while LeBron James and Giannis represent the outliers. They're the only two in the top 10 to be assisted on fewer than half of their rim attempts.
We know about Giannis' power. Putting smaller defenders on him is a futile effort. We also know how deadly he is when he goes off-beat, slithering past over-pursuing defenders by decelerating and utilizing elongated steps, or spinning off for dunks or lay-ups.
We're starting to see more counters. Take this possession against Defensive Player of the Year candidate Ben Simmons: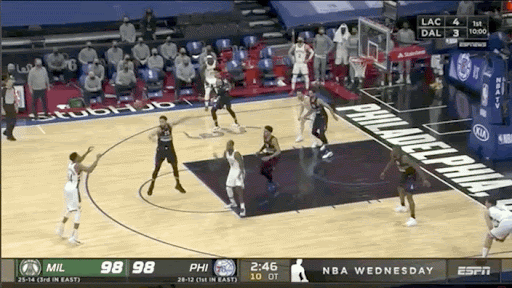 If you blink, you'll miss the goodness. Giannis attacks Simmons' front foot after the lunge. Simmons flips his hips to slide with Giannis. Watch the second dribble after the drive; it's a hard pound and a slight hesi. Simmons stumbles because he's anticipating a left-to-right spin move; instead, Giannis gains more leverage, ducking underneath Simmons before flipping up the lay-in.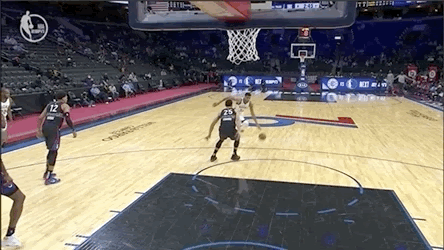 There's been growth as a passer as well. That's reflected in the raw numbers -- his 6.2 assists would be a career-high and his turnovers are slightly down from last season -- but the process has been more encouraging. Giannis' processing speed has increased, allowing him to capitalize against shifting or preoccupied defenses in a more timely manner.
Having a roamer along the baseline gives him a built-in read in isolation or post-up situations.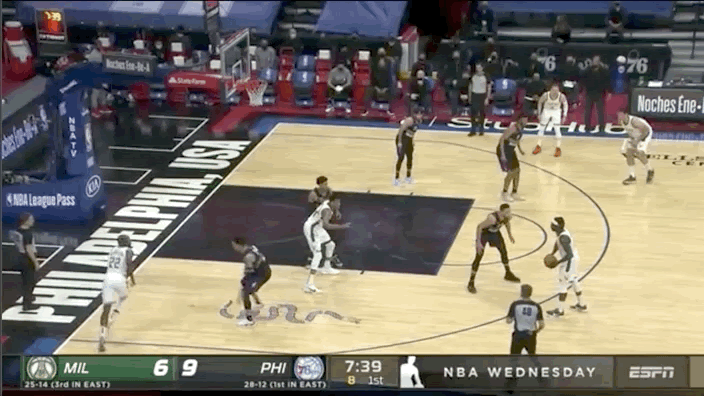 But you can also see him making kick-outs a little quicker. Placement remains an issue while passing on the move, but the fact that he's getting those passes out earlier has allowed his teammates to readjust before the defense is able to recover.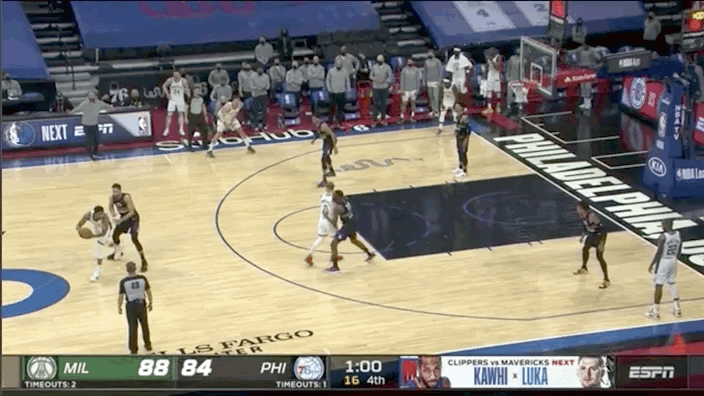 Defensively, we've seen a slight shift in Giannis' usage. He's taken on more on-ball responsibility, the most-notable examples recently being his assignment against Kawhi Leonard in a 105-100 win versus the Clippers and reps against Russell Westbrook in back-to-back victories against the Wizards earlier this week.
Fighting over screens is certainly out of Giannis' comfort zone; he isn't able to get skinny and stay attached as easily as a guard would. What he lacks in slippery screen avoidance, he makes up for in being arguably the league's most dangerous rearview contest machine.
Pop on a random Bucks game and you're bound to see more possessions like this: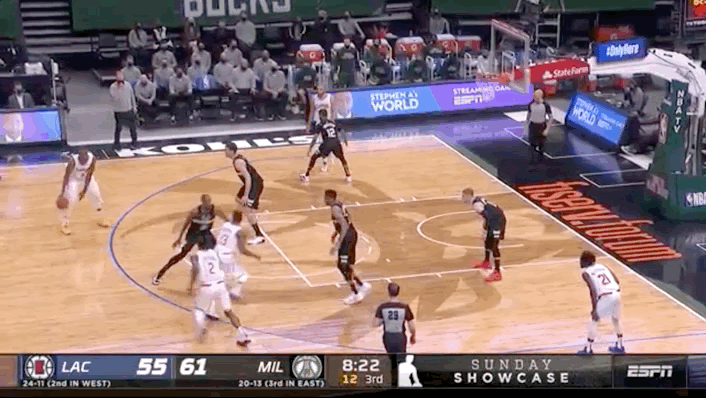 He's been a beast as a switch defender, a development that should surprise no one. Because of his lateral quickness and length, he's been able to corral perimeter players in space. He then doubles as an effective rim protector because of his size and, well, length. To that point: the Bucks have blitzed teams by over 14 points per 100 possessions in Giannis-at-5 lineups.
(With the acquisition of PJ Tucker, a forward with plenty of experience operating in small units, you can expect the Bucks to go to that alignment more often. With Giannis, Tucker, Khris Middleton, Donte DiVincenzo, and Jrue Holiday on the floor, the Bucks should have no issues keeping actions in front. Oh, and Giannis is averaging 35-9-6 per 36 minutes in lineups without another center. Seems important.)
Of course, Giannis is still a DPOY-level terror at the 4 in an off-ball role. With the Bucks experimenting with playing their centers higher up, we've been blessed with more displays of his ridiculous recovery speed.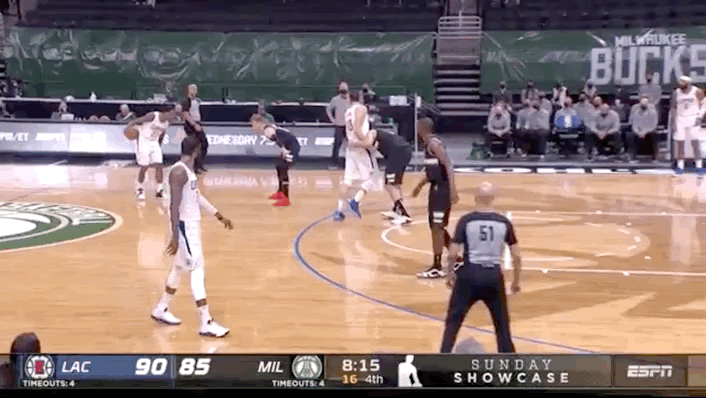 THE NUMBERS
Add that up and what do you have? A guy averaging 29.1 points, 11.8 rebounds, 6.2 assists, 1.3 steals, and 1.3 blocks. He and Jokic are the only two players averaging at least 25-10-5, and Jokic drops off the list once you add a steal and a block to the qualifications.
The Bucks' shot quality increases leaps and bounds with Giannis on the floor, per Cleaning The Glass. Their opponent's shot quality drops considerably -- less rim shots, more middies -- with Giannis patrolling the area.
The Bucks are 13.7 points per 100 possessions better with Giannis on the floor, with an offensive and defensive rating that would top the leaderboards if extrapolated over a full season. That plus-13.7 differential outpaces LeBron (plus-13.4), Lillard (plus-9.2), Jokic (plus-6.3), and Harden (plus-4.8). He's slightly behind Embiid (plus-14.2), but Embiid missing time due to injury may, fairly or not, knock him down a couple of pegs in the MVP race.
This is a stacked field in a weird season. I get it. But please, let's not overthink this. Find a player that tops Giannis' stats, his impact on winning, availability and narrative and you'll have your MVP.
You can't, can you?