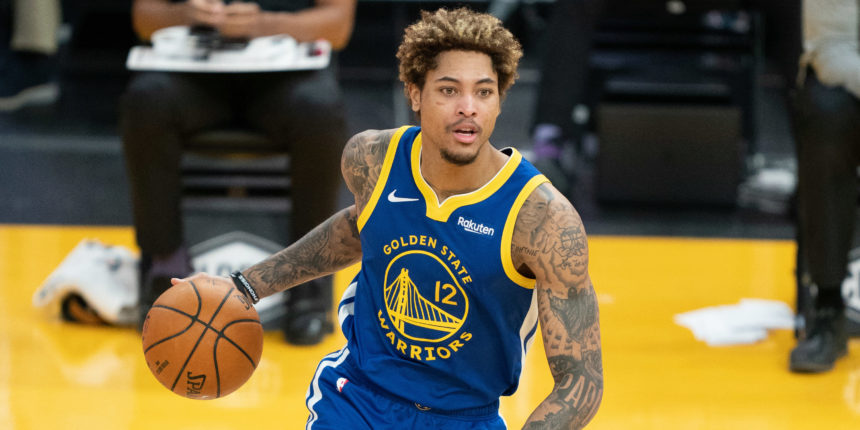 Kelly Oubre Jr. discusses upcoming free agency, Warriors stint
Golden State Warriors free agent Kelly Oubre Jr. caught up with Shams Charania of The Athletic for an interview on Tuesday afternoon, and the two covered everything from his first season with Golden State to his pending free agency.
Oubre praised the Warriors franchise, particularly Most Valuable Player finalist Stephen Curry and Defensive Player of the Year finalist Draymond Green.
"I learned professionalism to the core, these guys have a resume that speaks for itself," Oubre said. "Being able to be around those guys for a whole season and watch how they move, how they operate within the confines of the NBA, the professionalism that they [exude], I think that's something that I can jot down in my own notebook. And I have ultimate respect for those guys forever for moving that way... I'm blessed to have crossed paths with those guys and to know them as individuals."
When asked if he felt any pressure to perform after the Warriors increased their luxury-tax bill by roughly $68 million after trading for him, Oubre downplayed the situation. He said he felt no pressure on his end, and that he felt blessed and honored that Warriors GM Joe Lacob wanted him there.
"I can't sit here and focus on the things that go on with the suit and ties," Oubre added. "I have to lock in on the court... This season obviously wasn't my best showing, but at the end of the day, I know what I'm capable of and I think the whole world knows what I'm capable of."
Oubre will be an unrestricted free agent this offseason and he feels that he stands out in this class.
"First and foremost, I'm young; 25 years old... one of the youngest free agents," Oubre said. "I'm continuously growing and elevating my game each and every year. I'm nowhere close to prime as well. I'm going to continue to get better and beyond the sky is the limit. The universe is the limit for me at this point. I've proven that with limited opportunity, I can make things happen. Always.
"And I've proven that I always get better and that I'm a worker. I woudn't always get better and you wouldn't be able to see improvements in my game somewhere each and every year if I wasn't working continuously and staying locked in and focused on my craft. I think that puts me at an advantage over a lot of other free agents. I'm going to continuously give you what you're asking from me and more. It's a beautiful summer for me."
When asked about what he needs to improve upon this offseason, Oubre had a simple answer: "The basics." Oubre said he mainly wants to focus on the fundamentals this offseason, making sure every rep and every set is perfect. Oubre also cleared up any injury concerns, saying he feels great and 100% healthy after missing the last quarter of the season with a hand injury.
Oubre said that he's going to stick to his routines and focus on his workouts rather than thinking too much about free agency, and that he'll get with his representatives and family to discuss his best options once that time comes. The 25-year-old swingman figures to have a number of suitors once free agency begins on August 2.
Who are the best free agents in the class of 2021? Check out our top-10 ranking here.