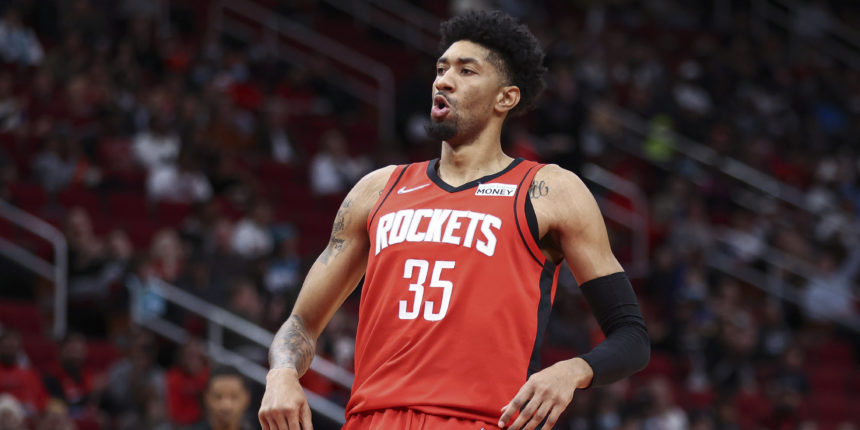 5 potential moves that make sense leading up to NBA trade deadline
We're still two months away from the NBA trade deadline in February, but expect rumors to pick up once the moratorium on recently signed players lifts on Dec. 15. Once that occur, it's open season on anything and everything, wherever the trade winds blow in the league.
In the meantime, which teams seem poised to buy or sell? Are there any players who could be better off elsewhere? Here are five trade ideas that have already piqued my interest. Think of it as a hypothetical early Christmas gift for these teams mentioned. Without further ado, let's dive into the scenarios below.
Christian Wood — Golden State Warriors
According to The Ringer's Kevin O'Connor, the Houston Rockets will be willing to listen to trade offers on Christian Wood leading up to February's deadline. O'Connor also notes that the market is expected to be robust for the versatile 26-year-old big man.
So far this season in Houston, Wood is averaging 16.2 points, 11.3 rebounds, 2.3 assists and 1.0 blocks per game. With Houston in a full-fledged rebuild centered around No. 2 overall pick, Wood simply doesn't fit the team's timeline. Whatever the Rockets would be able to gather for Wood would be a win at this point, and he could swing the fortunes of a championship contender.
Although the Warriors likely won't mess with their team chemistry, why not kick the tires on Wood? Not only would he fit the short-term goal of chasing another Larry O'Brien trophy, but he's young enough where you can continue building around him. Wood in Kevon Looney's starting spot alongside Stephen Curry would be completely unfair. Wood would feast with the gobs of spacing available to him, plus he could take pressure off others in the Warriors' system.
The question is: What's a win-win hypothetical trade that makes sense for both Houston and Golden State revolving around Wood? Although Houston just selected two bigs in the 2021 NBA Draft — Alperen Sengun and Usman Garuba — why not have as many bites of the apple for elite talent as possible? 2020 No. 2 overall pick James Wiseman plus Looney's salary to match contract value actually makes a lot of sense here. Wiseman would be able to play an extensive role alongside Jalen Green and Kevin Porter Jr., plus the rotation at center would sort itself out eventually.
Maybe Golden State tosses in a protected future first-round pick to sweeten the offer further, but I love this for both sides. Wood raises the already immense ceiling for Golden State, while Wiseman could be another lottery ticket to develop for Houston's new era.
Myles Turner — Charlotte Hornets
Indiana needs to come to the realization of where its roster stands. It's time to sell to the highest bidder with some of their core players. One of those who could attract a serious slew of offers is Turner, who has proven himself to be a valuable defensive anchor and floor-spacer.
Charlotte is exceeding expectations this season thanks to LaMelo Ball's superstar rise, plus Miles Bridges becoming the No. 2 option. Imagine how much better the Hornets would be if they acquired Turner to stabilize their inconsistent defense. Mason Plumlee isn't going to cut it. Throwing Turner into the mix in Charlotte would be a perfect scenario for both the team and the player. Turner would thrive alongside LaMelo in an up-tempo offense and take away a lot of easy looks that have caused serious problems this season for Charlotte.
Would Indiana be enticed by Kelly Oubre Jr. and PJ Washington as a trade package? Maybe swap out Washington for James Bouknight, who hasn't been able to crack the rotation due to Terry Rozier?
Either way, this type of return feels reasonable for Turner. If Indiana decides to finally pull the trigger and embrace a roster overhaul, Charlotte should be blowing them up to acquire an elite rim protector.
Domantas Sabonis — Portland Trail Blazers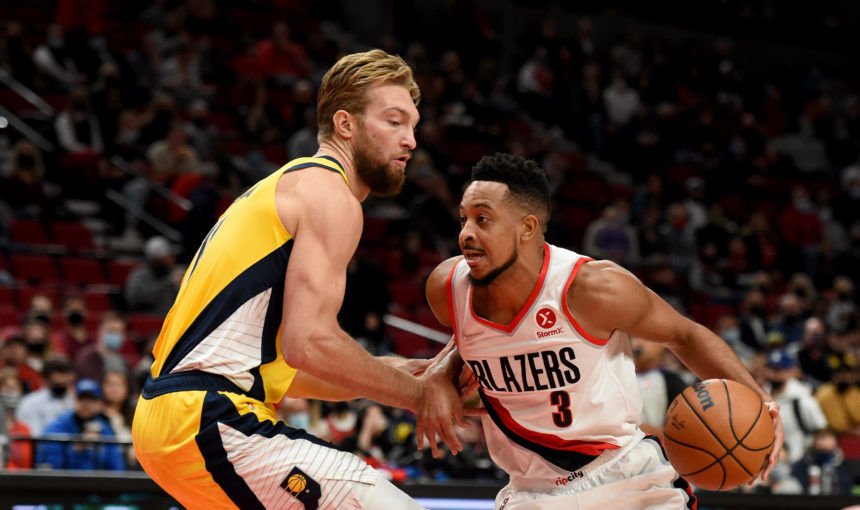 If the Pacers decide to go in the aforementioned direction with their team and ship off Sabonis to the highest bidder in February, we already have a realistic baseline in place for a package thanks to Nikola Vucevic last season. Orlando traded Vucevic, a similar player archetype as Sabonis, to Chicago for Wendell Carter Jr. and two future first-round picks. With Sabonis being five years younger and a better overall player, that's the floor for what should come back in any deal for Indiana's two-time All-Star center.
Portland is already dealing with roster imbalance on top of organizational issues, which now has led to general manager Neil Olshey's firing. As a last-ditch effort to appease Damian Lillard, how about pushing the chips in for Sabonis? It would be awesome to see another Sabonis suit up for the Blazers, and him being a secondary hub to the offense alongside Lillard and CJ McCollum would create an explosive offense. Lillard finally seeing the Blazers making an aggressive move could delay/off his eventual trade request at some point as well.
With Sabonis only being 25 years old and having three years remaining on his bargain of a contract, the price would be steep. Would Portland be willing to trade Anfernee Simons and Nassir Little for Sabonis?
Pascal Siakam — Sacramento Kings
The quick emergence of No. 4 overall pick Scottie Barnes is leading to the inevitable conversations revolving around Siakam's long-term future in Toronto. With OG Anunoby and Barnes, is Siakam (and his hefty contract) a necessity to stay around? Personally, I don't think so. If the Raptors are able to find a big-time offer to offload Siakam, it makes a ton of sense to explore that possibility.
Who around the league would be interested in Siakam, though? There would be a bidding war ensuing for a near-star who can lift the ceiling of a team on both ends of the court. One team that actually makes a lot of sense for Siakam, potentially out of sheer desperation, would be Sacramento.
After firing head coach Luke Walton, there are really no more excuses for the Kings to not figure it out sometime soon. It might simply just be time to reshuffle the roster a little bit to see what happens. Adding Siakam would be a brilliant move to help out De'Aaron Fox. Imagine how much fun this would be in Sacramento: Fox, Tyrese Haliburton, Harrison Barnes, Siakam, Richaun Holmes. That right there is starting lineup that can push the pace and score efficiently while also holding up on the defensive end.
With Toronto on the outside looking in for the playoff picture, acquiring Buddy Hield, Marvin Bagley III and two future first-round picks may not be enough to say goodbye to Siakam. Maybe I'm underselling Siakam's value here, but I absolutely love the on-court fit for him with the Kings, so let's roll with it.
Ben Simmons for CJ McCollum blockbuster
Nothing has changed when it comes to Ben Simmons and the Philadelphia 76ers' standoff. If anything, Simmons' trade value is plummeting. At some point, will Sixers president of basketball operations Daryl Morey lower his asking price and circle back around to discussions with Portland around a Simmons for McCollum swap? Ever since Simmons passed up a wide-open dunk in a pivotal moment in the Eastern Conference Finals, this trade has felt inevitable.
Simmons would be Lillard's own version of Draymond Green, helping stabilize the Blazers' defense while also being a potent forward driving to the rim. Meanwhile, McCollum would help the Sixers' short-term hopes of forming a title contender. Philadelphia certainly loses juice on defense swapping out Simmons for McCollum, but he's an experienced All-Star-level player who can score 20 points per game with ease. Imagining McCollum and Tyrese Maxey is a fun exercise for a potential Sixers backcourt combination post-Simmons.
What even is the value for Simmons right now around the Association? It's tough to gauge, but this trade construction still feels like the easiest to navigate. As I wrote once news broke a few months ago about Simmons wanting out of Philadelphia, it could lead to a true win-win for both parties in the end.