The Dallas Wings can hit you in waves.
They're still trying to work out kinks, but the 10,000-foot view of this team is pretty fun. With Arike Ogunbowale and Marina Mabrey, the Wings have an ignitable backcourt that can bomb away from anywhere. Defenses have to be wary of their existence at all times; that level of attention can generate opportunities elsewhere.
Only two teams — the Seattle Storm (34.8) and the New York Liberty (32.9) — take more threes per 100 possessions than the Wings (31.6) do. They're almost never gonna lose the math battle. It's that level of comfort from deep that allows them to experiment with lineups, particularly in the frontcourt.
It's why they can start the more paint-bound Teaira McCowan against the Los Angeles Sparks to match up with Liz Cambage. Otherwise, they can get more mobile with Izzy Harrison at the 5. The Wings went even smaller on Friday night, rolling with All-Star forward Satou Sabally against the Storm.
Sabally is already a matchup problem at the 4. Frankly, 6-4 forwards aren't supposed to handle the ball as well as she does. Combine that with long, smooth strides, solid footwork, court vision and budding touch? There isn't much you can do with her when she's rolling.
That dynamism is heightened when she's at the 5. If traditional forwards struggle to deal with her in space, of course 5s would have even more trouble. The Wings can ask her to do just about anything: Space in the corner, space above the break, roll or pop after setting ball screens, post up or operate as a handoff hub. They did ask her to do just about anything against the Storm on Friday.
If you want a simple exchange to highlight the problems she can pose in the half-court, look no further than this second-quarter possession.
Off the rip, the defense doesn't know exactly what's coming. The Wings could be setting up in HORNS. Sabally could be setting a ram screen for Kayla Thornton as a precursor to a Mabrey-Thornton pick-and-roll.
Instead, Sabally loops around to the left elbow to set a screen for Mabrey. With Thornton receiving the ball at the right wing and each corner filled, the paint is wide open. Just keep that in mind for a moment.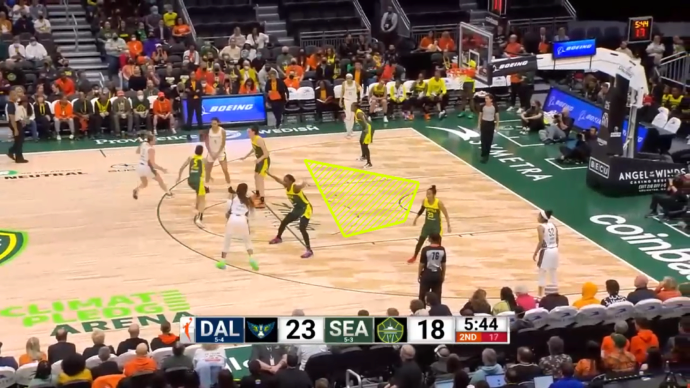 Mabrey could flare off the screen from Sabally to put strain on Gabby Williams (her defender) or Breanna Stewart (Sabally's defender), but a slight stunt could come from the left corner. Mabrey slices down towards the empty paint, forcing Williams to alter her path to get re-attached. Stewart provides some extra relief by dropping down to take away the cut. But there's a problem with that.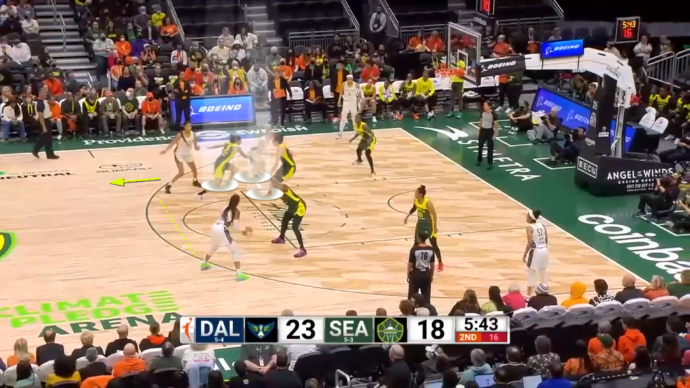 That's right, Sabally is wide open above the break. She hasn't shot well from deep this season (26.1% on 4.6 attempts), but she isn't afraid to launch from there. Stewart isn't able to recover back out to Sabally on time, giving her ample room to cash home the triple.
It may make sense to "gap" Sabally until her three-point percentage rises, but the problem is her skill level. She isn't limited to taking those threes. She can chew up that space as a driver, or flow into a handoff or ball screen with someone else to put the defense in rotation again.
Sabally filled the stat sheet on Friday night: 11 points (2-of-5 from three), 11 rebounds and 6 assists. The Wings outscored the Storm by 15 points in her 28 minutes.
It was just her second start of the season, but her first as the nominal center. I'm curious to see if this is a look the Wings continue to experiment with moving forward.