Friday night's victory over the Milwaukee Bucks was a special one for the Los Angeles Lakers.
Anthony Davis continued his stretch of dominance, scoring a season-high 44 points (16-of-24 from two, 2-of-3 from three) while racking up 10 rebounds, 4 assists and 3 blocks. LeBron James moved up the history books, passing the great Magic Johnson on the all-time assist list while slapping up 28-8-11-2 in the process.
Let's back up for a minute though: the Lakers, also known as the NBA's 26th-ranked offensive team heading into Friday's action, dropped 133 points on the Bucks in regulation. Not only did they torch the league's best defense, dropping 30+ points in each quarter, they did so in a way that the Bucks aren't accustomed to dealing with.
Over 41% of the Lakers' shot attempts came at the rim against the Bucks. Heading into Friday's game, the Bucks allowed the third-lowest share of shots at the rim, with opponents generating a shade over 29% of their shots in that fruitful area. With the Giannis Antetokounmpo-Brook Lopez frontcourt patrolling the area, it should come as no surprise that many teams had failed to get close-range buckets in abundance.
The Lakers didn't have much issue though. Something that popped on film early on was their ball-screen setup. While most teams do their best work running high pick-and-rolls, the Lakers were intentional about running things lower on the floor. This was a popular occurrence on Friday, starting with this post-timeout possession midway through the first quarter.
That's Russell Westbrook receiving a screen on the baseline before lifting up for the wing to receive a pass. Austin Reaves sets a cross screen for Davis before the ball screen between Westbrook and Davis occurs.
The Reaves screen is important, even though he doesn't nail it perfectly. Not only does it give Lopez something to navigate before the actual ball screen, Jevon Carter (Reaves' defender) is pulled away from his help, one pass way.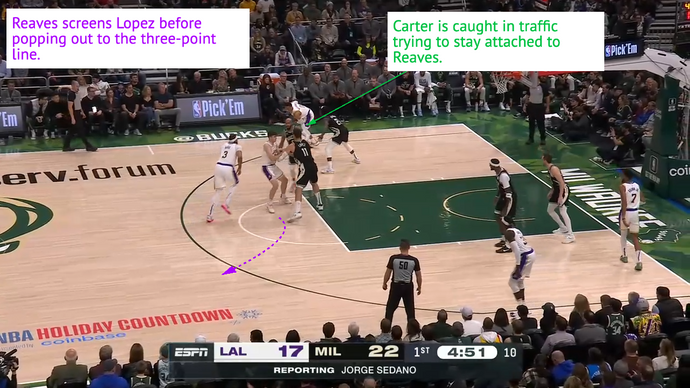 With the Westbrook-Davis ball screen starting inside the three-point line, Westbrook only has to dribble twice to access the painted area. Davis is rolling to the empty side, which means there's no player available to tag him on the roll. Lopez is responsible for Davis' roll, and for cutting off Westbrook's path to the basket with Jrue Holiday trailing him.
Westbrook lofts a pass to Davis, who catches it with two feet firmly in the restricted circle. Davis flows into a turnaround hook from there over the outstretched arms of Lopez. It's a good possession from Lopez all things considered, but ultimately the Lakers were able to access the most fruitful portion of the court without a ton of work being done.