With 7:25 left in the third quarter, Sabrina Ionescu finds herself stationed on the left block. She's waiting patiently on the inbound, though she won't be the one to receive it. Not yet, anyway.
Betnijah Laney inbounds the ball to Kylee Shook, positioned above the break. Ionescu sets a screen for Laney to cut off of, then flies up to receive a handoff from Shook.
Laney continues her cut, relocating to the right side of the floor. This creates an "empty corner" look for Ionescu and Shook to operate from. Ionescu is able to generate a paint touch, then lofts a hook pass to a rolling Shook for an easy bucket.
But wait, Nekias. I thought this was supposed to be about Ionescu's game-winner?
It is, anonymous reader. This play provides an important backdrop. The game-winner doesn't happen without this possession. Heck, it doesn't happen without quite a few possessions with similar starting points, as pointed out by Evin Gualberto in this thread.
It's important to note how Danielle Robinson, Ionescu's defender, plays this possession.
She practically hugs Ionescu during the screen. It's a firm declaration: I'm not letting Ionescu out of my sight, so don't even ask me to switch. Because of it, Teaira McCowan has to step up in containment once Robinson gets hit with the screen.
Bringing two to the ball is a cardinal sin against ball-handlers. Against someone with Ionescu's playmaking ability, it's essentially a death sentence.
Now let's take a look at the game-winner.
Off rip, you'll notice the set-up being the same as the earlier possession. Shook receives the inbound above the break, though the pass comes from Ionescu this time.
Tiffany Mitchell is defending Laney on the left block. She notices Ionescu getting ready to come down hill. Expecting a similar cut-and-lift sequence between the two, Mitchell calls for a switch with Robinson.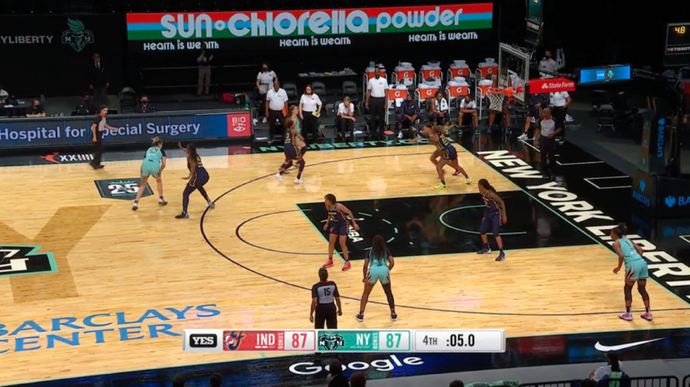 But instead of the earlier exchange, Laney reverses course, flipping her screen angle to pry Ionescu free. Mitchell is out of position due to dropping in anticipation of the cut. Robinson once again finds herself trailing Ionescu, and is eventually bumped by Shook on the handoff.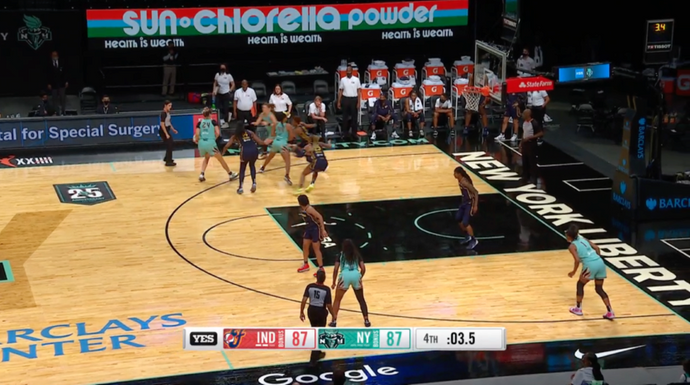 That's all the space that Ionescu needs to get a shot off. Jantel Lavender is able to a contest on the fading three, but the ball is up and out before she can truly affect the shot.
It was a genius call from Liberty head coach Walt Hopkins to go to that variation of the play they'd run throughout the game. The Fever were ultimately caught off guard, leading to the game-winner.