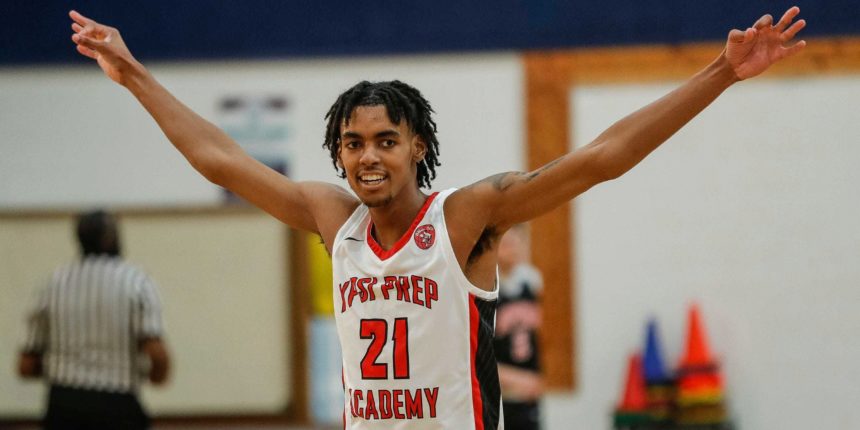 Despite recent criticism, Emoni Bates remains a special talent
Midwest Mania, a high-school tournament that's held in Indianapolis, features a wide age group and players in a variety of situations. Many of the participants are decent high-school players who are looking for an opportunity to get national exposure for the first time. They're hoping this event, which was put together by Chad Babel and MADE Hoops, can serve as their coming-out party.
However, one player in attendance has had a completely different path thus far: high-school sensation Emoni Bates.
At this point, Bates probably doesn't need much of an introduction. He's the youngest player ever to win the Gatorade National High School Player of the Year award, doing it as a sophomore. He was on the cover of Sports Illustrated when he was 15 years old. He has been labeled a "prodigy" and a "once-in-a-generation talent." He has already been mentioned as the next in line to follow NBA greats like Michael Jordan, Magic Johnson, LeBron James and Kevin Durant. He is currently the No. 1 ranked player in the class of 2022, and although he's committed to Michigan State, many have said they doubt he'll ever step foot on a college campus.
The expectations for Emoni Bates are lofty, to say the least.
Recently, Bates has had some struggles on the floor. I watched him at Flyin' to the Hoop in Dayton, Ohio, a little over a month ago and although he showed flashes of greatness, he did not have a good showing overall. On the second day of that event, TyTy Washington and AZ Compass Prep blew out Emoni's team (Ypsi Prep). Following that game, Washington gained quite a bit of national attention and decommitted from Creighton, and he has been one of the hottest names in the country ever since.
For Midwest Mania, Emoni suited up for his father's team, Bates Fundamentals. In their first game, they faced E1T1, which featured two players from Bishop McLaughlin Catholic High School in Tampa, Florida: Dillon Mitchell and Emanuel Sharp. Like TyTy Washington in Dayton, the boys from BMCHS took advantage of this match-up against Bates, using this big stage and national-media audience to gain more recognition. Mitchell, a 6-foot-8 athletic wing, went head-to-head with Bates and was terrific. He went from hardly being on the map to being smack dab in the middle of it. Sharp was impressive as well; he's a tough, assertive scorer, and a good overall player. His father, Derrick Sharp, was a great player for Maccabi Tel Aviv. E1T1 beat Bates Fundamentals with ease, and Mitchell and Sharp walked off the floor as victors in more ways than one.
Despite a somewhat disappointing performance, Bates and Bates Fundamentals had a chance to redeem themselves in their second game of the day, which was perhaps the main event of Midwest Mania. They faced Team Final, which was a showdown between the top-two players in the class of 2022: Bates and Jalen Duren. Team Final also consisted of other high-level prospects such as Dereck Lively II and Justice Williams.
Bates' struggles continued in that game too. His shot selection was questionable and there seemed to be several missed shots between each dramatic shot that he made. He tried to do a little too much (probably because of all the cameras and attention), and he resorted to playing "hero ball." Team Final beat Bates Fundamentals, and Duren and his teammates celebrated on the floor.
Meanwhile, Twitter was buzzing with critiques of Emoni.
There's no denying that Bates has some things he needs to work on. Personally, I'd like to see him pick and choose his spots more, take better shots, move without the ball and become a little more composed.
He has a lot of room for growth, but keep in mind that Emoni is only 17 years old. He's a young guy and, of course, he's still developing.
Considering the cloud of negativity surrounding Emoni at the moment, Bates is still a special talent, in my mind (even though he's had a few games that haven't lived up to everyone's expectations).
At nearly 6-foot-9, Bates has incredible range with a quick-and-smooth release. He has good handles and is a high-level passer. Many people have compared Bates to Kevin Durant. It's often unfair to compare young prospects to NBA greats, but the similarities between Bates and Durant are undeniable. There have not been many players with their body type and such a unique and high skill level.
Do I think Emoni Bates is a surefire NBA superstar and future Hall of Famer? No, I don't. I think that's a ridiculous expectation to put on any kid. However, I think Bates has as good a chance as any player I've seen in recent memory due to his natural talent.
Any athlete who has found the ultimate level of success has God-given talent. However, the only way for them to maximize their potential is by continuing to develop. Nobody is done growing at 17 years old. Also, every great athlete faces criticism and adversity at some point. Perhaps this small bump in the road triggers Emoni's inner greatness and allows him to take the next big strides in his development.
If that happens, it's very likely that we'll see a star emerge before our very eyes.