Michael Porter Jr. wasn't happy on Wednesday night.
That shouldn't come as a surprise. Oddly enough, players don't like losing playoff games. The Denver Nuggets came out of the gates slowly on offense, and they never really scared the Los Angeles Clippers en route to a 96-85 defeat. This was the lowest-scoring loss of the postseason for Denver; the team's 80-point showing in Game 7 against the Utah Jazz was somehow enough to squeak through with a victory.
Porter was especially frustrated with the showing. He finished with 15 points and six rebounds off the bench, one of two Nuggets to finish with a positive plus-minus (plus-4). The issue? All 15 of his points, and six of his eight shot attempts, came in the first half.
When asked about his lack of involvement in the second half, Porter didn't hold back.
"That's really up to the play calls, that's really up to the coaches," Porter said in a postgame Zoom call. "We kept going to Jok' (Nikola Jokic) and 'Mal (Jamal Murray). They're two amazing players, so you can never get mad at that. I just think, to beat that team, we gotta get more players involved. We gotta move the ball a little better. We can't be predictable against that team."
Whew.
The social media outcry was a mixed bag of "he's right" and "he shouldn't say that to the media." Damian Lillard, arguably the preeminent "face-of-the-franchise" guy in the league, fell on the latter side. He tweeted, "Smdh..." followed by: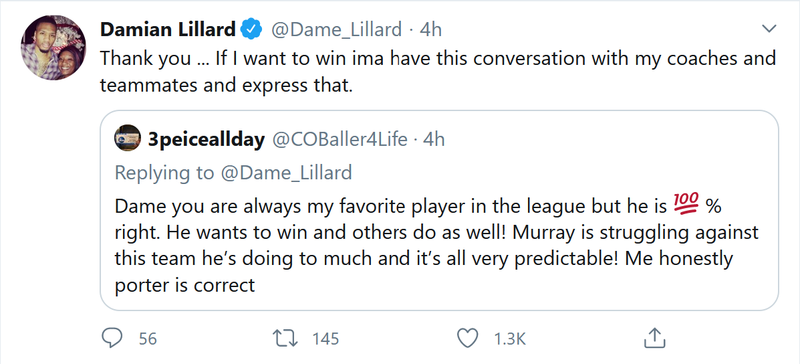 We're going to ignore the optics of what Porter did and said, and dig into the on-court nature of his claims.
"We kept going to Jok' and 'Mal."
This is rather obvious. Jokic (23) and Murray (15) led the team in shot attempts, combining for 38. Jokic had 123 touches, according to NBA.com's tracking data, while Murray had 92. The next three Nuggets -- Porter (37), Gary Harris (32), and Monte Morris (30) -- combined for 99 touches.
If we want to get more specific, there were 38 instances of a Murray-Jokic pick-and-roll or dribble handoff, according to a source with access to Second Spectrum tracking data. That number has risen in every game this series: from 21, to 26, to 37, and then 38 in Game 4.
The Nuggets generated north of 1.2 points per possession on trips featuring either of those actions via the Second Spectrum source, so it's not like those actions weren't fruitful. The offense beyond the Murray-Jokic connection, however, lacked flow in a pretty ugly way at times.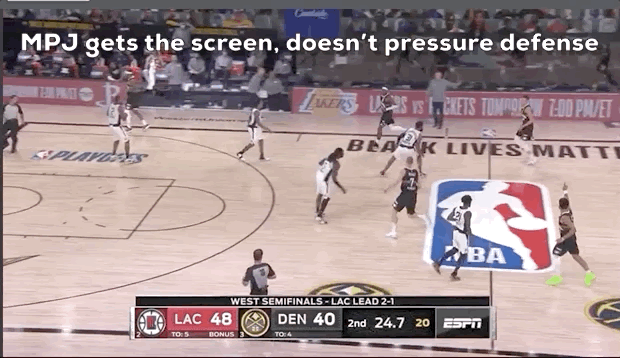 You can see Nuggets head coach Michael Malone directing traffic on the sideline (top of the GIF), but even he is left flummoxed by how long it takes for Murray to receive the screen he asks for. It just shouldn't take a third of the shot clock to go mismatch hunting.
"We gotta move the ball a little better. We can't be predictable against that team."
Again, Porter has a point here. The Clippers' roster is full of smart, rangy defenders, headlined by the terrifying twosome of Kawhi Leonard and Paul George. Even with a broader view, teams know your pet actions come playoff time. Off-ball fluff is easily ignored, making it more vital that you're able to execute.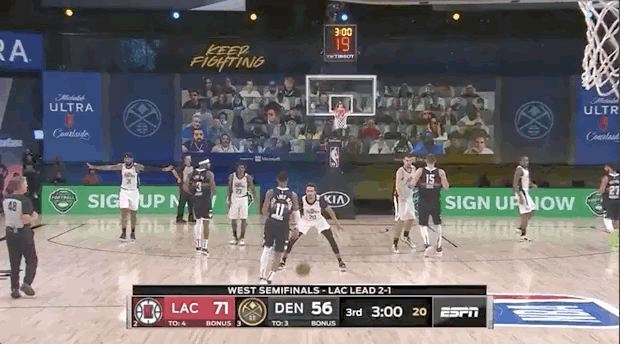 That, uh, does not look like good execution. There's no "oomph" present in that screen from Torrey Craig, nor is Porter particularly engaged. Marcus Morris doesn't have to fight over the screen, and Lou Williams practically ignores it once he recognizes the real action is with Murray and Jokic.
In short: You can't be predictable and run your stuff at 70 percent effort, and that's generous.
Porter shouldn't get much blame for that particular example, but there is an element of "right message, wrong messenger" at play overall. It's hard to take a "move-the-ball" plea seriously from someone that has logged 17 potential assists during this postseason. Take this two-shot sequence for example: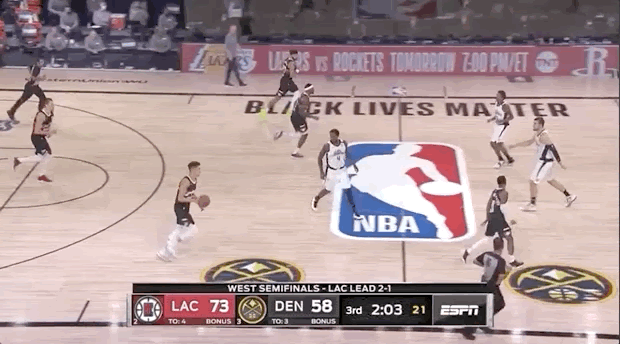 Porter gets a screen from Morris, forcing a switch for the smaller Landry Shamet. Porter drives, draws help from Ivica Zubac while Kawhi also drops down into the paint.
There's a pretty wide window for a kick-out to Murray, either a regular skip or a jump-pass, that Porter flat-out misses. The putback attempt is whatever, but this isn't the first instance of tunnel vision we've seen from Porter this series, much less this season.
It's clear Porter wants to help on the scoreboard, but there's room for him to help in other ways. On the other end of the court, the Nuggets quite literally need his help.
The Nuggets employ an aggressive pick-and-roll scheme that puts two to the ball. It's a way to pressure ball-handlers into quick (read: poor) decisions, stalling out possessions to lead to late-clock yuckiness.
The key to that approach is the backline. With Jokic showing high on screens, it's up the weakside corner defender behind him to "tag" the roll man to prevent easy buckets at the rim, at least until he can recover.
There have been flashes of good activity from Porter, but there have been too many blips with him being late or out of position.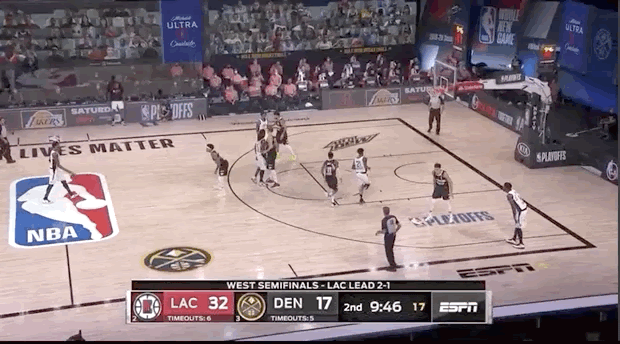 Gary Harris does a solid job of fighting over the Montrezl Harrell screen, and Jokic shows high on the other side just in case Harris gets caught. Harrell rolls into space and receives the quick toss from George.
Not only is Porter a little too low here, he hesitates after the catch, then jumps forward and to his left to, from what I can gather, load up for a swipe attempt. The swipe doesn't occur, there's no resistance at the rim and Harrell is able to throw down an easy one.
The Clippers have generated nearly 1.3 points per possession in pick-and-rolls featuring Porter as the "tagger" this series, per the Second Spectrum source. His one-on-one effort has improved, especially since the Utah series, but there's still plenty of work to do off the ball.
Porter's public plea obviously came from a good place. He's a competitor, and a darn good offensive talent that wants to help his team get wins. It's fair -- and correct! -- to suggest that he gets more touches offensively.
The optics of that plea, however, weren't great. Not only does that put the locker room in a tough spot, the request looks even funnier in the midst of some of the breakdowns he's been responsible for.