It's easy to gravitate towards a tough shot-maker. How cool is it to see a player defended well, pushed to an uncomfortable spot and knock down a jumper or convert a contested finish anyway?
And for the defender(s) of said shot, how must that feel? To do everything right, only for points to go up on the scoreboard despite your solid efforts?
In other words: It's gotta be tough drawing DeMar DeRozan as a matchup right now.
DeRozan's off to a hot start, averaging 27.0 points with a 59.5% True Shooting percentage to boot. Honestly, he's got it going from everywhere. His shot distribution (along with field-goal percentages by distance) is as follows:
67.7% from 0-to-3 feet
50% from 3-to-10 feet
51.2% from 10-to-16 feet
40% from 16-22ish feet
38.9% from three
He's shooting 52.2% on twos while attempting 17.3 of those suckers. Roughtly 70% of those two-pointers have been self-created. The three-point dabbling is back, with DeRozan's 2.3 attempts being the highest we've seen from him since his final year in Toronto (3.6 attempts in 2017-18).
DeRozan has been hotter as of late. He's scored 30 or more points in three straight games, while shooting 65.5% (!!!) from two and 50% from three during that stretch. And when all else fails, DeRozan has been able to bump-and-pump his way to the free-throw line. His 7.3 free throw attempts rank fifth in the NBA, and second among perimeter players (Jimmy Butler leads the NBA in both categories at 9.0).
It's hard to emphasize how important DeRozan's rim pressure has been. The Bulls have moved from No. 10 to No. 5 in terms of their share of shots at the rim, per PBP Stats. The real shift, however, comes from the charity stripe.
The Bulls ranked dead last in the percentage of points that came via free throws (12.5) last season, per NBA.com's tracking data. They've completely flipped the script this season, ranking third (17.0) in the league behind DeRozan's aggression.
The partnership between DeRozan and Chicago's other two stars — Zach LaVine (balling) and Nikola Vucevic (bawling, at his currently-shaky jumper) — has been mutually beneficial. DeRozan has been able to attack bent defenses due to the attention the other two demand, especially when they work together.
Take the possession below, where the Celtics attempt to "ICE" a LaVine-Vucevic pick-and-roll.
In ICE, the on-ball defender (Josh Richardson) positions himself in a way to force the ball-handler (LaVine) towards the baseline. Robert Williams has to step up because of LaVine's pull-up shooting ability, which opens up the pocket pass to a rolling Vucevic.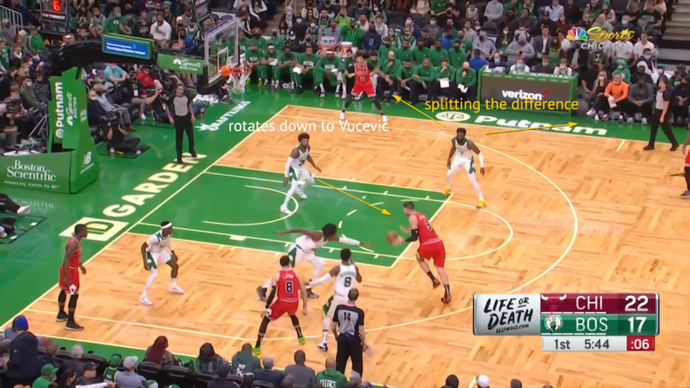 Because of the on-time, on-target pass, Marcus Smart rotates down to cut off the roll. Vucevic quickly finds DeRozan on the wing, which turns into a one-on-one battle with Williams as he rotates out. DeRozan beats Williams off the bounce, forces a rotation, then finds Vucevic for the open jumper.
Even when LaVine and Vucevic aren't directly involved in actions, their presence has made life easier for DeRozan. DeRozan-run isolations or post-ups with either star spacing one pass away have made it incredibly tough to send extra attention. Including passes, DeRozan is generating 1.11 points per isolation possession, and 1.27 points per post-up, per Synergy.
But because of DeRozan's individual prowess as a scorer, LaVine and Vucevic aren't needed to save the day. It's why head coach Billy Donovan has seemed comfortable working DeRozan in with the second unit.
The split has been nearly perfect in terms of minute distribution. Per PBP Stats, the Bulls have logged 80 minutes with DeRozan on the floor without LaVine and Vucevic, and 79 minutes with the inverse (LaVine/Vucevic on, DeRozan off).
The Bulls have (inexplicably) crushed it in the solo DeRozan (DeSolo?) minutes, posting a 119.4 offensive rating and a plus-23.7 net rating overall despite his cast mostly being non-shooters.
It's also telling that DeRozan, in less than a month, has already taken over lead-dog duties in the clutch. He's taken as many clutch shots (9) as LaVine (6) and Vucevic (3) combined. DeRozan's 33.3 usage rate trumps his co-stars.
But when you can make shots like this, who needs spacing? And why wouldn't you defer to DeRozan?
Not only has DeRozan been a near-seamless fit on his new squad offensively, he's not-so-arguably been the Bulls' best player this season. Before the season, he bristled at people who questioned how he would fit in Chicago. If this stretch is any indication of the campaign he'll have, his annoyance by the skepticism will be justified.
He's wylin' in Windy City right now.