It's hard to believe that we've nearly completed the first quarter of the 2020-21 NBA season. It's obviously been unlike any we've ever seen, and Adam Silver and the league deserve a ton of credit.
So do the players… And so do the coaches.
I played for the Bucks in 1999 and coached the Clippers in 2011 — which were both lockout-shortened seasons — but for coaches, I'm sure that this season is unlike any they've ever experienced. There are some unique challenges, such as playing without fans and the strict limitations on interactions with players. Ttrying to keep players mentally fresh and motivated over the course of a long (condensed) season isn't easy.
On MLK Day, we all saw Steph Curry nail a terrific stepback three over Anthony Davis. He helped the Warriors beat the Lakers, but didn't get the satisfaction of feeling the energy get sucked out of Staples Center. Under normal circumstances, the building would've gone silent while the Warriors and their fans in the building had their moment. Not this time.
As the scene unfolded, the lack of energy in the building was obvious.
Curry, like most players, feeds off of energy. And if you're playing in an empty arena, mustering the same kind of energy as if you were playing in front of a packed house isn't always easy. In the Orlando bubble, players at least knew they were competing for the championship, but the grind of the regular season sometimes makes it difficult to bring a natural urgency to each and every game. That's where fans often come in. That's not so much the case this season.
For a coach, that's probably just the start.
More than anything, time is the most important thing for a coach. It just feels like there's never enough. Practicing, reviewing film, installing plays and developing relationships are all necessary for a coach to understand how to put their players in positions to succeed on the court. In a condensed season, there's even less of it. And the recent uptick in positive COVID-19 tests within the NBA have only made things worse.
As a result, the league has restricted a coach's access to his team, further shortening the time that they have together.
Coaches enjoy working individually with players more than anything else — being on the court, tracking a player's development, seeing them improve individually so the group is stronger as a collective. That's what we live for. Those opportunities have now been limited.
Aside from the obvious, the lack of on-court time together also reduces a coach's ability to teach his team how to win. Knowing how to win and learning how to win are two different things. In tight moments that decide games, we tend to pay more attention to whether the ball goes in than whether the ball went to the right place, whether a screen is set at the right angle, whether a cut was properly timed or whether any of the other small factors that increase the percentage of success were executed successfully. With a limited amount of instruction time, it's tough to teach teams how to win, especially younger teams or those with a lot of new personnel.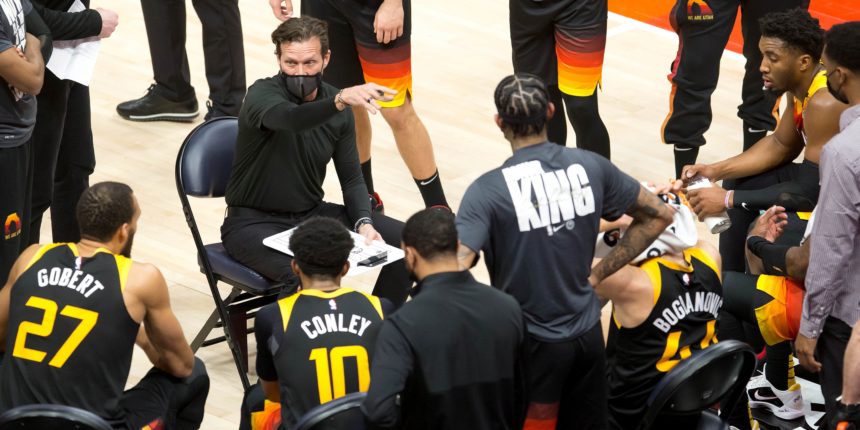 Today, coaches also have to deal with something that we didn't in 1999 or 2011: postponed games — a major potential source of frustration.
Preparing for a game only for it to ultimately not be played breaks rhythm and, in some ways, could be deflating. Guys look forward to competing, and when their ability to do that is taken away, there's bound to be some disappointment.
Coaches, like players, are competitive junkies. When you get on the court, whether you're wearing sneakers or holding a clipboard, you've prepared to compete. Whether it's scoring, rebounding, setting screens or drawing up plays, everyone is in it together and everyone wants to get a win. Having that opportunity taken away is almost as much of a gut punch as a loss.
That's especially true in a situation where a team has already prepared for a game and traveled to the host city. A postponed contest probably causes some frustration that, at the end of the day, a coach has to manage. When players travel to host cities — we talk about the "Orlando bubble" all the time — they live in a hotel bubble. They no longer enjoy the freedoms of going out to dinner, socializing freely, walking around the city, getting a coffee or seeing friends and family.
For them to make those kinds of sacrifices has to take a mental toll, especially since they're not able to unplug and do the things they'd normally do to clear their minds and get away from the game for a few hours. Imagine self-isolating in a hotel room for a day for the sole purpose of playing a game, only for the game to not happen. That's a unique obstacle that nobody's really seen before, and it would surely have a mental effect on a coach's team. Being successful is not only about being physically ready to play, it's also about being mentally prepared to focus. We all need downtime and opportunities to unwind and clear our heads. It's not easy for everyone to do that when they're asked to isolate in their hotel rooms.
Now, just imagine having to do that for two or three days. That's the scenario some teams have faced since they've been tasked to do something nobody's ever seen before in the regular season: play twice consecutively in the same arena.
Home-and-home series happen frequently in the league, but this season, we're seeing two teams go at it two times in a row in the same city. It's hard enough beating a team two times in a row under normal circumstances, much less in their own building.
When you combine those challenges with the demands of a "normal" NBA season, it's obvious that the coaches in the NBA today deserve credit for their hard work and dedication. For the most part, thus far, they've been able to have their teams ready to compete at the high level we've grown accustomed to seeing. There's no way that's been an easy task.
To put things in perspective, the challenges the league and its personnel face pale in comparison to the unforeseen losses that everyday people have experienced. People have lost loved ones and jobs, and many families are struggling to pay their bills. The sacrifices made by the NBA to continue to present its product obviously can't be compared, but COVID-19 has impacted each and every one of us. We may not be experiencing the virus in the same way, but there are sacrifices being made on all fronts.
Kudos to the league's coaches for doing their part to give us high-quality basketball. If nothing else, they're providing an outlet for us to take our minds off of the everyday reality of this horrible virus.
Hopefully, better days will be upon us soon.