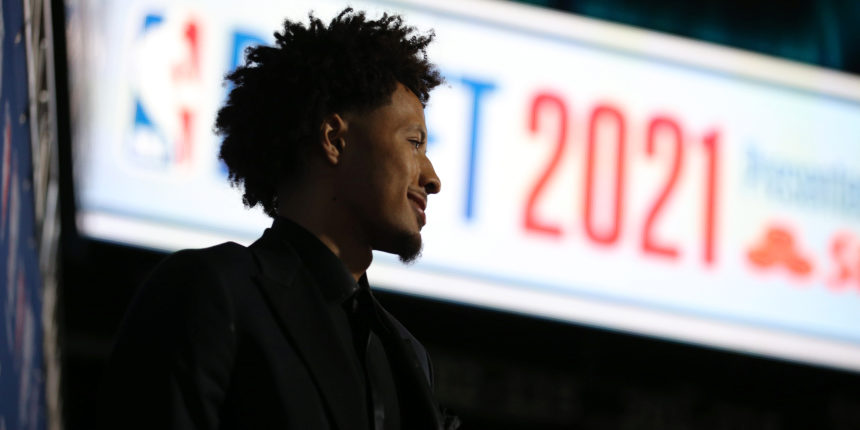 Cunningham says Draft Night 2021 will be about him, not Westbrook
BROOKLYN – This will go down in history as the night Cade Cunningham was drafted No. 1 overall by the Detroit Pistons. It will not be remembered as the night Russell Westbrook was traded to the Los Angeles Lakers.
Says who?
Says Cunningham, who was unafraid to answer a direct question about what fans will remember about July 29, 2021 a decade or so down the road.
"I think it will be Cade Cunningham's night, that he got drafted by the Pistons, because when people look back, that will be the start of whenever the Pistons restored their franchise and brought greatness back to the city," Cunningham said from the interview room at Barclays Center. "That's my whole goal stepping into Detroit, to restore that city. They've already had championship teams. They've already witnessed greatness. I want to be able to bring that back to the city."
It was a genuine answer to a question a lot of athletes might have dodged or ducked. But Cunningham is clearly as intelligent as he is confident and talented, and he answered without hesitation. Props to him for that.
He is only 19 years old and was not even out of diapers the last time the Pistons were relevant in the NBA-championship discussion. But his brother, Cannen, played for Larry Brown at SMU, and he spent three years hearing about what Chauncey Billups, Ben Wallace, Rip Hamilton and Rasheed Wallace meant to the Detroit area a generation ago when LeBron James was still climbing the hill in Cleveland, trying to get past their rivals one industrial city away in a neighboring state.
Cunningham's geographical history includes growing up in Arlington, Texas, attending high school there for two years and at Montverde Academy in Florida for two years before spending a season in Norman, Oklahoma. So he will encounter culture shock and architectural shock as he makes the move to Michigan and gets to know the city the Pistons have returned to after their long stint in the suburb of Auburn Hills.
He has already met with general manager Troy Weaver and coach Dwane Casey. What struck him about those sitdowns was the genuine level of commitment both men have to restoring glory to a franchise that has been on the skids for the past dozen years, making the postseason just two times and never getting out of the first round.
"More than anything, they're locked in and they're stuck on restoring them. I heard that so many times throughout my visit in Detroit, and it stuck with me just because it makes sense," said Cunningham, who knew all day that Detroit would be selecting him first overall, but had to wait until just after 8:00 p.m. ET to make it official.
"Seeing the two guys that are leading that organization as far as the head coach and general manager having that type of motivation to bring the team back, I mean, I know it's their job. I know that technically they're supposed to feel that way. But to really feel the genuine feel that I had from them, it meant a lot to me and it gave me a different confidence going in because I know I'm going to be in a good situation."
Pistons fans, Cavs fans, Knicks fans and fans of several other teams (such as those in Milwaukee who waited 50 years between championships) know that the road back to relevance can be an excruciatingly long one. Somewhere along the way, you must have luck, and the Pistons will learn soon enough whether hitting the proper ping-pong ball combination in this pandemic season was what turned things around for them.
Cunningham is considered a can't-miss prospect in a particularly strong draft year. However, he is joining a franchise that still seems at least a player or two away from postseason contention, no matter how good rookies Saddiq Bey and Isaiah Stewart were last season, and no matter how great of an addition Jerami Grant was in free agency.
There is always a balance that must be found between youthful exuberance and talent along with veteran leadership and savvy, and the Pistons currently seem to have more of the former than the latter. They jettisoned Mason Plumlee in a deal that sent the veteran center to Charlotte in what appeared to be a salary dump to make room for an acquisition of a replacement backup center whose identity was not immediately clear.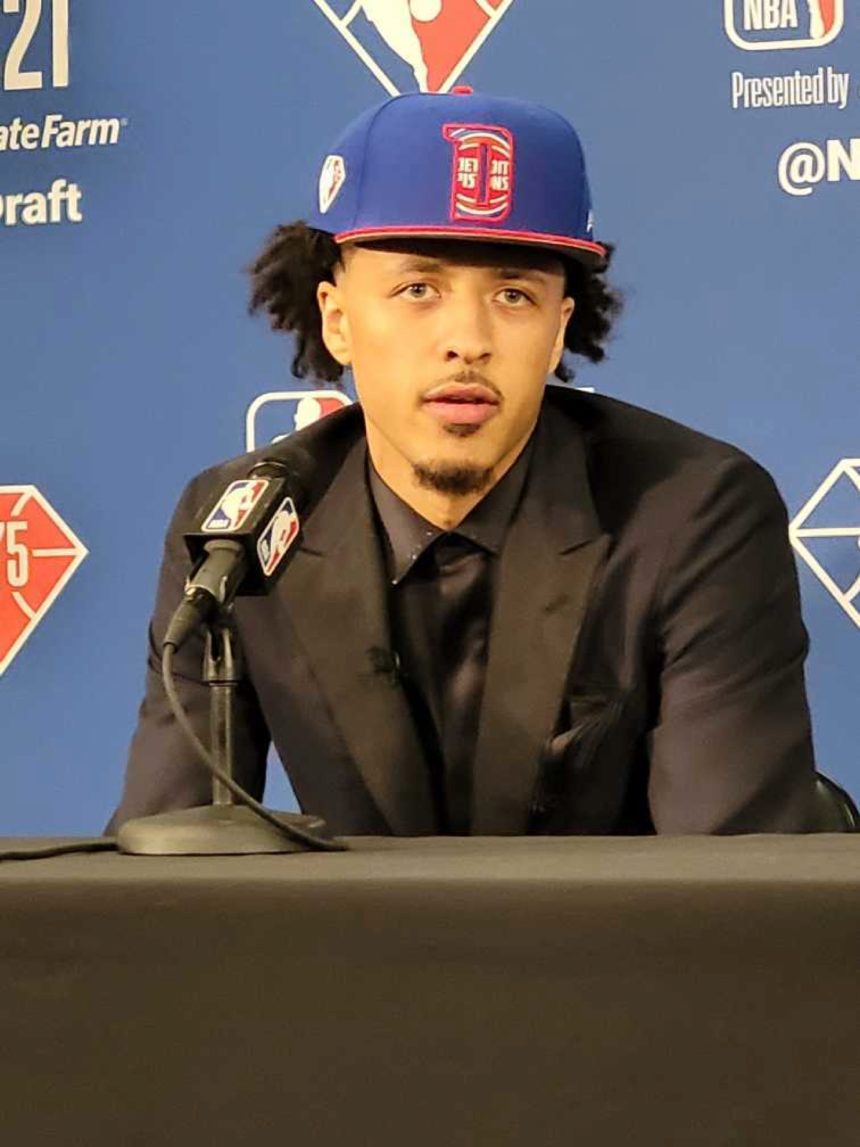 When you are in Weaver's shoes, picking a player of Cunningham's caliber is the easy part. Filling in the blanks around him is tricky.
"He's sharp," Weaver said of Cunningham. "He's very aware."
"If you look at our team, he's a human connector, on the floor and off the floor," Weaver said. "He's been an elite player at all levels, and I think he'll continue that because of his sharp mind."
Cunningham spoke with the same level of self-confidence that Billups used to display when the Pistons were making it to the Eastern Conference Finals for six consecutive years under Rick Carlisle, Brown and Flip Saunders. Back then, even though the action was some 33 miles north of Detroit, it was the center of the Eastern Conference universe, despite those great Pistons teams producing only one championship.
Compared to their irrelevance of late, those were halcyon days for the franchise, simply because everyone in the NBA respected their talent and knew the road to the NBA Finals would eventually roll through Michigan.
It is rare nowadays for any franchise to remain as powerful as those Pistons were for so many consecutive years. The Sixers were supposed to be that way, but Ben Simmons' confidence waned. The Lakers were supposed to be that way, but LeBron James and Anthony Davis got hurt. The Warriors were that way for a while, but Kevin Durant is long gone and it has been two seasons since Klay Thompson was able to play. The Celtics dropped off the contender map. The Rockets reminded everyone over the past year-and-a-half that the NBA can be a fickle league and once one guy jumps ship, others quickly follow. The Raptors were damn good three years ago. Same for the Heat two seasons ago. But nobody has mentioned either of them for months, with good reason.
"I feel like stepping onto the court with the greats that I've watched for a long time, the LeBrons, Giannis -- I mean, Giannis is great right now, but the LeBrons, the Kawhis, the guys that have been in the league for a while that have been killing, I'm excited to be able to step on the court and see them in person and learn from them and take as much as I can from them," Cunningham said. "And then the Giannises and the young guys, Lukas, Ja Morants, all those guys in the league right now giving the NBA a spark and the young core, I'm excited to try to add onto that and be the next guy that's coming in and making a real impact."
What happens short-term and long-term with the Pistons remains to be seen. In the headlines, the Lakers won this night simply by virtue of adding a former MVP and future Hall-of-Famer to a core led by James and Davis. Their window will be tighter than Detroit's, and it'll take years to know whether Cunningham's prediction of what history will remember ends up being accurate. But the kid clearly has a sharp brain and you cannot fault him for being confident enough to peer into a crystal ball that had his own reflection.
He is going to be fun to watch.
Fun in May and June? That could be years away … or maybe not. Some No. 1 overall picks make a difference quicker than others. Only time will tell what's truly the truth.