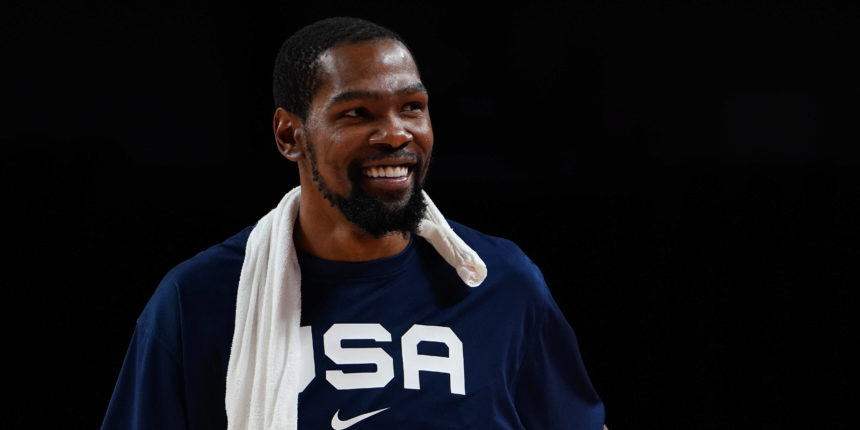 Behind Kevin Durant, Team USA completes inspiring gold medal run
A French bar in the Carroll Gardens section of Kevin Durant's adopted home borough of Brooklyn seemed like the perfect spot to watch Team USA go for the gold medal against France on Friday night. There was just one problem.
"We will be closing at 11 p.m.," the bartender said.
The city that never sleeps has become sleepy again because of the Delta variant of the coronavirus, and a tavern near Barclays Center had fewer than a dozen customers (along with a sign in the window seeking bartenders and servers) on what would ordinarily be a busy Friday night in the nation's most populous city.
It made for a weird watching experience just a couple blocks from where Durant will be back at work when the 2021-2022 NBA season begins. But he has just given himself the means to build a special trophy case for his third Olympic gold medal… If that is what he so chooses to do with some of the $198 million he will be getting from the Nets.
Still though, Durant and his American teammates did not return to the Tokyo Hilton with gold medals after defeating France by a final score of 87-82 in a very entertaining game in Saitama, Japan. The medal ceremony had not yet taken place, and wouldn't until after the Australian national team defeated Slovenia in the bronze medal game, 107-93.
Typically, the medal ceremony takes place after the gold medal game, but, in these times, what is typical and what is functional are two different things. And the question of what the American players will be doing with their gold medals remained an open one as the weekend began back in the United States.
Last month, there was a palpable sense of panic from some corners of the basketball universe when the American men first got together in Las Vegas. The club immediately proceeded to lose glorified scrimmages against Nigeria and Australia.
A significant number of people in the United States seem intent on pretending that the rest of the world had not caught up to America in the global race to be a basketball powerhouse, so there was a major reaction to those losses. To borrow an old quote from coach Gregg Popovich, though, those people who don't recognize that the rest of the world is indeed catching up "must have been living in a phone booth" for the past couple of decades.
The world caught up a long time ago, and what these Olympics demonstrated was that the trick to success is peaking at the end, not in training camp. Friday night (Saturday morning in Japan) was the culmination of the American federation keeping its head down and achieving its collective goal while being half-a-world away from home and dealing with COVID-19 protocols and quarantining rules. Team USA didn't have the same opportunity to enjoy the host country as previous teams did, nor were they able to go to other sporting events at various venues and have a fairly unique life experience.
Durant has done this three times, but his teammates were all relative neophytes. Only Draymond Green had done this before, winning gold at the 2016 Rio de Janeiro Games. And for three players who competed in the NBA Finals — Jrue Holiday, Devin Booker and Khris Middleton — winning gold medals so soon after playing four rounds of playoff basketball was a testament to their collective desire to be the very best, not only in the NBA, but in FIBA too.
"You know what 'sayonara' means? That's how I'm feeling right now," Popovich joked after the gold medal game. "I agree with these guys. Every championship is special, and the group you're with is special. But I can be honest and say this is the most responsibility I've ever felt, because you're playing for so many people that are watching and for your country and other countries involved. The responsibility was awesome, and I felt it every day for several years now. I'm feeling pretty light now and looking forward to getting back to the hotel and having something."
The French national team kept this one interesting right into the final minute, staying within striking distance throughout the second half. With 1:08 left in the contest, Team France found themselves down just six points, 84-78. Holiday missed a step-back three-pointer, but Evan Fournier missed a three-pointer at the other end, as well. Durant grabbed one of his six rebounds and the U.S. team was able to withstand Damian Lillard's two missed free throws with 23 seconds left. They were playing with just enough of a cushion to achieve exactly what they set out to do, though, and they were able to hang on.
The mission was accomplished.
"Getting in at one in the morning, me, Book and Khris, and then playing that night against France, losing that game and then being able to go through the rest of the tournament and then winning the gold medal game…" Holiday said. "I don't know — I guess me thinking about it, and me telling that story, man, that's a hell of a summer."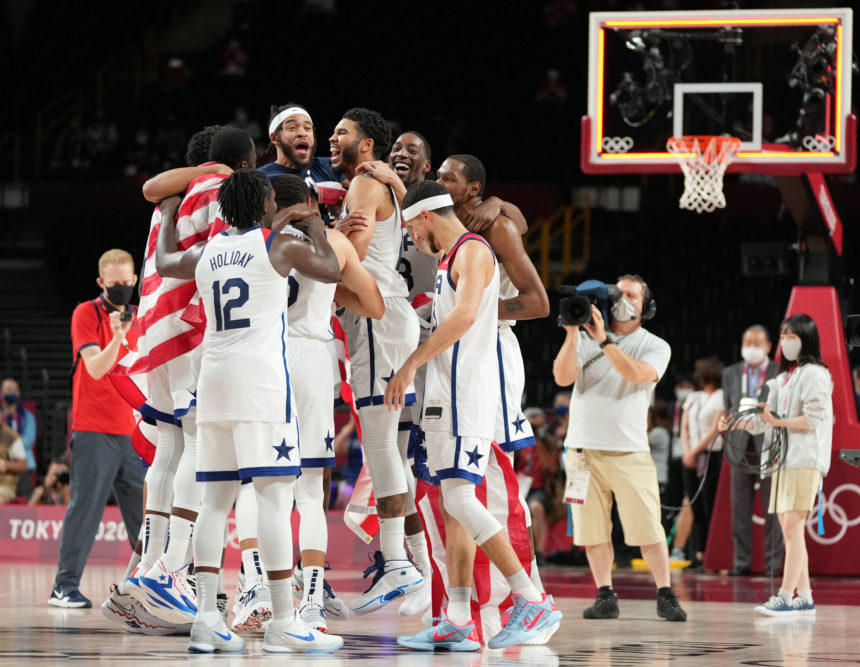 The countdown now begins to the Paris Olympics in 2024, and the focus of the basketball world will turn to Las Vegas as NBA teams begin preparing for the upcoming season with summer league. There is very little time for anyone to exhale, and all that anyone anywhere around the world can hope for going forward is a return to some semblance of the normalcy we all knew before March 2020.
Durant will eventually be back inside Barclays Center and will be flanked by bronze medalist Patty Mills of Australia, who scored 42 points to go along with nine assists against Slovenia in the bronze medal game. With those two, the quest for the Nets' first NBA championship will begin anew.
Grant Hill will be taking over leadership of the U.S. basketball federation from Jerry Colangelo, and before preparing for the Paris Olympics, he will need to start making plans for the next FIBA World Cup. The World Cup will be contested in the Philippines, Japan and Indonesia in 2023.
We are still three years away from knowing whether Durant will go for a fourth gold medal, but all American fans should hope that he does. The guy showed an intense competitive desire throughout the summer, despite the Nets' excruciating loss to the eventual champion Milwaukee Bucks in the second round of the NBA playoffs.
Can they get a different result if James Harden and Kyrie Irving are healthy? Will folks in Brooklyn be able to attend the games mask-free and enjoy something resembling a lively nightlife when those games are concluded?
We shall see.
Players and coaches and employees of NBA teams that came through New York last season to play the Nets and Knicks invariably had one question upon seeing the empty streets: "Where are all the people?"
They're still around, just not out and about. Certainly, the Tokyo Olympics — like life in general over the past year-and-a-half — has been unlike anything we've experienced. What we can all learn from Durant and company, though, is that the goal is to emerge intact and accomplished. Quantifying those things remains a personal challenge for everyone.
Hopefully, though, people can draw inspiration from their gold medal.
"I remember we had a team meeting after the first game against France, Pop wasn't there," Durant said of the opening game in which he scored only 10 points and was in foul trouble.
"You know when you have a team meeting, you're kind of at the bottom. So, we just worked our way up from there. Everybody just committed to doing what's best for the group, no matter what. It was just amazing to see that clock run down to zero and us celebrate like that and then celebrate in the locker room. It was just incredible, man."
Yes it was, KD.
Props to Team USA. Big time.