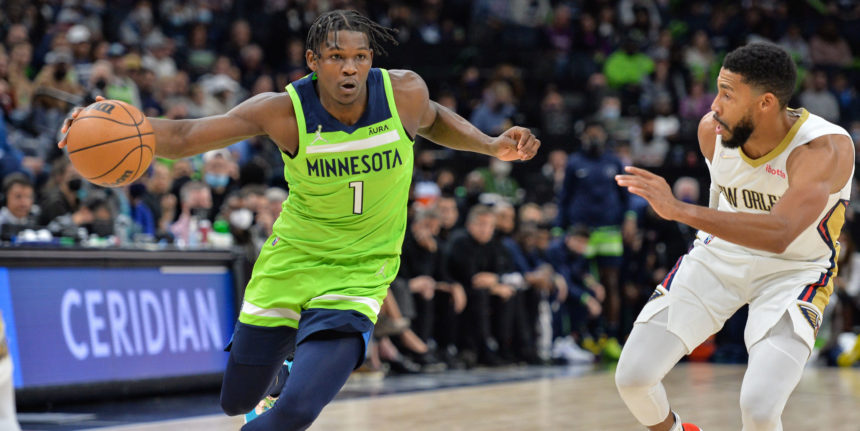 Anthony Edwards: Wolves need to 'lock the f*** in' after loss to NOLA
The following article first appeared on BasketballNetwork.net:
Anthony Edwards is playing in his second year in the NBA, but he is showing maturity beyond his age and experience. After a recent loss against the New Orleans Pelicans, the sophomore swingman called out his teammates in an NSFW rant.
Edwards message: "Lock the f*** in"
Edwards aired out his frustrations after the New Orleans Pelicans beat the Minnesota Timberwolves on Monday night, 107-98. Putting to bed any speculation about him not caring about basketball and winning, Ant called out himself and his teammates.
"Wake-up call for sure. Lock in. Lock the f**k in," Edwards said after the loss. "Everybody coming in here thinking it's sweet playing the Pelicans. Whooped our ass. Now our back's on the wall again. We got to wake up."
The defeat dented Minnesota's promising start to the season after going undefeated in the team's first two games. The loss was understandably hard to accept given the fact the Pelicans are missing their best player, Zion Williamson. Edwards is right; his teammates should not have assumed it would be an easy win because New Orleans was missing their star.
Complacency has no place in the league, and it should be corrected as early as now if the Wolves want to keep their playoff hopes alive. Although Karl Anthony-Towns played great, he failed to contain Jonas Valanciunas, who had a monster double-double of 22 points and 23 rebounds.
Veterans should be held accountable
Edwards has likely learned from one of the best vocal leaders on the court, Patrick Beverley, who joined the team in the offseason. Beverley's tenacity will surely rub off on his teammates. While Ant and Pat Bev can try and set high expectations, Towns and D'Angelo Russell are the ones who have to lead on the court. They should set an example so that the newcomers can follow.
What Edwards is doing is rejuvenating the franchise and stepping up as a vocal leader the team needs. The Wolves can't afford to cherry-pick when to play great games and underestimate anyone in the NBA. If they want to be considered a serious threat, they should bring their A-game — no matter who the opponent is or who's missing on the other side.
In an era where star players could disrupt team chemistry after being called out by the media or teammates and then force a way out, it's nice to know young stars such as Edwards are not afraid to voice their strong opinions, especially if it benefits the team. Everyone needs a dose of tough love from time to time, and Edwards decided the Wolves need it as soon as possible. He's not wrong.
Check out more articles from BasketballNetwork.net here.