In 2021, "NBA" was the No. 1 trending Google search in the United States, beating out "Squid Game," "Mega Millions" and "stimulus check" among other top searches. "NBA" also fared well globally, ranking as Google's No. 4 trending search worldwide.
Kevin Esteves, the NBA's associate vice president of digital strategy and analytics, did a double take when Google released this data a few weeks ago.
"I read it a few times just to make sure I understood what they were capturing and measuring," Esteves told BasketballNews.com in a phone interview. "It's an incredible stat. In a year like 2021 — with all of the news and trending searches that would've been in contention for the No. 1 spot — for the NBA to occupy that top spot, I think it's just a testament to the health of the brand and how exciting the league has been over the last few years. It's an incredible brand-health metric for us, but I think it also speaks to how the NBA is more than just a basketball league; it kind of infiltrates the conversation across culture, music, fashion and social justice."
The NBA has always had an excellent online presence, but 2021 was perhaps the league's most impressive year to date.
Last year, the NBA was the most-viewed and most-engaged pro-sports-league account on social media, driving 24 billion views and 2.3 billion engagements across all platforms. Also, the NBA added 18 million followers across Twitter, Instagram, YouTube, TikTok and Facebook combined last year — the most of any U.S. pro sports league.
"What's really been our guiding philosophy throughout is we've tried to be a first-mover on all of these platforms, and in many cases, we were the first sports-league account on the platform," Esteves explained. "Then, it's about optimizing content for the platform that we're on — not just spraying the same piece of content across all of our platforms, but really optimizing for each platform, nurturing that fan base and giving them exactly what they want. That's sort of been key in our recipe for success."
In addition to growing its following on the larger platforms like Instagram and Twitter, the NBA also had a number of successful live activations on Twitch and TikTok among others. Even the way the league embraced Clubhouse during the height of its popularity — with regularly scheduled Watch Parties — is indicative of this philosophy.
"I think a lot of brands can be hesitant around new platforms as they're emerging because they aren't sure if the ROI is there, or they're not sure exactly how it ladders up to their overall company objective," Esteves said. "When you think about social media when it first started, a lot of brands were in the business of driving people back to their website or other offerings, whereas I think we've always had the directive from our executives to optimize for the platform we're on and nurture engagement there.
"At first, it was a very big marketing platform for us, but now, social drives just about every business objective that we have. But I don't think we could have achieved that if we were thinking that our first post on each platform had to drive 10 of our business objectives. We had to nurture engagement on those platforms to then be able to capitalize in the long-term. I think we benefited from that approach. Globally, I think you're starting to see more and more sports leagues embrace a similar approach, being on multiple platforms and [creating specific] content that they make available on those platforms to engage fans and ultimately increase the reach of the sport."
The NBA currently has the most followers of any pro-sports-league account on Instagram (63.1 million), Twitter (35.9 million), YouTube (17.7 million) and TikTok (14.2 million). In comparison, the NFL has just 22.7 million Instagram followers, 28.3 million Twitter followers, 8.7 million YouTube subscribers and 7.4 million TikTok followers.
A big part of Esteves' job is trying to turn those followers into regular viewers. He describes this as "a pivotal challenge and opportunity."
"We believe that social [media] is a driver of awareness and reach, and that it can complement and increase linear viewership," Esteves said. "We know that there are such avid communities, whether it's the #NBATwitter community or the communities that we have on YouTube, Reddit, you name it. They are among the most vibrant social communities on each platform, and we believe that it's a complementary offering. It's long been our strategy to drive awareness through social.
"For a game like Klay Thompson's return, we had a live social producer on hand to capture Klay's arrival, his warm-up routine, him coming out of the locker room and just all of that context. For all of our biggest nationally televised games, we're making it appointment-style viewing. We know that fans on social are inundated with content. You see the trends on a platform like TikTok, where seemingly anyone can go viral now with content that they just captured on their phone.
"There's so much content saturation out there right now, so you really have to break through the noise, and we've found that the best way to do that is to be authentic and provide access that nobody else can. Before tip-off of Klay's return, we had a video of Klay running right up to the stanchion and he jumps into the camera. There's no way you can get closer than that! And we've always felt that is important.
"Something that [Commissioner] Adam Silver always says is, 'Ninety-nine percent of our fans never get to attend a game live.' So how do we use social to bring the game courtside and make them feel like they're actually there? We feel like that's a critical bridge between social and TV tune-in, creating those authentic relationships and providing the context for why this is such a big game or matchup. We use social to do that storytelling."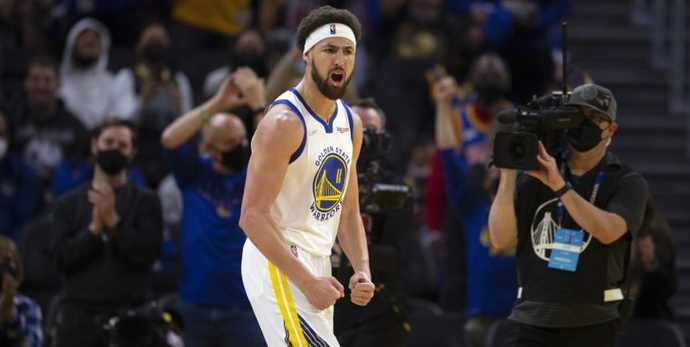 Having a live social producer on hand for Thompson's return paid off, as the NBA's Instagram generated 103 million views — the most-viewed regular-season day in the account's history. Klay-specific content generated more than 110 million views across the NBA's socials, making Thompson's return the most-viewed regular-season moment ever. Video of Thompson's pregame introduction received 22.3 million views, which is the NBA's second-most-viewed Instagram video of all-time.
It translated to linear viewership too. On NBA TV, the game averaged 844,000 viewers, making it the league's most-viewed regular-season game since 2016. Locally, NBC Sports Bay Area had a 12.7 household rating, the network's highest-rated regular-season game since 2016.
The NBA is terrific at creating these moments that get everyone talking. During the 2021 NBA All-Star Game in Atlanta, the league's Instagram account generated more than 139 million views — the most of any account on the platform that day. The NBA's IG also racked up the most views of any account when Stephen Curry broke the NBA's all-time three-point record, generating 63 million views in 24 hours.