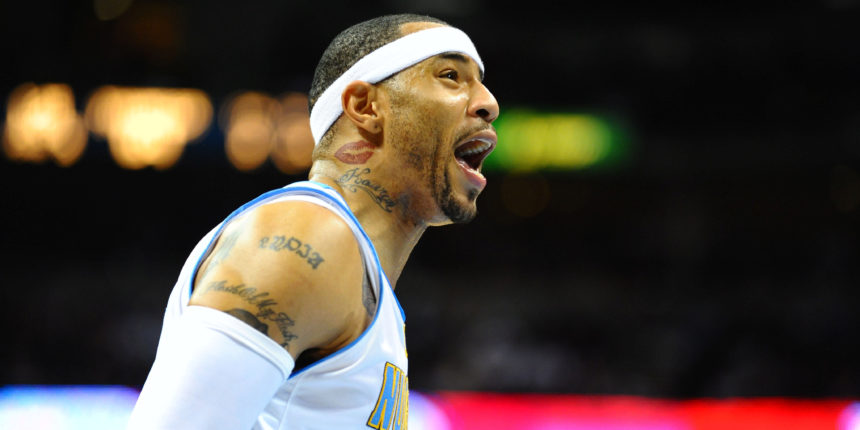 If the NBA doesn't address fan incidents, us players will... the hard way
I'm fortunate.
Thankfully, there's certain situations that God has never put me in, because believe me, there are some tests that I would've failed with flying colors.
In 2006, I was with Denver. Remember that brawl at Madison Square Garden that involved Nate Robinson, Mardy Collins, J.R. Smith and Carmelo Anthony?
I was in street clothes that night. That's a good thing, because if I was on the floor when my teammates got into like that with another team, there's no telling what I would've done.
It's also a good thing that Trae Young isn't me. Cus' believe me, if at any point during my 15-year career a fan ever decided to spit on me, it would have been a real problem. I would've gone right into the stands, just like Ron Artest.
Unfortunately, the possibility of something like that happening is staring the NBA right in the face. And the league needs to take swift and decisive action to prevent anything like that from ever happening again.
At some point, the league is going to have to consider banning fans from attendance as a punishment for misconduct. It's the only way to nip all this craziness in the bud.
Talk is one thing. Physicality is something completely different. And things have been getting a little too physical lately.
Anyone who played in the NBA knows that trash talk comes with the territory. By the time you get to the league — whether in AAU, high school or college — you probably already heard it all. People curse at you, people threaten you and in rare occasions, might even call you the "N" word. Like I said, we've pretty much heard it all. Because of that, the words don't really bother most of us.
That's part of the problem, though. A lot of fans today want to get you to react. That's why they're taking it to the next level. So the league needs to follow suit and take a heavy-handed approach to these incidents involving fans, because if they don't, something crazy is going to happen again.
And this time, it'll be the NBA's fault.
If there are multiple instances of fans acting out against players, the league should suspend fan attendance altogether. Again, it's the only way to really nip this all in the bud.
The league should utilize the media and arena personnel to publicly warn all the fans that are attending or that will be attending a game that if anyone violates the code of conduct, especially if they attempt to do physical harm to one of the players, that all fans will be barred from attending games for a certain period of time. One bad apple can ruin the bunch, and in this case, we should allow it to.
You want to talk about a deterrent? Nobody in their right mind would want to be known as that person who caused all fans in Philadelphia (or Boston or New York) to have to stay home instead of being able to cheer for their team in person. They'd become a walking target, and that's not something anybody would want for themselves.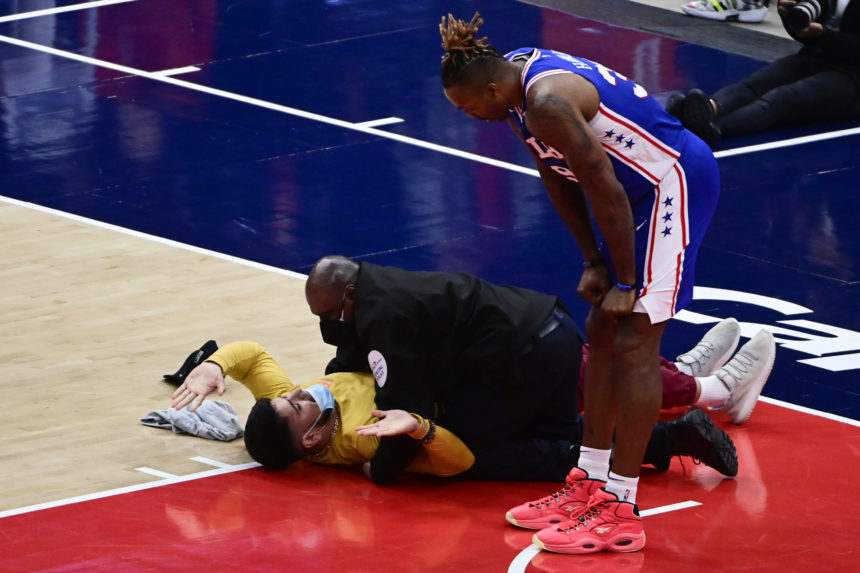 Sure, the league could continue to just ban the individual fans who commit the act, but really and truly, how enforceable are those bans? You don't have to show any ID to get into an arena, and last time I checked, anyone can buy a ticket online. Unless the league is using facial recognition software or checking IDs of every fan entering the building — like at an airport — it's probably pretty easy for a fan whose been banned to continue attending games.
So yea, ban everybody.
The NBA is a business, I get it, but over the past couple weeks, we've seen fans get more and more brazen in their verbal and in some cases physical attacks on players. The league revised its code of conduct for fans and more are being prosecuted for their behavior, but at the end of the day, there's really not much that can be done to completely eliminate these threats.
If the league were to institute the all-out ban policy, I guarantee you that after the first or second time, the fans would all fall in line.
It's way more heavy-handed than putting up plexiglass around the court (like what they do in hockey), but many players feed off of the crowd's energy. Putting up that kind of barrier, I think, would ruin the experience both for fans and players.
Obviously, if the league implemented a "ban all" policy, it would be possible for a fan of a visiting team to pose as a fan of the home team and do something in an attempt to "frame" the home fans, but I'm pretty sure the league would sniff that out. If that ended up being the case, then maybe another action should be taken against that individual. But for the most part, the fans who end up acting crazy are fans of the home team who don't usually go there with that intention.
At some point, though, the home teams need to accept responsibility and accountability for the people they let into their building. And this is the way. Until then, the league is playing with fire. And I've seen how ugly things can get.
When I was playing college ball at Cincinnati, we had some a crazy rivalry with UNC Charlotte. Things always got really hostile. One game in particular was called off a little early, after fans started throwing stuff at my teammates and me. Things got ugly; we went into the stands, punches were thrown, one fan suffered a broken jaw and a number of us got suspended. The next time we went back, that section where the fans were sitting was moved back a bit.
I wasn't involved in anything like that in the NBA, but I do remember my situation with Mark Cuban in 2009.
I was playing for Denver, and my mom came to Dallas for Game 3 of our playoff series. I'll just leave it at this: Cuban said something to her that I took exception to and, to his credit, he apologized for it afterward. But that experience made me realize that family members attending road playoff games is just not a good idea. If an owner is capable of letting the competition get to him in such a way that he ends up saying something inappropriate to not even a player, but a player's mother… Just think about all the other incidents and things that are said that we don't even hear about.
It's getting to the point where players are getting fed up. And for the record, just as I would go into the crowd if someone ever spit on me, I would similarly go in there if I ever felt like someone was threatening or harassing my family. And trust me when I tell you -- I'm not alone in feeling that way.
Like I said, God's been looking out for me, because I've never been put in that situation. The NBA needs to do all it can to ensure that no other player is, either.
At the end of the day, there are certain arenas that have a reputation for being tougher on visiting players — Boston and Utah are definitely two that come to mind — so it's no surprise that Kyrie Irving had concerns about visiting TD Garden and that Ja Morant's family had issues against Utah. The Boston experience I'll always remember was a road game where the fans were calling one of my teammates and his wife all kinds of names and teasing the two of them about a domestic situation they had at home.
She came to the game anyway and the fans were merciless.
I'm telling you, it gets ugly.
So that's why we as players gotta have thick skin. If you let the words of every Tom, Dick and Harry get in your head, you're in the wrong line of work.
But we are at the beginning of seeing the line being crossed in a much more serious way: physically.
There's no place for that in the league.
And the fans need to be taught that lesson… the hard way.