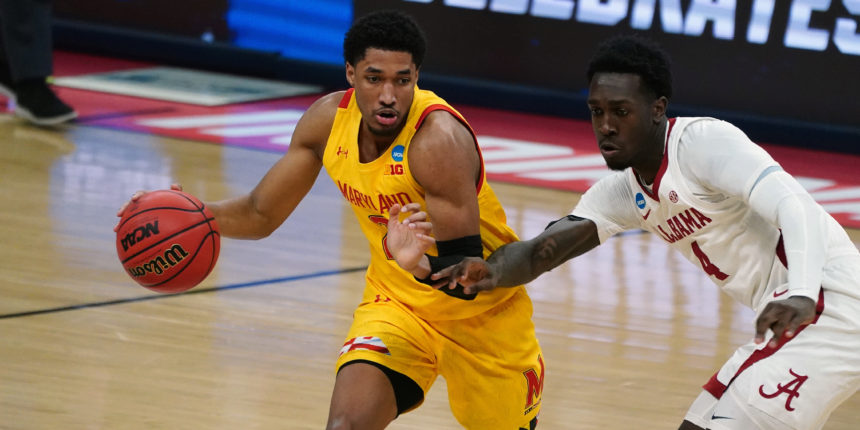 2021 NBA Draft prospect Aaron Wiggins Q&A: 'I have a lot to prove'
Maryland Terrapins shooting guard Aaron Wiggins played his best basketball during the final 10 games of the 2020-21 season, when he averaged 18.1 points, 6.9 rebounds, 2.5 threes, 2.0 assists and 1.5 steals while shooting 52.3% from the field, 40.3% from three and 78.3% from the free-throw line.
The 22-year-old junior turned heads, earning an invite to the G League Elite Camp. After an impressive showing at the event, Wiggins generated some buzz and got invited to this year's NBA Draft Combine.
After three years at Maryland, Wiggins decided to keep his name in the 2021 NBA Draft. Throughout the pre-draft process, he has worked out for the Atlanta Hawks, Boston Celtics, Cleveland Cavaliers, Golden State Warriors, Phoenix Suns, San Antonio Spurs and Toronto Raptors, among others.
BasketballNews.com recently caught up with Wiggins to discuss his game, his pre-draft experience, which NBA player he studies most, why he stayed in the 2021 NBA Draft and more.
You had a really strong finish to your junior season, playing really well over the last 10 games. What changed and what was working well for you during that stretch?
Aaron Wiggins: "I think, as a team, we figured out a lot more things. I think we kinda got into a groove. Players individually kinda found their roles, spacing was better offensively and we began to really guard. We just got kinda comfortable and began to shoot the ball really well and got in a really good groove."
You participated in the G League Elite Camp and shined, which led to interest from NBA teams. What was your approach entering the Elite Camp and what were you trying to prove there?
Wiggins: "I mean, I kind of came with the mindset that I shouldn't have been at the camp. I almost felt like it was an insult that I was there because I truly believe I should've received a Combine invite. But I went with the mindset to prove that and to get an official invite to the Combine. I just wanted to go out there and compete and show teams that I'm capable of getting drafted, that I'm capable of being a highly-touted prospect coming out of college and everything. My goal is to have fun and compete."
You were able to impress all of the right people. Afterward, there was some buzz about your performance. What did that mean to you?
Wiggins: "It's obviously good. I feel like I'm on the right track, but there's not anything set in stone yet. It's a big accomplishment because I was blessed enough to then participate in the official NBA Combine, and I went out there and competed, had fun, and played my hardest. I just want to continue to get better every day and enjoy the process."
You decided to leave your name in the draft rather than returning to school for your senior season. What factors went into that decision?
Wiggins: "I mean, there's a lot I'm trying to prove to teams because a lot of mock drafts had me late-second-round to undrafted. And my whole goal is to show teams and GMs that I'm capable of being a first-round draft pick or an early second-round draft pick. I've never paid attention to the rankings and the mock drafts and stuff like that. Just having the mindset that I have a lot to prove, and what [went] into my decision was the teams that I've spoken to, their interest and whether I thought I would be successful going to that organization, feeling comfortable if the team invests in me. Also, I [sat] down and talked to my agent, my parents, and my coaches and just figured out where I would stand if I returned to school [versus] staying in the draft."
Who are some NBA players that you study or model your game after?
Wiggins: "In this last year, I began to watch Jordan Poole. I played against him my freshman year in college and [it was great seeing his success in the last year, coming out of the G League bubble and playing so well towards the end of the regular season for the Warriors. As a 6-foot-5 or 6-foot-6 wing, he can create his own shot, he's really good off the catch, and then he has the athleticism to make plays. My assistant coach at Maryland, DeAndre Haynes, who actually coached Jordan Poole at Michigan, he told me that I should take a look at Jordan, so I began to watch him towards the end of the regular season.
What are some of the biggest aspects of your game that you're still working on trying to improve?
Wiggins: "Continue to work on my ball-handling, as well as coming off ball-screens, pick-and-roll, step-ups, things of that nature. And being able to work more with the ball in my hands."
Let's say an NBA GM asks you, "Why should I draft you? Why do you deserve a spot on my team?" What is your response?
Wiggins: "I'd say basketball-wise, I would be a prototypical wing. I can shoot it, so I can space the floor. I have the ability to put it on the floor and create my own shots, and I have the athleticism to finish around the rim. Then, I think the biggest thing that separates me from a lot of players is my abilities defensively. I play both ends. I have a 6-foot-10 wingspan, so I have the length to affect people's jumpshots and to keep them from being comfortable on the offensive end. And I compete on the defensive end.
"Outside of that, my personality and how I carry myself; I always have positive energy, so I'll always bring a positive attitude and positive energy to the organization."
When you aren't playing basketball, what are some of your hobbies?
Wiggins: "I play video games, I watch Netflix and take naps. Every now and then, depending on where I'm at, I'll go out in the city or something during the day to hang with a friend. I usually stay to myself, stay inside, and play video games with the boys."
As you've interviewed with these NBA executives, do you feel like your personality helps separate you from other prospects in the draft?
Wiggins: "100%. I truly believe, as a person, that I'm different from a lot of people. I think I'm very personable. I just have the natural ability to speak to people, to hold conversations and to relate to others. I definitely think that's a plus for me with interviews and stuff."
Are there any NBA players who have given you advice as you go through this process?
Wiggins: "Recently, going through this process, I've talked to Kevin Huerter a couple times from the Atlanta Hawks. He's doing really well. And then I know Stix (Jalen Smith) really well. He isn't playing a lot, but he's around a lot of vets and he's on a really good team [in Phoenix]. I've talked to my two good friends, Jaylen Hoard and Devon Dotson. They've both played in the G League and both saw NBA minutes. They've been through both ends -- both ways that it could go. I've got good information, good knowledge of what it's like -- what the life is like and how it all is -- and I'll continue to talk to them."
Are there any misconceptions that you wanted to disprove throughout the pre-draft process?
Wiggins: "I'm continuing to prove that I'm a good ball-handler, I'm able to create shots, I'm a great catch-and-shoot player, my athleticism... I will say: my ability to pass the ball is a bit underrated. I think I have pretty good court-vision and I try to make the right plays. I'd say that's one part of my game that is somewhat underrated. But for the most part, I try to show that I can play at a high level in every part of my game."
Check out BasketballNews.com's latest 2021 mock draft by our Senior NBA Draft Analyst Matt Babcock.