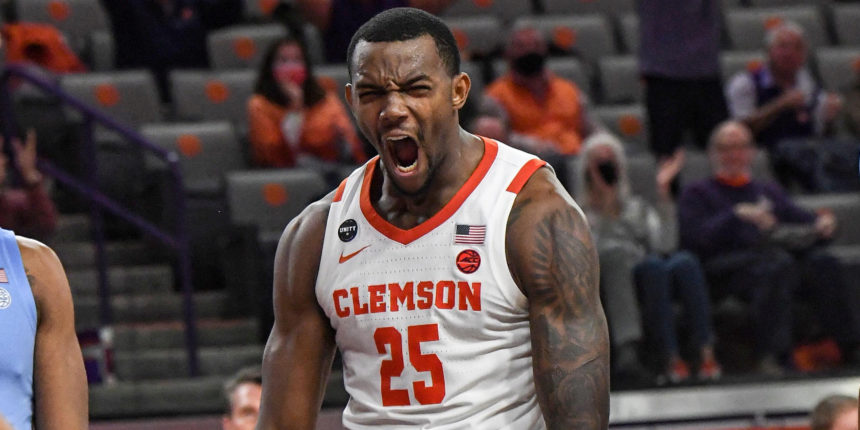 Aamir Simms eager to exhibit more of his game at the next level
Joining the likes of many successful players before him (such as Kawhi Leonard, Kyle Lowry, Kevin Love, John Wall and Isaiah Thomas), NBA hopeful and Clemson Tiger alum Aamir Simms is tirelessly grinding at Impact Basketball to prepare for the upcoming 2021 draft.
Working with longtime pro trainer Joe Abunassar, one of the most respected influences in the game, Simms has toiled away in the gym with the scorching Las Vegas heat seeping into the facility, focusing on two areas of his skill set that he believes weren't on display in college: shooting the basketball and defending 1-through-5.
"I feel like a part of my game was definitely kinda swept under the rug a little bit 'cause of what I had to adapt to when I was at Clemson, and I wasn't able to showcase as much," Simms told BasketballNews.com in an exclusive phone interview. "There was a lot asked of me while I was there, so I had to kinda sacrifice that part. Not that it was a bad thing, but I'm definitely ready to showcase [those skills].
"I'm still trying to improve in [my] consistent shooting. At times, throughout my two years as a junior and senior, I had some streaky shooting times, especially at the beginning of the year. As the season went on and progressed, I definitely shot the ball better to raise my percentages... I didn't shoot it as much at school as I wanted, but just being out here and working with Joe, I have more confidence than I ever have [had] in my shot. And going into these workouts, being able to show that and just being able to defend. That's my biggest area of improvement, to show people that I can guard guys that [are] quicker or maybe the same size and faster, so those two areas are just something we've emphasized while I've been here. Guarding guys that's a lot quicker, smaller than me, it's just been really helpful for my hips and my lateral movement."
Simms has been in this position before. In March of last year, he declared for the 2020 NBA Draft, but withdrew his name within a couple of months to return for his senior season with the Tigers -- a decision that he feels good about now looking back.
"Last year was tough," Simms said of the pre-draft process. "I felt as though, at least in the draft, it came down to picking names out of a hat. They didn't really have guys come work out, they didn't have guys they really interviewed or anything like that. It was over Zoom and whatnot, and it's not the same when it's [not] in person.
"I was projected [as a] late-round [pick] in the second, so being able to come back to school and showcase a little bit more of what they'd asked me in my interviews, I think it definitely helped, and I had a good feeling going back to school. I thought I improved in the areas they asked, and just coming out now, I definitely see a difference and it's definitely given me a step ahead of other guys who are coming out for the first time."
This weekend, Simms is set to be one of 40 participants at the G League Elite Camp in Chicago, which will allow him the chance to prove himself in front of executives, scouts, coaches and notable personnel in the NBA and G League. Standouts from the event will be awarded an opportunity to participate in next week's NBA Draft Combine.
The version we see of Simms today is not the same version of Simms from 2020, nor the same as the Virginia native that took one visit to Clemson and decided to make the university his home for the next four years.
Every season, Simms got better, and molded his craft with his experiences. It's that amount of experience that he claims gives him an edge on inexperienced prospects who need polishing, and will allow him to come in on day one and help a team right away.
"A lot of teams don't value a four-year veteran in college as much. That's not really the sexy thing nowadays. But for the teams that do, I definitely think I'll be better at making an impact early 'cause I understand the game a lot better," Simms said. "Being at Clemson, we kinda transitioned to an NBA-type offense where there was a lot of motion and you've got to make a read instead of having a set play. We had our plays, but the majority of our offense was motion offense and playing out of the high post and down screens and away screens and curls and everything.
"So I think I do have that advantage on the young guys. A lot of guys that go into [the draft] young have got the potential 'cause of their skill set and being able to score, but when it comes to thinking games and the mental game, I think I've got the upperhand on that."
Experience is something you can't teach, but Simms also possesses another unteachable quality, and that's a professional physique. In addition to his lengthy wingspan, he stands at 6-foot-8 and weighs in at 245 pounds, sporting a frame that most rookie players don't have.
"There's a lot of switching in the league, and a lot of guys get stuck on bigger opponents, and they just kinda crab dribble down to the rim and dunk the ball. In my workouts that I've been going through, I've been guarding guys two inches, three inches taller than me [and] probably 10 or 20 pounds heavier or just around the same weight, and I think I do a pretty good job of standing 'em up," Simms said. "So obviously, someone like Joel Embiid who's got 40 pounds on me, I'm definitely gonna have to try a little harder. But for the most [part], I think I can hold my own against anybody that's in my same weight class or a little bit heavier.
"At the end of the day, it's a mental thing. As long as you put your mind to it, you can do it, so I definitely think I can make an immediate impact."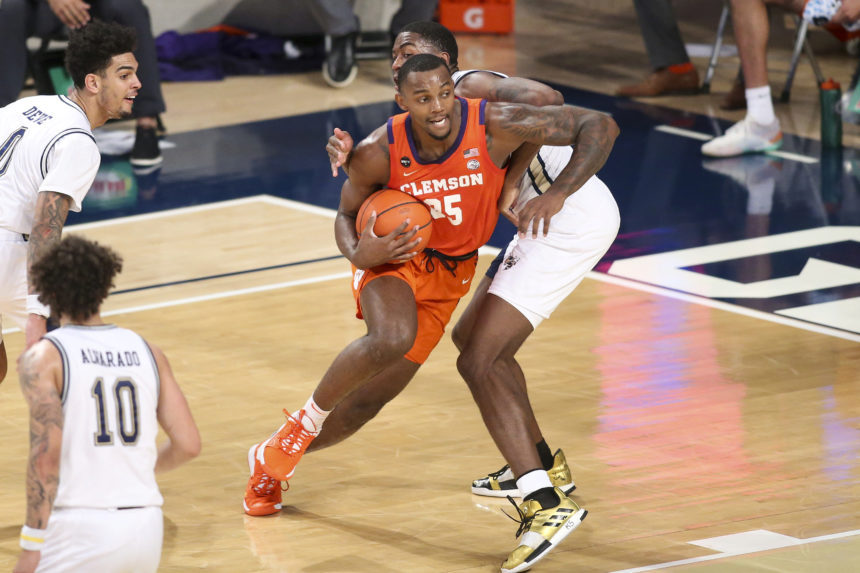 Simms anticipates going up against more NBA talents when the draft approaches nearer in July. He's looking forward to gaining knowledge and taking tips from whoever comes through Impact and other workouts he's planning on having. At the moment, he's not close with many guys at the next level, meaning this whole college-to-pro ordeal is an adventure.
"I'm definitely a lone wolf out here," Simms said.
One of the guys he has a great relationship with is Milwaukee Bucks big man Mamadi Diakite, a high-school teammate of his at Blue Ridge whom Simms battled with for a number of seasons when Clemson faced off against the Virginia Cavaliers. Those matchups helped Simms mature as a player over the years, as did the lessons he took from his elder Tigers.
Donte Grantham, Gabe DeVoe, Elijah Thomas, Marcquise Reed, Shelton Mitchell and David Skara all taught him what it meant to play in the vaunted ACC. Though coaches knew he had the chops to do a little bit of everything, Simms primarily set screens and pick-and-popped, while his teammates did the facilitating and distributing during his freshman year.
Clemson's staff knew that he had a knack for backdoor finds and a high-basketball acumen, the team just didn't require him to bring that to the table in his early seasons. However, with each season, his responsibilities increased, as did his statistical output. Once he was given free reign to expand his game in his junior and senior years, he was able to produce the numbers to confirm his contributions. Simms averaged 13.2 points, 6.9 rebounds, 2.6 assists and a steal in over 30 minutes per game in his upperclassmen seasons.
Ask him what he got better at from year one to year four, and Simms will tell you: everything.
"Whether it was putting the ball on the floor, half-court or full-court, shooting the ball in many different actions (pick-and-pop, catch-and-shoot or off down screens), and just my toughness," Simms said. "I came in as a pretty tough kid [and] I'm pretty competitive naturally, but going against Eli and other greats of the ACC at the 5 and 4, that time I was there, it improved my toughness and the physical component that I think other people lack at times.
"And just being able to bring it every night. I just thought I saw a huge improvement in that. My defense improved every year, being able to guard different guys, [as well as] being able to shoot and kinda make plays from the top of the key or the elbow was just a huge improvement I saw... Just from the first day I was there, to my last, the environment, the atmosphere did nothing but [help me] grow and progress in my four years. It taught me a lot of life lessons, and the doors that opened in my four years was just unbelievable and definitely unexpected. That's a place, if you really buy into [it] and trust and give it your all, it's gonna set you up for future endeavors for the rest of your life... I would definitely say my four years at Clemson was nothing short of amazing."
There wasn't a single summer where Simms took a vacation in the offseason. He'd stay in the gym, relentlessly working on his perimeter shooting with Clemson assistants Steve Smith, Antonio Reynolds Dean and Dick Bender. He got as many reps up as possible, until his "arms fell off" to get his muscle memory down on his jumpers.
While Simms had a fair share of outstanding performances with the school, none compare to what happened in his third season at Clemson. In mid-January 2020, the Tigers knocked off the North Carolina Tar Heels in Raleigh for the first time in program history in 60 meetings. The following game three days later, Clemson returned home and took down the No. 3 Duke Blue Devils in front of a raucous crowd for Brad Brownell's record-setting 178th win as head coach. It was the first time the men's basketball team defeated both schools since 1995-96.
Simms scored 20-plus points and nabbed 8-plus rebounds in back-to-back games as a major part of that, among the stat-sheet filling he did in those consecutive wins.
"I just felt like I was just on another level in that time frame," Simms said. "Performing the way that I did for my team and my school is just something I won't forget, being able to do what we did at UNC and knocking them off at home for the first time, and then turn [it] around beating Duke, who at the time was ranked third in the country. Beating those schools for the first time back-to-back in almost 20 years was just unbelievable... I felt as though I always had the upper hand. Those two games alone, I think, stand out for themselves."
The body of work Simms had at Clemson speaks for itself. He leaves behind a decorated career that saw him make two All-ACC teams, win the Skip Prosser Man of the Year award as the top scholar-athlete in the conference and become just the fourth player in the program's history to record over 1,000 points, 600 rebounds, 150 assists, 75 steals and 75 blocks.
What Simms accomplished, he admits he won't appreciate fully until down the road. He's had conversations with his parents about the success he had as a Tiger, and everybody is proud. But right now is a time to focus on the next chapter, and that's all he's zoned in on.
Though he had to adapt in college to what the team asked of him, Simms considers himself a tweener 4 with an ability to play as an undersized 5. He does feel that he'll be able to play the 3 as he sharpens his skill set further in the pros. He models his game after four NBA guys: Jae Crowder, Paul Millsap, Al Horford and Tobias Harris. Simms likens their physique and capabilities to his: scoring at all three levels and providing versatility. They can put it on the floor, face-up, play from the block and catch-and-shoot.
Along with that set of skills, Simms has the determination to prove his worth in the pros.
"Since I've been at Clemson or since I've come out of school, I've been ranked in all these other things, but I've always felt as though my game was underappreciated," Simms said. "So I think going into it, being able to be an older guy both still with a great skill set and understanding the game or being able to adapt to it, it's kinda the thing that separates me from a lot of guys.
"I'm not just a shooter on the perimeter. I'm not just a good passer. I'm an all-around player, I think, and that's something I think that separates me. I'm not a one-dimensional guy. I think there are many attributes to my game that people have yet to see because of my [adaptation] at Clemson. But I think coming out, once I get into this Combine, I'll really get myself going. A lot of people are gonna see why I say what I say, and that's just something I think that separates myself is being able to adapt to the game while being an older guy who's still kinda young and affecting the game in many ways that most people don't really see."
His motivation isn't just that, either. It's about his future, his family's future and others. Minoring in Nonprofit Leadership, Simms understands that there are bigger things than the game of basketball, and those philanthropic moments he desires to create will ultimately stem from the career path he's chosen.
"Basketball is not the only thing that inspires me in life. Helping others is a huge thing, and I know a great way to do that is by playing basketball, making the most out of what I can with my time there and then being set up to be able to help others -- whether it's in this country or others, being able to help people who need it more than I do," Simms said.
"Looking at guys like Harrison Barnes and Jimmy Butler and other guys who are deeply involved in their community, that's something that pushes me. They just kinda go hand-in-hand with basketball and that's a huge passion and motivation for me. So I can work my butt off on the court, so when I'm off the court, I can help people who need it more than I do."