Watching the 2021-22 Denver Nuggets, it's impossible not to imagine what this team could have achieved had it been at full strength.
After all, how many teams could lose two max-level players and still manage to win 48 games and secure the Western Conference's sixth seed?
During the Nuggets' first-round series against the Golden State Warriors, even Denver head coach Mike Malone would catch himself wondering how this season could have played out differently if the team had Jamal Murray (who missed the entire season while recovering from a torn ACL) and Michael Porter Jr. (who played just nine games after undergoing back surgery in December).
"I couldn't sleep one night. At 3 o'clock in the morning, I was looking at Jamal's stats in the Bubble. Wow," Malone said. "I knew he was good, but sometimes you forget how good he was (26.5 points, 6.6 assists, 4.8 rebounds and 3.3 threes on .505/.453/.897 shooting splits). That's the thing about Jamal: When the stakes are at their highest, he steps up. He's never afraid of the moment.
"Michael Porter, what he did last year in 10 playoff games: 17 points, 6 rebounds and, more importantly, shooting a high clip from the three-point line (39.7%). Shooting makes up for so many things. Jamal and Michael can do that."
How good can the Nuggets be next season if everyone is healthy?
"I think it's scary to think about that," Malone said. "I go back to last season before Jamal's injury in this building (Chase Center); we felt we had a legitimate chance to win a championship last year. Unfortunately, it just wasn't in the cards for us. Jamal suffers the ACL. Earlier this season, Michael Porter Jr. suffers a back [injury]. You're playing without two max players that have both helped us advance out of the first round the last three years. When they're back and they're healthy, I think that's going to make us a deeper, more talented team. I'm excited about that, I really am. I think the future is very, very bright for the Denver Nuggets."
"The potential is scary," DeMarcus Cousins added. "We're down two superstars. We took one of the most dominant teams of this past decade and we battled every night with them. The potential is scary. Obviously, it looks good on paper, but we got to put everything together. We'll see what happens."
Even though they were missing two of their three leading scorers, Denver finished the season with the NBA's sixth-best offense (scoring 111.7 points per 100 possessions).
"We know when we're fully healthy, we can be even more dangerous," Will Barton said.
"We're going to call in the reinforcements," Aaron Gordon said with a smile.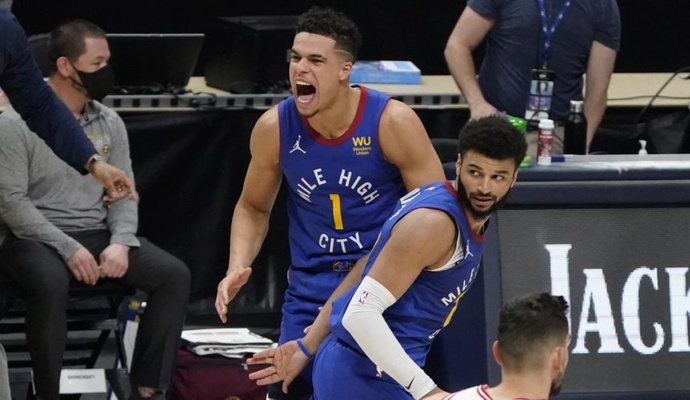 "It should be fun," Monte Morris added. "A lot of people don't even know how well they're looking individually. It's going to be just like we never left. It was big-time when we was doing it [before] — made some great 3-1 comebacks, some big wins. I'm looking forward to it."
Fortunately for the Nuggets, most of their core is under contract for the foreseeable future, including Nikola Jokic, Murray, Porter, Gordon, Barton, Morris, Bones Hyland and Zeke Nnaji. Coach Malone isn't going anywhere either, as Denver's front office just gave him a multi-year contract extension last month.
While Jokic is entering the final year of his current contract worth $33,616,770, he made it clear that he wants to stay in Denver long-term and plans to sign a supermax extension this offseason (which would pay him $260 million over five years, including $59.1 million in 2027-28).
"I would like it, of course, but it's not something that I'm deciding," Jokic said. "If [an] offer is on the table, of course I'm going to accept it because I really like the organization, I really like the people who work here. I'm in [a] really good relationship with everybody from owner to equipment manager. I think we have something that we're building. It actually feels really good."
For Denver, this offseason will mostly be about getting healthy and making moves around the edges.