Ever since ArtÅ«ras Karnišovas and Marc Eversley took over the Bulls' front office two years ago, Chicago has been one of the most aggressive teams in the NBA. Their fingerprints are all over this roster, with notable acquisitions such as DeMar DeRozan, Nikola Vucevic, Lonzo Ball and Alex Caruso.
These moves have translated to on-court success, as the Bulls posted their best winning percentage since the 2014-15 season and ended their four-year playoff drought. This year, Chicago was 46-36 — more wins than they had in the 2018-19 and 2019-20 seasons combined. (Zach LaVine and Coby White are the only remaining players from that 2019-20 squad).
The Bulls entered the playoffs as the sixth seed in the Eastern Conference while boasting the NBA's 11th-ranked offense (scoring 111.0 points per 100 possessions) and 23rd-ranked defense (allowing 111.1 points per 100 possessions).
While this season marked a step in the right direction, the Bulls' first-round series against the Milwaukee Bucks showed that there's still plenty of work to be done. Despite Milwaukee losing their second-best player, Khris Middleton, to a sprained MCL in Game 2, the Bucks completed a gentleman's sweep against the Bulls. Chicago wasn't at full strength either, with Ball sidelined due to a knee injury and LaVine (COVID-19) and Caruso (concussion) each missing Game 5. Still, the reigning champions were a good litmus test.
Entering the offseason, where does Chicago go from here? Are big changes coming?
RE-SIGNING ZACH LAVINE
Entering this offseason, Chicago's top priority should be re-signing LaVine, who is set to hit unrestricted free agency. The 27-year-old has emerged as a perennial All-Star, earning a spot on the Eastern Conference squad in each of the last two seasons.
This year, LaVine averaged 24.4 points, 4.6 rebounds, 4.5 assists and 2.8 threes, while reducing his turnovers to 2.6 per game and shooting 47.6% from the field, 38.9% from three and 85.3% from the free-throw line.
LaVine will certainly expect a maximum contract from the Bulls, which would pay him $212.3 million over five years. The most he could receive from another team is $157.4 million over four years. This is a relatively weak free-agent class, so it seems very likely that LaVine will get a max deal from some team.
The Bulls would be wise to re-sign their star shooting guard, as replacing his production would be difficult, and the team would certainly take a step back if LaVine signed elsewhere.
"I plan to enjoy free agency," LaVine said recently. "We're going to have to experience A through Z without making any fast decisions. I think that's something me and [Rich Paul] are going to go through and experience."
LaVine was asked if the Bulls are the front-runners to sign him, but he wouldn't say.
"You guys have been a really, really soft spot in my heart," LaVine said to the Chicago media. "I have to do this as a business decision, as a man, to not just be viewed one way and be like, 'I'm automatically coming back,' or, 'I'm automatically leaving.'"
In multiple interviews, LaVine has reiterated that he wants to be paid what he feels he deserves.
"I just want my respect. I think that's the main thing," LaVine said last August. "I outplayed my contract; I've been very loyal to Chicago, I like Chicago. I just want my respect."
FREE AGENCY
Aside from LaVine, the bulk of Chicago's core is under contract for the foreseeable future.
The Bulls have $103,181,950 in guaranteed salaries on the books for next season, spread across nine players: DeRozan, Vucevic, Lopez, Caruso, White, Patrick Williams, Javonte Green, Ayo Dosunmu and Marko Simonovic. Projections set next year's salary cap at $122 million and the luxury tax at $149 million.
Derrick Jones Jr.,Tristan Thompson and Matt Thomas will be unrestricted free agents. Tony Bradley has a player option worth $2,036,318, so he could opt out and test the market as well.
The team will have three restricted free agents (assuming Chicago extends a qualifying offer to each): Troy Brown Jr. ($7,228,448 QO), Tyler Cook ($1,576,305) and Malcolm Hill ($1,576,305).
Last year, the Bulls were very aggressive in free agency, making splashy moves left and right. Given their cap situation, it seems unlikely that Chicago will be able to go star hunting, but they'll likely try to improve their depth and add certain specialists. For example, Chicago could use a rim protector, as they averaged just 4.0 blocks per game (which ranked 27th in the NBA). Can they afford Mitchell Robinson? Could they throw an offer sheet at or sign-and-trade for a restricted free agent like Nic Claxton or Mo Bamba? Can they add a veteran like JaVale McGee or Hassan Whiteside?
In addition to a rim protector, it would make sense to add other defensive reinforcements as well (especially if Jones signs elsewhere). Caruso and Ball give Chicago a strong defensive backcourt, but they need some help if the Bulls want to improve their 23rd-ranked defensive rating (113.2). Some of the top defensive role players who are hitting the market include Bruce Brown, Gary Payton II and PJ Tucker. Lu Dort and Jae'Sean Tate each have a team option, but it seems unlikely that either will be available given their bargain contracts.
The Bulls will look to add a contributor or two using the non-taxpayer mid-level exception, which is worth $10,349,000. Last offseason, that is how Chicago was able to sign Caruso to a four-year, $37 million deal, which ended up being a terrific addition. Other players who signed for the non-taxpayer MLE last offseason include McGee (Phoenix Suns), Tucker (Miami Heat), Reggie Bullock (Dallas Mavericks) and Khem Birch (Toronto Raptors).
It will be interesting to see what the Bulls do in free agency. However, keep in mind that some of Chicago's biggest additions in recent years were acquired through trades.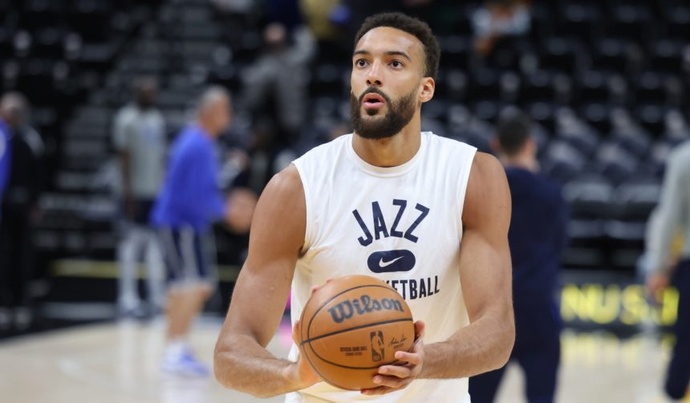 TRADES
After watching the Bulls' front office trade for Vucevic, DeRozan and Ball, fans are understandably thinking big when it comes to Chicago's trade targets entering the offseason.
Myles Turner has been mentioned as a possible target for the Bulls since he could solve their rim-protection issues, but the window on acquiring Turner may have slammed shut as a recent report suggested that the Indiana Pacers are now expected to keep the 26-year-old long-term.
Another dominant shot-blocker who may become available is Rudy Gobert. The Utah Jazz just had another season end in disappointing fashion, and there has already been a report that the Jazz will be forced to choose between Gobert and Donovan Mitchell. If Utah opts to keep their young shooting guard, a three-time Defensive Player of the Year and five-time All-Defensive First-Team selection could suddenly be obtainable.
If that happens, the Bulls should at least reach out and start a conversation. Our Evan Sidery recently broke down potential destinations for Gobert and listed Chicago as the top landing spot. Here's what he wrote:
Imagine the possibilities for Chicago with Gobert patrolling the paint with Lonzo Ball and Alex Caruso hawking the perimeter. It's the perfect complement to offensive dynamos Zach LaVine and DeMar DeRozan. Chicago's new starting lineup of Ball, Caruso, LaVine, DeRozan and Gobert would seemingly have no holes in it from a two-way perspective. I absolutely love this idea for Chicago, and they should be blowing up the Jazz's phone this summer if it seems plausible.
Jazz receive: Nikola Vucevic, Patrick Williams, Coby White, draft compensation
Bulls receive: Rudy Gobert
It remains to be seen if either side would do this, but it's an intriguing idea.
With that said, if the Bulls are committed to Vucevic and don't want to trade for a new big man, HoopsHype's Yossi Gozlan points out that an extension for Vooch could make sense this offseason.
If that happens, perhaps Chicago just looks for a complementary shot-blocker who can play behind Vucevic like one of the free agents we mentioned above or more of a minor trade target such as New York's Nerlens Noel or Minnesota's Jarred Vanderbilt.
It's also worth noting that the Bulls have a $5,000,000 trade exception that expires on July 7, 2022, from their Daniel Theis deal.
DRAFT
The Bulls have the No. 18 pick in the 2022 NBA Draft. In BasketballNews.com's 2022 NBA Mock Draft, our senior NBA Draft analyst Matt Babcock has Chicago selecting Ohio State forward EJ Liddell.
The 6-foot-7, 21-year-old junior is a well-rounded, NBA-ready player who makes sense for a Bulls team that wants to win now. Last season, Liddell averaged 19.4 points, 7.9 rebounds, 2.5 assists, 2.6 blocks, 1.4 threes and 0.6 steals, while shooting 49.0% from the field, 37.4% from three and 76.5% from the free-throw line.
"Although he is a bit undersized for the position, the Buckeyes often used Liddell as a 4 or 5 in their lineups," Babcock noted in his scouting breakdown. "He is physical and versatile on both ends of the floor, scoring both inside and out. He appears more comfortable in the mid-range and paint, which works well for his college system but raises questions in regards to his translatability to the NBA. Liddell filled up the box score and played with great effort and toughness. He has certainly carved out a spot for himself in the 2022 NBA Draft."
Other players who are projected to be available in that range are G League Ignite wing MarJon Beauchamp, Baylor forward Kendall Brown, LSU forward Tari Eason, Notre Dame guard Blake Wesley, G League Ignite guard Jaden Hardy, Serbian forward Nikola Jovic and Tennessee guard Kennedy Chandler.
If the Bulls aren't interested in any of these prospects, or if Karnišovas and Eversley continue to be aggressive on the trade market, Chicago could look to deal the No. 18 pick as part of a win-now move.
It's worth noting that Chicago must forfeit their next-available second-round pick after an NBA investigation revealed that they contacted Ball prior to the start of the NBA's free-agency period. As it stands, the Bulls' next-available pick is the team's 2026 second-rounder, but Chicago can't acquire a second-round pick before then because they'd have to forfeit it.
***
After a few rough years, the Bulls seem to be back on the right trajectory, and there's no question that this team has the talent to be a perennial playoff squad in the East. Winning 46 games despite trying to get so many new players acclimated is impressive, especially when you factor in the injuries to Ball, Caruso, Williams, etc.
Even if the Bulls bring back largely the same roster, they will benefit from that continuity and improved chemistry. However, given what we've seen from this front office in recent years, don't be surprised if they look to wheel-and-deal in order to take the roster to the next level.