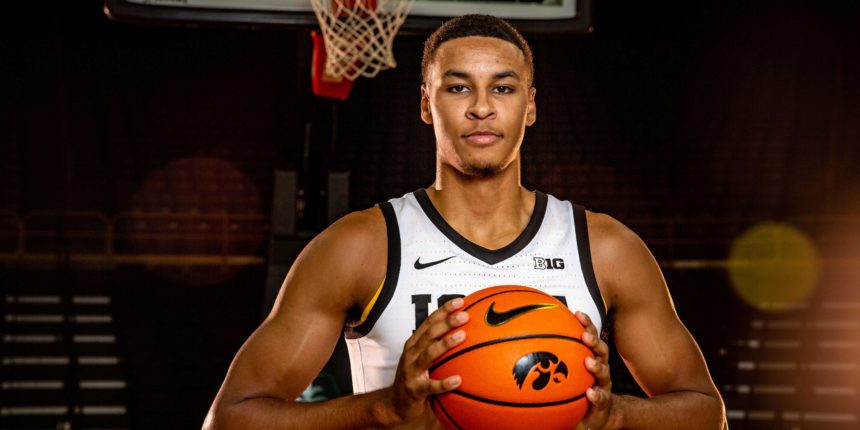 2022 NBA Draft: The rise of Iowa's Keegan Murray
In each of the last three seasons, the Iowa Hawkeyes have posted 20-plus victories with a win percentage over 64% and have earned an NCAA tournament berth twice (2020's was canceled due to the COVID-19 pandemic).
A common denominator of their success was the play of the Hawkeye legend, Luka Garza. During his time in Iowa, Garza was one of the most prolific and accomplished players in college basketball, earning Wooden and Naismith awards, multiple Big Ten accolades and All-American status. As Garza progressed over his career, his efficiency took off, and that threat became the engine of Iowa's offense. However, the end of his dominant run through college basketball was inevitable, as his number was raised to the rafters. He entered the 2021 NBA Draft and was selected by the Detroit Pistons with 51st overall pick.
So how did Iowa head coach Fran McCaffery replace an All-American and campus legend? It just so happened that he did it with someone already on the Hawkeyes' roster...
Born to Be a Hawkeye
Keegan Murray and his twin brother Kris were born and raised in Cedar Rapids, Iowa, as their father, Kenyon, was also a Hawkeye from 1993-96. After finishing their high school careers at Cedar Rapids Prairie High School, the twins chose to take a post-graduate year at DME Academy in Daytona, Florida instead of jumping right into college. It's clear now that the extra year left Keegan and Kris better prepared for the next level, and they both were able to follow their father's footsteps back to Iowa City and be a part of the success of Luka Garza's final season.
So far this season, Keegan Murray has answered the call as the Hawkeyes' new hyper-productive big man to fill the 6-foot-11, 265-pound void left by Garza — and at 6-foot-8, 225-pounds, the sophomore forward is similarly turning lots of heads, but with a twist. In 13 games played this season, Murray leads the nation with 24.5 points per game, while adding 8.2 rebounds and 2.1 blocks per contest on 59% from the field.
This leap in production is very impressive, but not unexpected. Murray earned All-Big Ten Freshman Team honors last season, recording some unique numbers as a reserve last season. As a freshman, Keegan was one of only five players nationally to amass 200+ points, 25+ blocks, 25+ steals and 15+ three-pointers.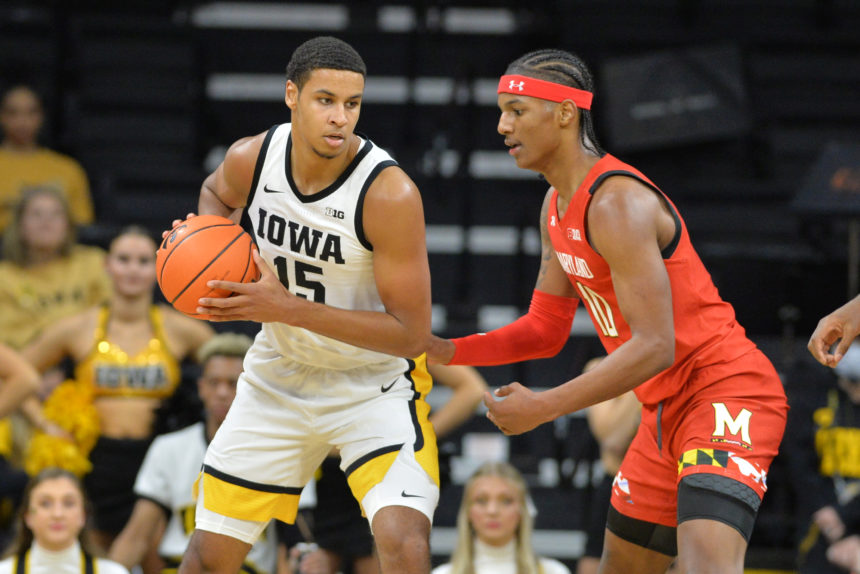 NBA Outlook
This year's draft is filled with multiple versatile forwards that range between 6-foot-8 and 6-foot-10, including Paolo Banchero, Jabari Smith and Patrick Baldwin Jr. Over the first two months of the season, Murray has worked his way into the mix. His playstyle must be endearing to the Iowa faithful, as he plays with an endless physicality in the paint like Garza, yet is graceful when putting the ball on the floor in the half-court and transition.
Additionally, although Murray's three-point percentage looks to have taken a slide after a solid start to the year, his 35-point, 5-for-6 performance from beyond the arc to start 2022 against Maryland should still provide confidence in his jump shot. With translatable mechanics and improved free-throw shooting, there's enough evidence to suggest he'll continue to improve his outside shooting. Murray is on the trajectory of becoming a prototypical versatile forward that has proven to be a hot commodity in the NBA in recent years.
Our Sr. NBA Draft Analyst Matt Babcock has kept his eye on the Iowa sophomore. Here are his thoughts on the early season play of Keegan Murray:
"He doesn't do one thing that blows you away, as his game is pretty simple. He's a stretch 4 who has a nonstop motor. The guy makes things happen all game long by playing smart and hard. He's having an incredible season so far for the Hawkeyes. Murray averages over 24 points, 8 rebounds, 2 blocks and 1 steal per game. At this point, I have a hard time envisioning him slipping too far in the draft, as I think a lot of teams could use him."
While Murray likely hears his fair share of praises, he's probably also beginning to receive questions about how high his ceiling is. In games Iowa has played against high-level programs, his scoring percentages have taken a slight dip.
Murray had a particularly tough outing against No. 17 Iowa State, where he totaled only 9 points. In games against Virginia, Illinois and Iowa State, Murray averaged 15.3 points, 6.0 rebounds, and 1.7 blocks on 41.3% from the field, 22.2% from deep and 58.6% from the free-throw line — all significant drops from the other 10 games he's been in so far. While most players have off games from time to time, the best players are expected to rise to the occasion against the best competition.
Key Matchups
The good news is the season is far from over, and the Big Ten seems to be pretty wide open as conference play ramps up. Every game will be a significant test for the Hawkeyes, but Murray has more opportunities to silence some of these questions with critical games left on the schedule.
On Jan. 13, Murray is taking on Indiana's Trayce Jackson-Davis, a junior with a similar frontcourt scoring role for Indiana. It'll be interesting to watch how Murray approaches a matchup against another 20-point scorer.
The rematch against Purdue on Jan. 27 has to be circled on Murray's calendar, as he missed the first matchup with an ankle injury. Iowa played a competitive game, but Murray feels like he would've been a difference-maker in the 77-70 loss to the Boilermakers.
The pair of games against Michigan on Feb. 17 and Mar. 3 will be intriguing, with Murray matching up against potential draft picks Caleb Houstan and Moussa Diabaté; both teams will be jockeying for position in the Big Ten Tournament.
The Iowa Hawkeyes have an 11-3 record in the first week of 2022, and a lot of their success can be attributed to Keegan Murray's play so far. Expect Murray to continue to turn heads as the team looks to fight for the top of the Big Ten once again.
Keegan Murray is currently ranked No. 14 on the BasketballNews.com 2022 NBA Draft Big Board.