March Madness is underway!
Across the country, teams are competing in conference tournaments and trying to punch their ticket for the NCAA Tournament. Selection Sunday is almost here, and then the tourney starts next Tuesday.
If you missed any of the Day 2 action, here's a recap of what went down on Thursday.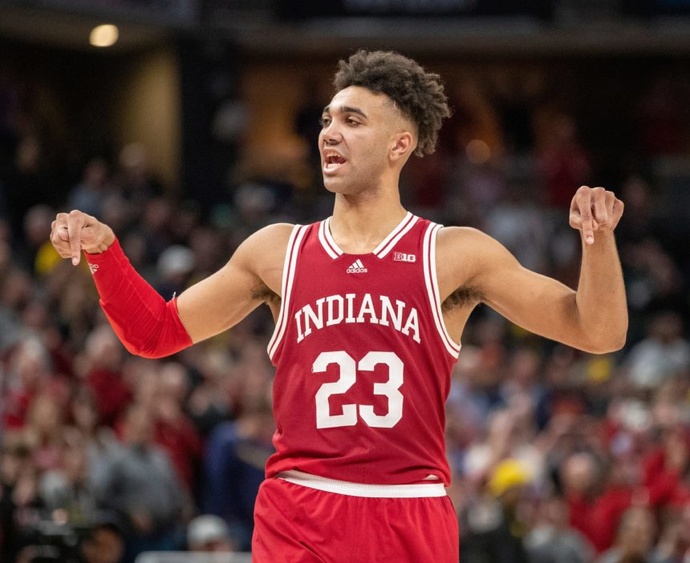 Games of the Day
Indiana def. Michigan 74-69 — B1G Second Round
With 11:03 remaining, Michigan led 60-43 and appeared to be in complete control. The Hoosiers would go on a 20-2 run and took the life right out of the Wolverines, completing the comeback by winning 74-69. Trayce Jackson-Davis led all players with 24 points and 4 blocks in a stunner. Indiana faces No. 1 Illinois next.
Texas A&M def. Florida 83-80 in OT — SEC Second Round
This one was wild. The Aggies dominated all afternoon and held a 9-point lead with 1:07 to play, but the Gators went on a 12-3 run of the next 50 seconds to tie it at 70-70, forcing the game into overtime. They stayed deadlocked at 78-78 with 1:10 left in overtime when Hassan Diarra hit a triple with one second on the clock to win 83-80. A huge win for a true Bubble Team in A&M.
Arizona def. Stanford 84-80 — Pac-12 Quarterfinals
The largest lead either way today was 7 points — in a game where Stanford was given a whopping 5% chance of victory. The Cardinal took a 75-74 lead with just over three minutes to go, but the Wildcats had answers. Kerr Kriisa exiting with injury is important to monitor, but Christian Koloko led the team with 24 points as Arizona survives and advances.
Miami (FL) def. Boston College 71-69 in OT — ACC Quarterfinals
Kam McGusty led the Canes with 16 points in the nail-biter, as they avoided the upset in overtime. Only one basket was scored in the final 2:30 of the contest — a Jordan Miller layup that sealed the deal. A big save by Miami.
Villanova def. St. John's 66-65 — Big East Quarterfinals
The Red Storm let a 17-point second half lead slip away to end their season. Villanova was carried by its starting five, with only 7 points coming from the bench unit. Caleb Daniels led the way with 19 points and 7 rebounds. Justin Moore added 15 points of his own.
Toledo def. Central Michigan 72-71 — MAC Quarterfinals
In a game where the largest lead was 7 points for each team, Toledo held on for the 1-point win. Harrison Henderson scored with 20 seconds remaining to make it 71-70 Central Michigan, but a RayJ Dennis layup with 10 seconds left would seal the deal. Setric Milner Jr. led the way with 22 points for the Rockets. It's a big win for Toledo who currently projects a No. 13 seed.
Providence def. Butler 65-61 — Big East Quarterfinals
This one was back-and-forth from the tip, as the teams traded leads the entire contest. Tied at 55 with 3:06 remaining, Simas Lukosius hit a big pair of free throws for Butler to take the lead, but Al Durham hit a huge triple with 43 seconds to go for the Friars to take a 61-59 lead. Durham would follow with a dunk at the end of the game to seal the deal at 65-61. Despite the loss, it was a hard-fought game by the Bulldogs.
Wyoming def. UNLV 59-56 — Mountain West Quarterfinals
The Cowboys held a 9-point lead in the second half, but allowed the Rebels to fight their way back into it. Xavier DuSell hit a huge three with 30 seconds, and then, Brendan Wenzel iced the game with a pair of free throws. A great game from UNLV's Bryce Hamilton comes up just short.
Akron def. Buffalo 70-68 — MAC Quarterfinals
This was a fight from start to finish. Led by Ali Ali's 19-point effort and a pair of Greg Tribble free throws with four seconds remaining, the Zips survive and advance. They will face No. 1 seed Toledo on Friday afternoon in the MAC semis.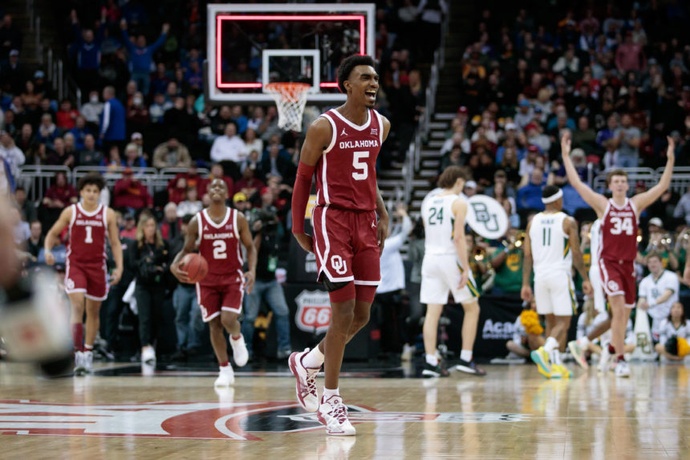 The Upsets, the Madness
Oklahoma def. Baylor 72-67 — Big 12 Quarterfinals
The Sooners took the lead with 11:51 to play and never gave it back. With a balanced offensive attack of five players in double-digits, Oklahoma shocked the Bears. Jacob Groves led the way with 15 points, while Marvin Johnson provided 12 off the bench.
Vanderbilt def. Alabama 82-76 — SEC Second Round
Bama led by 10 points at the break but Scotty Pippen Jr. and Co. had other plans. Vandy roared back to take a 68-67 lead with 4:26 to play, and was able to hold the Crimson Tide off the rest of the way. Jordan Wright hit a pair of free throws late to ice the game, and the Commodores advance. Pippen Jr. ended with 26 points and 7 assists.
TCU def. Texas 65-60 — Big 12 Quarterfinals
The Horned Frogs had a win probability of 29.3% entering this one, and that's all they needed. After being down 40-20 in the first half, TCU did a complete 180 and outscored the Longhorns 45-20 the rest of the way. Mike Miles and Co. are setting themselves up well, and will take on the Kansas Jayhawks in the Big 12 semis.
Penn State def. Ohio State 71-68 — Big Ten Second Round
The Nittany Lions were given a 24.2% chance of winning today, and they did just that behind Sam Sessoms' 18 points off the bench. Jalen Pickett also had a huge game with 16 points, 8 rebounds and 5 assists. Penn State moves on to play No. 3 Purdue.
Grambling def. Southern 60-58 — SWAC Quarterfinals
Led by Tra'Michael Moton's 12 points, 11 rebounds and 9 assists, Grambling took the lead with 10 minutes left in the game and never gave it back. The Tigers will face Texas Southern next.
Tulsa def. Wichita State 73-67 — American First Round
The Golden Hurricane had four players with 10 or more points, including two with at least 20. After an 11-19 season, this was a nice win for Tulsa as it tries to make a late push in the conference. Tulsa will move on to face No. 2 SMU.
Portland State def. Southern Utah 77-65 — Big Sky Quarterfinals
The Vikings entered this game under .500 on the season, but put up 77 points on 51.9% shooting from the floor. They held Southern Utah to a lowly 36.8% from the floor and are able to advance.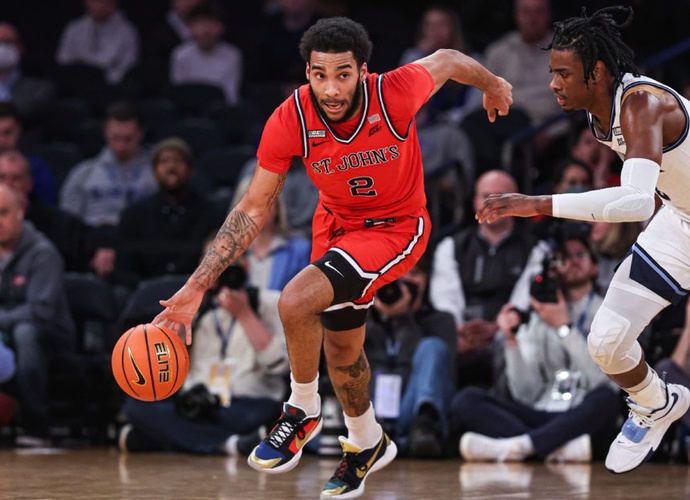 Standout Performers
Noah Fernandes (UMass): 29 points, 7 assists
Spencer Jones (Stanford): 28 points, 8 rebounds
Jimmy Boeheim (Syracuse): 28 points, 7 rebounds, 3 steals, 2 assists
Keegan Murray (Iowa): 26 points, 8 rebounds, 2 assists, 1 steal
Grant Sherfield (Nevada): 25 points, 6 assists, 3 rebounds
Joel Murray (Long Beach State): 25 points, 4 assists, 3 rebounds
Trayce Jackson-Davis (Indiana): 24 points, 8 rebounds, 4 blocks, 10-17 FG
Wendell Moore Jr. (Duke): 26 points, 8 assists, 3 rebounds, 1 block, 1 steal
Nate Watson (Providence): 26 points, 7 rebounds, 9-14 FG
Scotty Pippen Jr. (Vanderbilt): 26 points, 7 assists
Tristen Newton (East Carolina): 26 points, 9 rebounds, 6 assists
Jordan Walker (UAB): 26 points, 5 steals, 3 rebounds, 3 assists
EJ Liddell (Ohio State): 25 points, 8 rebounds, 2 blocks
Orlando Robinson (Fresno State): 25 points, 11 rebounds, 3 assists
Christian Koloko (Arizona): 24 points, 9 rebounds, 10-12 FG
Dillon Jones (Weber State): 23 points, 11 rebounds, 3 steals
Julian Champagnie (St. John's): 23 points, 9 rebounds, 4 steals, 3 assists
Jaime Jaquez Jr. (UCLA): 23 points, 11 rebounds, 4 assists, 2 steals
Prentiss Hubb (Notre Dame): 23 points, 5 assists
Zyon Pullin (UC Riverside): 23 points, 5 assists, 4 rebounds
Amadou Sow (UC Santa Barbara): 21 points, 16 rebounds, 2 assists, 2 blocks
Bryce Hamilton (UNLV): 22 points, 7 rebounds, 3 assists
Mahki Morris (Abilene Christian): 22 points, 4 assists, 2 rebounds
Chuba Ohams (Fordham): 20 points, 16 rebounds, 2 steals
Darien Jackson (Tulsa): 20 points, 10 rebounds, 2 assists, 2 blocks
Brady Manek (UNC): 21 points, 7 rebounds, 3 assists
Malique Jacobs (Kent State): 21 points, 10 rebounds, 2 assists
Kowacie Reeves (Florida): 21 points, 6 rebounds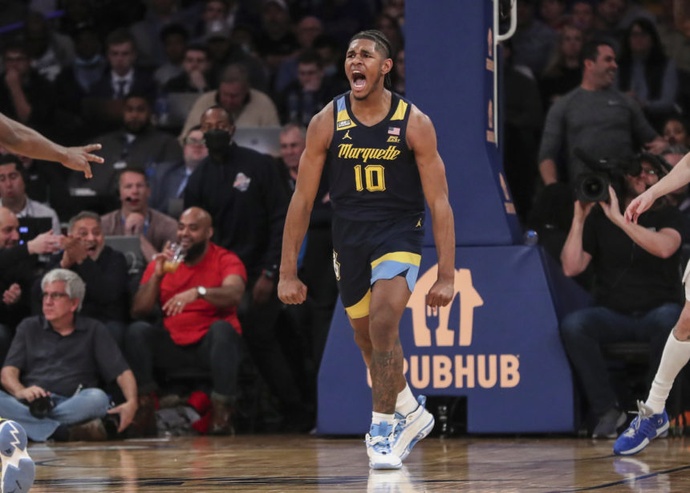 2022 NBA Draft: Prospect Watch
Keegan Murray (Iowa): 26 points, 8 rebounds, 2 assists, 1 steal
Wendell Moore Jr. (Duke): 26 points, 8 assists, 3 rebounds, 1 block, 1 steal
EJ Liddell (Ohio State): 25 points, 8 rebounds, 2 blocks
Orlando Robinson (Fresno State): 25 points, 11 rebounds, 3 assists
Christian Koloko (Arizona): 24 points, 9 rebounds, 10-12 FG
Jaime Jaquez Jr. (UCLA): 23 points, 11 rebounds, 4 assists, 2 steals
Tari Eason (LSU): 19 points, 5 rebounds, 2 steals, 2 blocks
Justin Lewis (Marquette): 17 points, 7 rebounds, 2 steals
Ochai Agbaji (Kansas): 18 points, 3 rebounds, 2 steals
Trevor Keels (Duke): 14 points, 3 rebounds, 3 assists
Jabari Walker (Colorado): 18 points, 16 rebounds
Iverson Molinar (Miss. State): 19 points, 2 rebounds, 2 assists
Julian Champagnie (St. John's): 23 points, 9 rebounds, 4 steals, 3 assists
Collin Gillespie (Villanova): 14 points, 6 rebounds, 3 assists
David Roddy (Colorado State): 13 points, 6 rebounds, 2 assists, 2 blocks