Drafted with the sixth overall pick by the New York Liberty last year, Michaela Onyenwere went on to win the 2021 WNBA Rookie of the Year award and was the first player in franchise history to do so. But for her, it's about more than just basketball.
Giving back to her community, Onyenwere recently partnered with Mobil 1 and its "Tune Up" program to create a new basketball court at McCaffrey Playground in New York City with the help of Project Backboard.
"From a young age, a basketball court is where I felt the most comfortable and most strength," Onyenwere told BasketballNews.com. "New York has only been my home for one year, but I am proud to partner with Mobil 1 to help give back to the community and provide a space that has given so much to me."
Onyenwere enlisted the help of Andrea Bergart, the artistic director of Downtown Girls Basketball — an all-female basketball league in New York City — and drew inspiration for her new court design from her experiences there.
"As a New Yorker and basketball enthusiast, being involved in this project with Mobil 1 and Project Backboard is particularly exciting for me," explained Bergart. "The artwork I developed for this basketball court explores ideas relating to fluidity and kaleidoscopic reflections; forms flowing into other forms and branching off and returning to the whole. Ultimately, I want to create imagery that offers the viewer a poignant experience that also acknowledges the strict geometry of a court."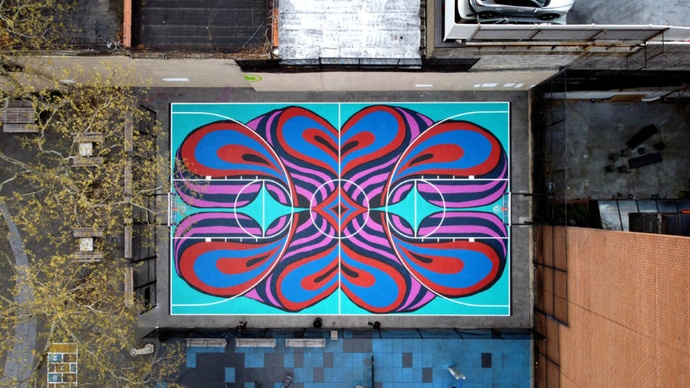 "I play basketball in New York for the Liberty. And so when this was brought to me to be able to refurbish old courts, which is really big culture in New York. It was kind of a no-brainer for me to be able to give back to the community — a community that's given me so much in such a short time," Onyenwere told BasketballNews.com. "It was really important for me to be able to be a partner of this organization, be a part of the Tune Up program, as well. I'm really excited to be able to have this partnership. And I think that, you know, all it does is provide just lasting positive impact in New York."
BasketballNews.com caught up with Michaela to talk about her partnership with Mobil 1, her need to give back to the community, the Liberty and more.
Why is it important for you to give back to the community?
Onyenwere: "It's so important because, like I said, New York has only been my home for about a year and some change. But I've just felt the love and support from every fan I've come into contact, with every person who really, really loves New York basketball. And so I feel like I've just been supported in that way. And so is our team. Everybody here loves New York Liberty, they love New York basketball and I feel that. And so just to be enriched in this culture, I feel like with me winning Rookie of the Year was really big for the city. And I felt the love, I felt the support. So, so important, just in the community to be able to do so and give back in that way."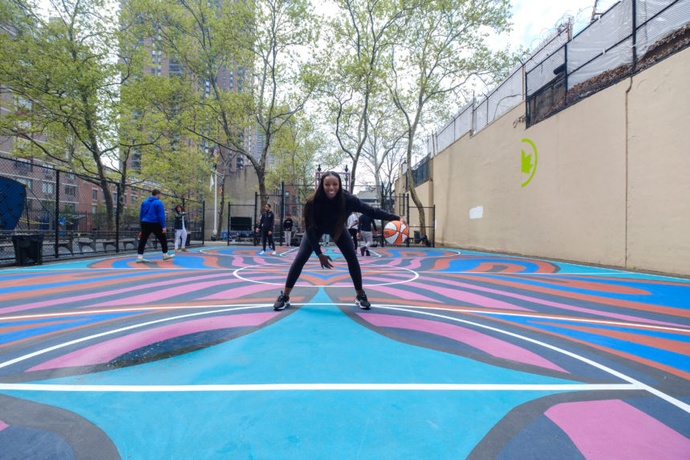 In your first season, you won Rookie of the Year. Going into Year 2, what are you most excited about?
Onyenwere: "I'm most excited for our team to kind of reach new heights. Obviously, last year, we made the playoffs for the first time in four or five years. That was a big kind of pedestal for us; but that's not where we want to stop. We would like to get past the first round of the playoffs and even more. So just create an exciting brand of basketball for New York again. Personally, I just want to do whatever I can to help my team on or off the court — just (make) an impact, be felt. And to have a really great year for me and my team."
What specific areas of your game did you focus on during the offseason in order to improve?
Onyenwere: "In the offseason, I had the opportunity to head out to Spain to play overseas, which was a good experience for me. I was able to play against a lot of other European talent, which I wouldn't probably have experience doing here in the States and that was cool. For me, I think it's definitely helped my game to improve; but for me personally, I want to improve on my three-point percentage. I think that's something that I did in Spain. And so hopefully I can bring that over to New York, but also just be more versatile as well. We have a new coaching staff who is asking something different of me. I'm really excited for that challenge to step up and accept that challenge and do what I can to help the team."
Your new coach Sandy Brondello brings that championship pedigree to the Liberty. What have you learned so far from her?
Onyenwere: "She just is so positive. Like every single day, she's always telling us that you can't get too high, you can't get too low. And that's such a great concept to live your life by; but also, obviously you go through basketball as well. And there's going to be highs, there's going to be lows. But as long as we stay neutral, that's when we can stay and be positive in that way. And she's really positive. We come to practice every single day really excited to work for her, because we see how excited she is to work for us. And so I think it's great that she's leading our team and heading our team in that way. I already love the new coaching staff, so I think it'll be a really great year."
What does success look like for you and your team this season?
Onyenwere: "For me, I would say more tangibly, you know, obviously, we got to the playoffs last year for the first time since 2017. But first as a team, I think we want to go past that. I think we have the experience under our belt for last year where a lot of our core group is back. We had that experience. Obviously, there were a bunch of highs and lows with that season. But ultimately, we want to build on that. Obviously, we made the past (postseason) which we're really grateful for. But we want to go further in that we know that we know, we have new pieces, we have a new coach and we all are bought into the idea that we can do so and just create progress and in that way."
What players do you model your game after like what players inspired you growing up — WNBA and NBA?
Onyenwere: "Growing up, it was definitely having that Nigerian heritage shared with Nneka Ogwumike, but also, I saw similarities in our game as well. People would always tell me you play similar to her as well. When I was growing up, I watched her and I'm like, I can see similarities. So I would definitely say her and she's just been like a great asset for the WNBA — being the WNBA president, and just what she's done for the league. And my favorite player is Elena Delle Donne. I just love her game. I love what she stands for. I love just how she lives her life. And she obviously is a WNBA champion as well, which is something I aspire to be as well. And so yeah, I'd say those two are pretty much the ones who have really modeled and followed in this game most closely.
Michaela Onyenwere knocks down the three just in time 🚨 pic.twitter.com/yvEH4cgiJU

— espnW (@espnW) May 7, 2022
"That player that has inspired me the most is Kobe — just having that Mamba Mentality and he was a very big advocate for the WNBA and women's sports in general. I would certainly say him, just having that work ethic being wanting to be the best and everything you do at the highest level to the best of your ability. That's what he preached all the time."
What advice would you give young girls who have hoop dreams?
Onyenwere: "I will tell them three things. Be really confident in yourself — I think that especially with young girls, sometimes it can be easy to be detracted from a goal you may have or your dreams. But I think be very confident in yourself and what you want to do. Be very self disciplined — I think every single day you just show up and be your own personal accountability partner, that you're going to show up for every single day. Be really, really consistent.
"I think doing those three things helps in every single way. It allows you to be really successful, it allows you to have a chance at whatever you want to dream [for]. And I would say those three things are things that have helped me, and I continue to do even in my career now."
Women's sports have been getting more visibility lately. Do you think it's enough? Why do you think people should be invested in women's sports?
Onyenwere: "I mean, absolutely as many eyes as can be, I would love to have on the sport. And I think that the WNBA has done a great job of marketing itself and creating that visibility. Whereas like, when I was starting college, maybe like it really wasn't even where it is now. I see that people are excited to watch the WNBA. People are excited to be able to connect with players and connect to the stories of the players as well. Which then turns into more fans coming to the games. And so of course, I think that we've definitely increased from where we were, but there's always improvement to go. And people should watch the WNBA because there's so many different facets of people in the WNBA, there's so much visibility, there's so much representation. It's a league of 70%, almost, Black women in the league, it's not really common in the sports world. And so to see that representation to see people who can connect with fashion and whatever it may be clothing, or whatever it may be like we have that in our league.
"There's so many different avenues that you can focus on as a fan. And then again it's really, really high-level basketball. And, it's the best of both worlds. And I can see the change, I can see the investment, I can see the excitement for the sport, but there's always room for improvement."
Do you think The W needs to expand its rosters like that of the NBA?
Onyenwere: "Yeah, I think it's a continuous problem that comes up for the WNBA. It's very hard to get into the WNBA; it's only 144 of us. It's very hard to compete in this league. It is probably one of the toughest leagues to make a roster. We want to increase the number of players, because there's so many players that do get cut. And I don't know what it is it's going to take to be able to keep those players. But, I think for sure there has to be more roster spots or more teams. There's so much great talent that gets cut every single year. It's people who are good enough to make a roster but there are a bunch of issues with the salary cap and how salaries went up,
"In a perfect world, I would love that the rosters would expand, there'd be more teams and the cap would also increase as well so that people who, work so hard and who are talented enough to be in the league, can be. I hope that we can grow and we can invest in this league enough to where we don't have to worry about that in a few years. I know it'll take some time and the WNBA has made strides but ultimately, there's just so many people getting cut. It's really unfortunate that it is happening right now."