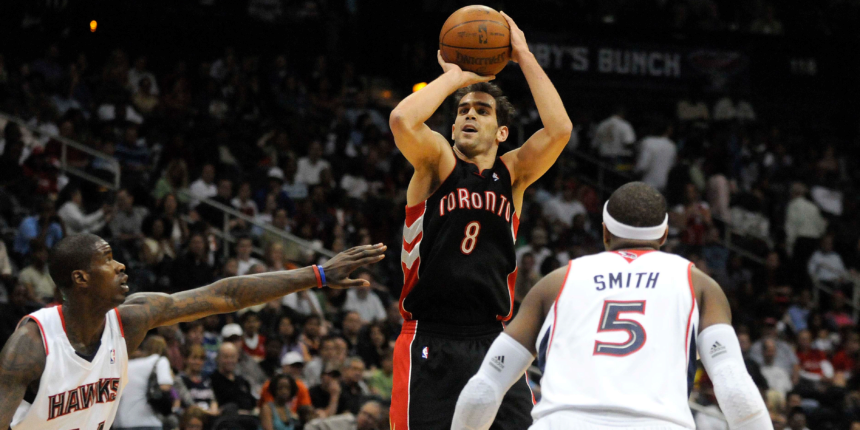 Who has the most efficient free-throw shooting season in NBA history?
The following article first appeared on BasketballNetwork.net:
Davis Bertans has said it – "shooters are born, not made." The only areas your improvement isn't naturally limited are spot-up shots and free throws. For the latter, José Calderón's 2008-09 season with Toronto is the level of excellence you want to reach.
That year, the Spanish point guard set the second-longest streak for consecutive free throws made with 87, trailing only Michael Williams (whose record of 97 made free throws in a row has yet to be broken).
While Calderón did come up short in the consecutive-free-throws department, efficiency-wise, his 2008-09 campaign is the best the league has ever seen. José converted 151-of-154 attempts from the charity stripe, setting the record for best free-throw percentage in a season with 98.1%.
"Free throws should be the easiest one," Calderon said on an episode of 1-ON-1 with Basketball Network. "It's always the same; you're not moving, there's no defense, it's just you. That's when mentally, you start getting into everything. I was able to disconnect from everything every time I was stepping on that line."
José wasn't a high-volume free throw shooter. He only shot 2.3 attempts per game, but was able to convert them at an unprecedented rate. Some would say that such a low number of attempts made it easier for him to shoot such a high percentage, but Calderón himself would argue otherwise.
"Some people say that's easier, but I think it's even more complicated at the end of the day," Calderon said. "Some days, I only got like one or two free throws, and then maybe went two games without free throws. So, I don't know if that's easier or not than just shooting six or seven free throws every day when you know you're going to the line."
It's one of those instances where quantity correlates with quality. If you are in the right place mentally, shooting free throws becomes a rhythm thing, and having multi-game stretches without going to the line can make you go off the rails. Thus, José's record becomes even more impressive.
There was plenty of outside noise surrounding his quest for the NBA record book. That's when the ability to "disconnect from everything" comes in handy.
"Guys were betting against me, like, 'Hey, I just bet $100 you're going to get to 100,'" Calderon said. "I remember our last game, I went to the line, and even my coaches were like, 'Don't let them foul you, you already have the record.' But I was just playing basketball. So, it was fun – something it'll be there forever."
It'll be difficult for someone to top Calderón's 2008-09 free-throw-shooting campaign, so it seems like the former Toronto Raptors star has solidified his place in NBA history.
Check out more articles from BasketballNetwork.net here.