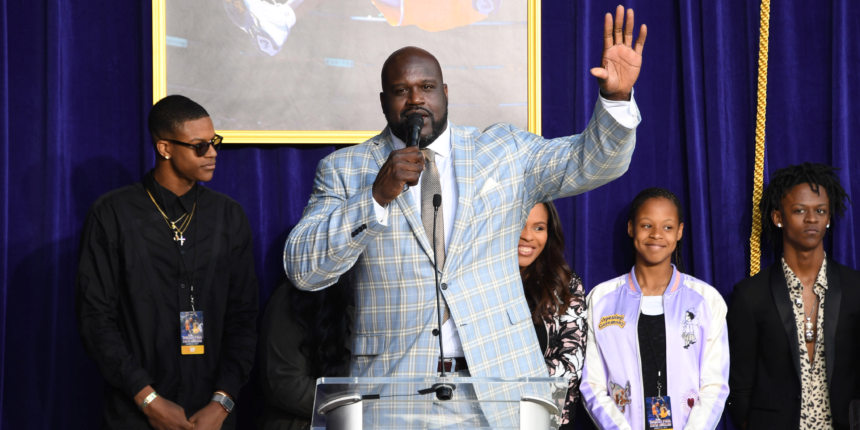 Shaquille O'Neal shares his top three centers in Lakers history
The following article first appeared on BasketballNetwork.net:
During the NBA on TNT pregame show, following the league's announcement of the first 25 players from the NBA 75th Anniversary Team, Shaquille O'Neal was asked to rank the best centers in Lakers' history.
Here's what he had to say:
"YOU'RE NOT BETTER THAN WILT. STOP IT!"

Welcome back to another edition of Shaq vs. Chuck 🤣 pic.twitter.com/CWB3squoTT

— NBA on TNT (@NBAonTNT) October 19, 2021
To no one's surprise, Charles Barkley disagreed, kicking off another back and forth between two NBA legends. O'Neal cited his rings, as he always does, and the statue of him outside the Staples Center — Barkley's response? "You're already getting petty."
But is he? O'Neal is right to rank himself as one of the Lakers' great big men. Is he better than Kareem Abdul-Jabbar? Should he even rank himself above Wilt Chamberlain? Where does Shaq rank among Lakers' big men?
Kareem Abdul-Jabbar, O'Neal, and Chamberlain are all deserving to be in the top spot. Choosing the best out of the three legends is tricky. These men played in different eras under different circumstances and different levels of competition.
Abdul-Jabbar sits on top all-time scoring list. His record is in danger of being overtaken by LeBron James this season. He won five rings in eight finals appearances. Off the court, Kareem remains an ambassador of the game, often appearing in public events and even campaigning for the players to get vaccinated. Meanwhile, Wilt Chamberlain played for the purple and gold in the latter part of his career. He was not at his peak yet, but he managed to win a title and Finals MVP at 36 years old. If Wilt suited up for the Lakers five years earlier, he would have won and accomplished more. So what's the verdict?
Shaq is wrong with his rankings; he should name himself ahead of both Kareem and Wilt. In terms of dominance, Big Diesel changed how teams drafted in his generation. He managed to score 28,596 point in his career despite lacking a jump shot and bricking almost every free throw. He spent his prime years as a Laker and had career averages of 27.0 points and 11.8 rebounds per game. That's why he deserves to be No.1 on this list. But why talk about it on the opening day of a new season?
Ranking all-time greats brings up heated discussions. As mentioned, aside from the stats, the players all played in different eras. Could Wilt or Kareem dominate today's NBA the way they used to dominate in their generation? Would Shaq's lack of outside shooting hurt his team's chances of making the playoffs if he played today? There's no way of knowing, which makes the all-time lists an interesting topic every time.
However, this one could've waited. Shaq just couldn't resist sharing his thoughts.
Check out more articles from BasketballNetwork.net here.