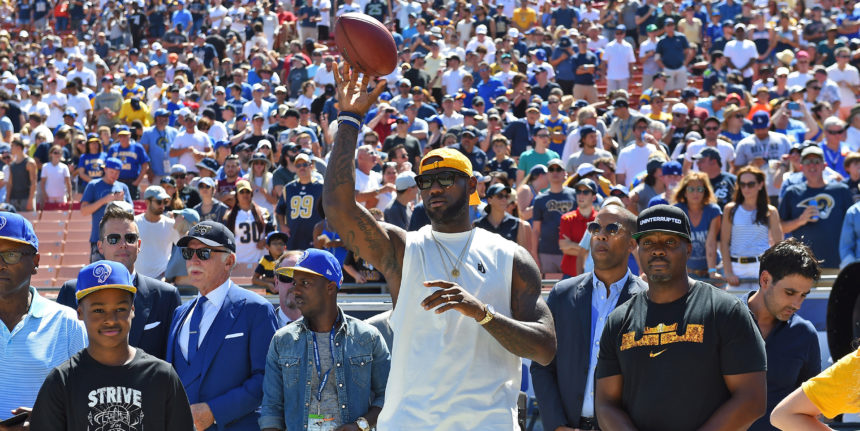 LeBron reveals 2 NFL teams offered him a contract during 2011 lockout
The following article first appeared on BasketballNetwork.net:
A lot of great NBA players were multi-sport stars in high school and college, but only the best could play in any of the major sports at the professional level. Wilt Chamberlain, possibly the greatest athlete in NBA history, was offered a spot on the Kansas City Chiefs in the early 1960s. About 50 years later, during the 2011 lockout, LeBron James received similar interest and seriously considered signing with an NFL team.
In his prime, James was often described as the best athlete in all of sports. At 6-foot-9 and 250 pounds, with an insane combination of speed, strength and agility, you'd be hard-pressed to find a better athlete. He stepped away from football during his senior year in high school to focus on basketball, but the football bug never left James. His friends actually made him drop football to not get injured, and told LeBron they would "jump me every day of practice until I had enough!"
Then, the 2011 NBA lockout happened, and the best athlete in the U.S. was sitting at home. Two NFL teams saw their chance and made a call to LeBron, each offering him a contract to play professional football. James shared the details on Monday Night Football with Peyton and Eli Manning.
"Jerry Jones offered me a contract, Pete Carroll did as well in Seattle," LeBron said on the Manning Bros. broadcast. "It definitely got my blood flowing again, got my mind racing again thinking about the game of football. But, we were able to get a deal done in the NBA and I was back on the court in no time. But I definitely thought about it."
LeBron James on the Cowboys and the Seahawks offering him an NFL contract during the NBA lockout. pic.twitter.com/MkvZdCRaZz

— Arash Markazi (@ArashMarkazi) September 28, 2021
The lockout began on July 1, 2011, meaning LeBron was recovering from a dramatic loss to the Dallas Mavericks at the time. He was still without an NBA ring, so putting that in jeopardy to play some football was probably out of the question. Still, that doesn't mean the teams didn't try.
"I still have the jerseys that Jerry and Pete Carroll sent me in 2011," LeBron said.
The position both teams had in mind for LeBron was tight end, which makes sense given LeBron's size. James said he wanted to be a Gronk-like red-zone specialist, and Peyton agreed that would've been the right decision. Imagine LeBron out wide running a fade route — it would've been unstoppable. Still, we're happy he stayed on the court and left the football field for other players. The NBA is better for it.
Check out more articles from BasketballNetwork.net here.