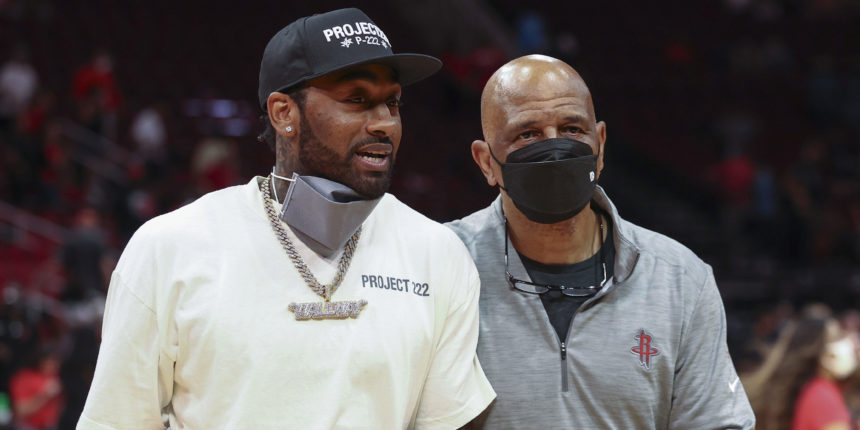 Sidelined John Wall is making as much money as MJ did in Bulls career
The following article first appeared on BasketballNetwork.net:
The NBA's super-max contract (or Designated Veteran Player Extension) was designed to keep superstars in their home market; it was instituted after Kevin Durant joined the Golden State Warriors and it's supposed to help smaller-market teams compete with the appeal of a big city. It attempts to create an advantage for the team that's trying to keep the star player by allowing them to pay more than any other organization can.
But as always, the "solution" has mixed reviews. The NBA didn't address the cause of the problem, but the symptom. As a result, there have been some unintended consequences.
Here's the list of players who have signed the supermax so far.
| | | |
| --- | --- | --- |
| Player | Contract Signed | Amount |
| Stephen Curry | 2017 | $201M |
| James Harden | 2017 | $170M (4-Yr Ext.) |
| John Wall | 2017 | $170M (4-Yr Ext.) |
| Russell Westbrook | 2017 | $205M (5-Yr Ext.) |
| Damian Lillard | 2019 | $196M (4-Yr Ext.) |
| Giannis Antetokounmpo | 2020 | $228M (5-Yr Ext.) |
Two are a lock to go down as good contracts: Curry and Antetokounmpo. Harden's playoff career has left a lot to be desired, whether due to injuries or struggles. Lillard's deal could become dicey in the last few years — $48.7 million in 2024-25 at age-34 — but the cap spiking due to the NBA's new TV deal should make it acceptable.
Inking Westbrook was a horrible decision the moment it was signed, but most booked it under "gotta keep him in Oklahoma City," and through that prism, it's understandable. Westbrook's production on the court has been nowhere near what he accomplished in his MVP season, but given Sam Presti's attempts to make it work, you can't fault him.
Then, there was one more. When the Washington Wizards offered John Wall the super-max, many analysts and executives-turned-media-members scratched their heads. Wall clearly wasn't a super-max guy.
And unfortunately, what followed was one of the worst runs of injury luck in recent history. Per Space City Scoop's N.B. Lindberg:
Since 2016-17, John Wall has missed more games due to injuries than he has played. Over this period, Wall's teams have played a total of 286 games, while he has suited up for a grand total of 105 of them.
Wall has only suited up for 36.7% of his teams' games, which is absolutely devastating for a player on a supermax contract. The most concerning part of Wall's injury history is the severe (and recurring) nature of them.
He has had five left knee injuries and two right knee injuries, and one heel and Achilles injury. These have amounted to five separate surgeries.
However, despite all of that horrible luck, the Reddit community discovered a bit of good news for the oft-injured point guard: Wall will earn a total of $91.7 million this season and the next — the same amount Michael Jordan earned in his entire career with the Chicago Bulls. (The numbers check out.)
We often lose sight of how much money players made in the 1990s. Here are Michael Jordan's career earnings with the Bulls (per Spotrac).
| | |
| --- | --- |
| Year | Salary |
| 1984-85 | $550K |
| 1985-86 | $630K |
| 1986-87 | $737.5K |
| 1987-88 | $845K |
| 1988-89 | $2M |
| 1989-90 | $2.25M |
| 1990-91 | $2.5M |
| 1991-92 | $3.25M |
| 1992-93 | $4M |
| 1993-94 | $4M |
| 1994-95 | $3.85M |
| 1995-96 | $3.85M |
| 1996-97 | $30.14M |
| 1997-98 | $33.14M |
Wall is currently in the third year of his four-year extension. He didn't play a single game in Year 1 and played only 40 games in Year 2; recent reports indicate he won't play at all in 2021-22, and there's nothing on the trade horizon.
The most likely scenario is that Wall gets bought out by the Rockets or a team he is traded to in Year 4 of the contract. When all is said and done, Wall will probably get paid the same on the sidelines as Jordan earned throughout his entire career with the Chicago Bulls.
If Wall ends up playing only 40 games on this contract, that would mean he got paid $4,300,000 per game – more than MJ did in every year in his career apart from his final two years in Chicago. Let that sink in.
Wizards general manager Tommy Sheppard deserves a statue for managing to trade Wall's contract. He flipped Wall for Westbrook, then moved Westbrook for Montrezl Harrell (currently averaging 18.0/8.5/2.5), Kyle Kuzma (currently averaging 14.5/9.5/1.9) and Kentavious Caldwell-Pope (currently averaging 9.7/3.8/1.5) in a deal with the Los Angeles Lakers. It is very possible he is an actual wizard.
Add to that fact that the Wizards are currently No. 1 in the Eastern Conference, and it means Bradley Beal probably won't be handing in his trade request for the foreseeable future (and Sheppard currently doesn't have to pay for a drink in the D.C. area).
All of these contracts compared to MJ and his generation put into perspective how much the NBA has grown. The next TV deal will continue that trend, but we shouldn't take it for granted.
Check out more articles from BasketballNetwork.net here.