With the NBA's 2023 free-agency period pretty much wrapped up, why not take a look at how projecting next year's free-agent market? Obviously, a lot can change between now and then, but let's examine each team's cap situation and how much cap room they project to have next summer.
Next year's free-agency class could feature some big names, including Kawhi Leonard, Pascal Siakam, Tyrese Maxey (restricted), Paul George, LeBron James, James Harden, Jrue Holiday, OG Anunoby and DeMar DeRozan.
For the purposes of this exercise, I'm going to separate teams into four spending-power tiers: Cap Space Teams, Non-Tax MLE Teams, Luxury Tax Teams and Second Apron Teams. Also, let's assume that the salary cap will be set at $149,623,000 and the luxury tax will come in at $181,823,000, the maximum 10% jump from this upcoming season set under the new CBA.
CAP SPACE TEAMS
Teams in this tier are currently projected to have cap space next summer. They have spending access to their cap space, Bird Rights, the Room Exception (projected at $8,495,000) and the Veteran Minimum Exception.
San Antonio Spurs ($77,195,776 under the cap)
If Victor Wembanyama is 70% as good as he's hyped up to be entering this season, one would figure that the Spurs will spend big or at least make a meaningful impact on the free-agent market next summer. They project to have an enormous amount of cap space, so it's very possible we'll see San Antonio take on some more bad contracts in trades to give them even more draft capital. Also, they'll want to retain Devin Vassell, who will be a restricted free agent next offseason once the Spurs extend his qualifying offer.
Philadelphia 76ers ($73,034,842 under the cap)
The Sixers are perhaps the most interesting team in terms of their 2024 offseason outlook. By letting Tyrese Maxey hit restricted free agency next summer rather than extending him this year, Philadelphia gave themselves serious cap flexibility. Tobias Harris and James Harden both have expiring contracts, so the Sixers will have to use their cap space to replace their production. A Harden trade would obviously change their projected cap room, but it remains to be seen what they'll get back for the former MVP and how much it'll impact their books.
Toronto Raptors ($60,339,034 under the cap)
After losing Fred VanVleet, the Raptors are walking a tightrope when it comes to whether they'll compete or rebuild. They face some tough decisions. Pascal Siakam and OG Anunoby are both set to hit free agency next summer, so Toronto needs to decide whether they want to extend or trade their best players. Not to mention, Precious Achiuwa and Gary Trent Jr. also need new contracts.
Orlando Magic ($58,010,944 under the cap)
Orlando has a lot of options for next summer, but the Magic may start with retaining many of their own players. Franz Wagner will likely receive a big contract extension, while Markelle Fultz and Cole Anthony will be up for new contracts. Given that Orlando has a logjam in their backcourt – with Fultz, Anthony, Jalen Suggs and Anthony Black – it'll be interesting to see what they do with Fultz and Anthony. The Magic will still have plenty of room to add quality talent for yearly average values over the NTMLE.
Detroit Pistons ($57,781,166 under the cap)
Detroit may approach the 2024 offseason similar to how Houston approached this summer, as a young team hoping to use its massive cap space on good veterans in order to take bigger steps toward playoff contention. With that said, the first priority for the team will be agreeing to a contract extension with Cade Cunningham.
Utah Jazz ($50,315,319 under the cap)
The Jazz find themselves in a unique position where they could go in two directions. After committing a three-year deal to Jordan Clarkson, they can use their cap space to give 2023 Most Improved Player Lauri Markkanen a contract extension. If they want to have significant cap space for next summer instead, they can hold off on giving Markkanen an extension until free agency is settled.
Washington Wizards ($47,123,801 under the cap)
Despite their cap space next year, don't expect Washington to be a big player in 2024 free agency. In the beginning stages of a rebuild, the Wizards will probably keep their sights on collecting more draft capital. They do have an interesting decision coming up with recent trade acquisition Tyus Jones, whom they'll likely want to keep long-term.
Charlotte Hornets ($41,300,515 under the cap)
They may lose some 2024 cap space if they eventually re-sign PJ Washington this offseason, but watch out for Charlotte to be one of the many small-market teams with money to spend next summer. With LaMelo Ball in the first year of his max contract extension, Charlotte may cash in on a marquee player to keep their young star happy.
Brooklyn Nets ($33,048,185 under the cap)
The Nets do have the potential to have significant cap space next summer if they choose not to re-sign most of their own free agents. However, the Nets will more than likely focus on exploring the trade market and retaining big man Nic Claxton before reaching next year's free agency. Spencer Dinwiddie and Royce O'Neale will also hit free agency next offseason.
Indiana Pacers ($20,488,005 under the cap)
Indiana could get to an even higher number in cap space if they decline Bruce Brown's $23 million team option next season. If Brown has a good year, the Pacers would likely keep him on a long-term deal that would consume a good chunk of their space. Other impending free agents they might like to keep include Obi Toppin, Aaron Nesmith and Jalen Smith.
Oklahoma City Thunder ($10,264,814 under the cap)
The Thunder will likely continue to utilize the strategy of taking on short-term, bad-money contracts in exchange for draft capital. As they inch closer to contention, they will be looking at some big-money extensions for many of their young pieces, including one for Josh Giddey next year.
NON-TAX MLE TEAMS
Teams in this tier are currently projected to be over the salary cap but under the luxury tax. They have spending access to Bird Rights, the Non-Taxpayer Mid-Level Exception (projected at $13,644,000), the Bi-Annual Exception (projected at $4,968,000) unless used in 2023-24, and the Veteran Minimum Exception.
Chicago Bulls ($19,465,689 under the cap)
The Bulls could potentially operate as a cap-space team if they elect to let DeMar DeRozan and Patrick Williams walk in free agency, but that seems unlikely. In addition, the Bulls could potentially create more space if Lonzo Ball's knee injury is considered career-ending by an NBA/NBPA-appointed physician. (Ball would still be paid, it just wouldn't count against the cap).
Sacramento Kings ($210,669 under the cap)
The Kings used up most of their cap space by signing Domantas Sabonis to a big four-year extension that ties him with the team through 2028. As long as they are competitive, they will likely pursue quality pieces with their Non-Tax MLE to support Sabonis and De'Aaron Fox. They will also likely try to keep Malik Monk and look at extension options for Davion Mitchell.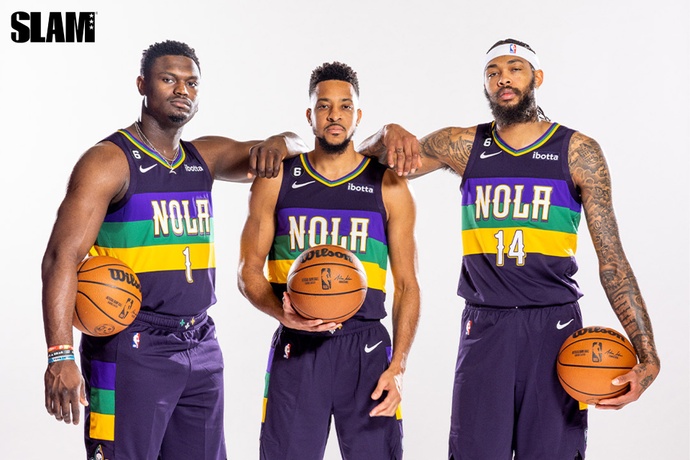 New Orleans Pelicans ($487,911 over the cap)
The Pelicans are fairly set with their core of CJ McCollum, Zion Williamson and Brandon Ingram under contract through 2025. Ingram and McCollum are both extension-eligible this offseason, but the Pelicans may wait on dishing out extensions to maintain flexibility under the tax. New Orleans must also monitor Jonas Valanciunas' free agency and a possible extension for Trey Murphy III.
Atlanta Hawks ($1,658,172 over the cap)
Similar to the Kings, the Hawks wiped away their cap space when they signed Dejounte Murray and De'Andre Hunter to four-year, $120 million and four-year, $90 million extensions, respectively. Already pushing past the salary cap, the Hawks may face a money crunch as they broach the luxury tax line. Retaining restricted free agents Onyeka Okongwu and Saddiq Bey next offseason may be tricky.
Los Angeles Clippers ($5,018,261 over the cap)
The Clippers are in an interesting spot with George and Leonard both needing new deals, which they will likely get despite their inability to stay on the floor. Many veterans with big salaries will come off the books next year, like Marcus Morris, Nic Batum and Robert Covington. The question is whether the Clippers will continue to commit significant capital to a roster that hasn't met its lofty expectations.
Miami Heat ($7,751,630 over the cap)
The Miami Heat are in a holding pattern with their roster as they engage in a Mexican standoff with the Blazers on a Damian Lillard trade, which could see them skyrocket into the deep tax. Outside of the Dame situation, Jimmy Butler will likely look for another big extension this offseason, which will pay him max money deep into his late 30s. They will also have to contend with potentially losing Caleb Martin, who has a player option for 2024-25.
Houston Rockets ($8,734,919 over the cap)
The biggest spenders of this past offseason, the Rockets made big moves for Fred VanVleet and Dillon Brooks. Houston could get back into the cap-space tier again if they choose to part ways with Kevin Porter Jr. and his non-guaranteed $15.9 million salary. Jalen Green and Alperen Sengun will also be up for extensions.
Cleveland Cavaliers ($11,399,749 over the cap)
The Cavs are pretty set going into the 2023-24 season and beyond with two max guys (Darius Garland and Donovan Mitchell) and key guys on fairly big deals (Jarrett Allen, Caris LeVert and Max Strus). They will likely give Evan Mobley a big extension next offseason, which could push them into the luxury tax in the near future. For next offseason, their only notable free agent is Isaac Okoro.
New York Knicks ($11,400,861 over the cap)
This morning, the Knicks inked Josh Hart to a four-year contract extension that pushed them over the cap for 2024-25. Their main concerns for next summer are Immanuel Quickley and Isaiah Hartenstein, who are both up for new contracts. They will likely be able to avoid the tax by declining their team option on Evan Fournier or trading his expiring contract for another expiring deal.
Dallas Mavericks ($13,566,153 over the cap)
The Mavericks are not likely to seek pathways to cap space next summer after doubling down on their trade for Kyrie Irving by re-signing him to a three-year, $120 million deal. They should look to retain Josh Green, who will be a restricted free agent. Luka Doncic's happiness looms over all of the Mavs' moves, as ESPN's Tim McMahon reported in April that the Mavericks are worried about Doncic potentially seeking a trade elsewhere as soon as next year.
Los Angeles Lakers ($15,380,636 over the cap)
The Lakers had a pathway to almost two max slots in the unlikely scenario that they decided to pivot from the LeBron-AD era. However, that option is out the window with them inking Davis to a three-year supermax extension that will keep him with the team through 2028. LeBron James' decision to stay with the team or leave will ultimately dictate how the Lakers approach spending next offseason.
Portland Trail Blazers ($20,567,876 over the cap)
Portland is in the midst of turning the page to a new era as they look to accommodate franchise cornerstone Damian Lillard's trade request. If they do end up trading Lillard, expect their cap numbers to come down slightly, but not enough to get any meaningful space. Whether Lillard is traded for the Miami package or something else, Portland shouldn't be a major player in free agency for a while.
LUXURY TAX TEAMS
Teams in this tier are currently projected to be over the salary cap and luxury tax. They have spending access to Bird Rights, the Taxpayer Mid-Level Exception (projected at $5,500,000), and the Veteran Minimum Exception.
Minnesota Timberwolves ($14,474,085 under the tax)
The Timberwolves have paid the luxury tax only once since 2007. They should be a tax team once again, with Karl-Anthony Towns' supermax extension and Anthony Edwards' max extension kicking in. In addition, Minnesota will need to use significant capital to keep players like Jaden McDaniels, Mike Conley and Kyle Anderson, all of whom will be free agents in 2024.
Golden State Warriors ($9,696,462 under the tax)
While the Warriors are currently under the tax, they are likely going to re-sign 2024 free agent Klay Thompson to a long-term deal at a lower number or at least use his Bird Rights to acquire another piece at a similar number. Golden State can cut some costs by releasing Chris Paul after the season, as his $30 million salary for 2024-25 is non-guaranteed.
Milwaukee Bucks ($6,142,529 under the tax)
The Bucks re-signed Khris Middleton and Brook Lopez to big-money deals, committing to the players who won them the 2021 title. Another one of those players, Jrue Holiday, is set to reach free agency and will likely demand max money. In addition, Giannis Antetokounmpo becomes eligible for a supermax extension of up to three years in October and can sign a four-year supermax extension next offseason.
Denver Nuggets ($6,732,627 over the tax)
The defending champs have their core of Nikola Jokic, Jamal Murray, Michael Porter Jr. and Aaron Gordon locked in through the 2025 offseason. They've already lost Bruce Brown and Jeff Green this summer and will be forced to work around the edges with Kentavious Caldwell-Pope potentially heading for free agency next summer.
Boston Celtics ($7,306,800 over the tax)
The trade for Kristaps Porzingis pushed the Celtics into the luxury tax for the first time since 2018, and that was before they signed Jaylen Brown to a five-year supermax extension. With Jayson Tatum's own supermax extension on the horizon next year, the Celtics figure to be a tax team, and potentially a second apron team, for the foreseeable future.
SECOND APRON TEAMS
Teams in this tier are currently projected to be over the salary cap, luxury tax and second luxury tax apron ($17.5 million over the tax). They have spending access to just Bird Rights and the Veteran Minimum Exception. The second apron was introduced in the new CBA and prevents teams from using the Taxpayer MLE, trading first-round picks seven years away, signing buyout free agents and taking back more salary than they send out in trades among other restrictions.
Memphis Grizzlies ($13,829,477 over the tax)
For the first time under owner Robert Pera, the Grizzlies will be paying the luxury tax. While Memphis probably won't reach the second apron, they are not likely to have enough spare capital to use their Tax MLE and be able to fill out their roster without going over it. Their core of Ja Morant, Desmond Bane and Jaren Jackson Jr. are locked up to big money, long-term deals that will keep Memphis among the league's biggest spenders for likely the next decade-plus.
Phoenix Suns ($27,039,607 over the tax)
Phoenix is by far the most limited team when it comes to spending, and they will be for the next few seasons after trading for Bradley Beal's behemoth contract. With four max contracts, including two supermax contracts, the Suns have blown through the second apron. Like this past offseason, the supporting cast around their core four will be mostly minimum-salary contracts.