The Utah Jazz didn't have a good time on Monday night.
Things turned late in Game 2, with the Dallas Mavericks notching a win behind a 33-23 fourth quarter. The Mavericks posted a 157.1 Offensive Rating in the quarter — yes, you read that right — and a slightly-worse-but-still-absurd 144.4 ORTG during clutch time
That's a 12-minute and 5-minute sample size respectively, but the number matched the eye. It was a bit perplexing to watch the Luka-less Mavs carve up the Jazz to this degree. The breakdowns were constant, and the Mavs shot well enough to slam the door shut.
And it's not like this was a back-and-forth affair down the stretch; Utah's offense pretty much died (85.7 ORTG during clutch time) behind a bunch of one-pass, one-shot possessions. It was pretty bad, y'all.
In light of #discourse starting about Utah's problems on both ends, I'm here to state the obvious.
It's everyone's fault right now.
There is not a single player responsible for Utah's woes on either end. It's not just one side of the ball. There's plenty to be cleaned up; the last four-ish minutes of Game 2 is all the proof you need.
Let's take a look at the film in the fourth quarter.
4:30 REMAINING: THE PAIN OF REJECTION
You have to give Jalen Brunson credit for doing his homework early. Brunson spinning away from Danuel House Jr. as he attempts to face-guard him sets everything in motion. After receiving the pass from Maxi Kleber, Brunson rejects the screen and drives left.
Rudy Gobert drops down to pick up the drive, though House is still trying to get reattached to Brunson. A late switch would've been a better in-the-moment read from House, but the scheme is the scheme. If they're in ICE coverage, Gobert is tasked with containing until House can get back.
(It is worth noting, though, that Gobert lets House have it after the basket. I'd assume he was upset with him getting burned on the reject and not executing a switch after getting burned.)
Beyond those two, the rotation from Bojan Bogdanovic stands out. Brunson has drawn two defenders — why the heck is he so late rotating over to Kleber?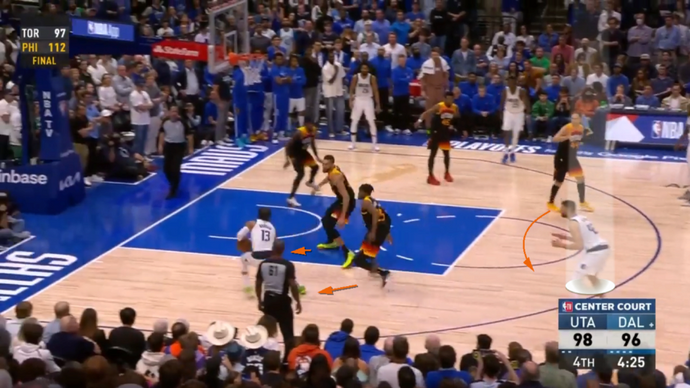 Bogdanovic stares the sucker down, but doesn't start moving towards Brunson until the pass is halfway there. It would be one thing if he was hugged up with Reggie Bullock; he had the Dorian Finney-Smith matchup.
4:10 REMAINING: FORCING THE ISSUE
One screen, one shot. Donovan Mitchell receives a screen from Royce O'Neale to draw the Spencer Dinwiddie matchup. He gains a little leverage on the spin, but Dinwiddie recovers and challenges the shot well. There was a little bit of contact, but it's telling that Mitchell got right up and retreated on defense instead of arguing about a missed call.
4:00 REMAINING: POOR CONTAINMENT
Whew, Donovan.
Mitchell sought Dinwiddie on one end, and Dinwiddie returned the favor (with no screen) on the other. Mitchell gets dusted, prompting Gobert to help down from the weak-side corner. That's objectively a fine decision — one that wouldn't be needed if Mitchell held up, but a fine decision nonetheless.
The issue, again, is Bogdanovic losing the plot as a helper.
He has Bullock this time, but is tasked with splitting the difference (zoning up between two players) after Gobert drops down. I won't call it gospel, but I'd say it's pretty common for the zoning defender to take away the corner pass first.
Dinwiddie deserves credit for both knowing that and using that knowledge to his advantage. He freezes Bogdanovic with his eyes, staring down Bullock before making the kick to Kleber.
3:18 REMAINING: MITCHELL BEAT AGAIN
Following a tough turnaround jumper from Bogdanovic to pull things within two (a one-pass possession), Dinwiddie calls for a screen to draw the Mitchell matchup again. Dinwiddie wins the battle with a spin and finish, fading to his right.
2:35 REMAINING: STRONG-SIDE HELP
After Bogdanovic gets another tough turnaround jumper to go, the Jazz find themselves pressing. House picks up Brunson full-court, but he's quickly erased by a screen from Bullock.
Mitchell has to pick up Brunson and... well, he gets beat off the bounce again. Gobert then helps down from the strong-side corner — generally a no-no on defense — and leaves Finney-Smith open in the process.
If help was going to come, it would've needed to come from O'Neale (what kind of dig was that???) or Bogdanovic. Neither did anything of substance in the possession.
2:15 REMAINING: HUNTING DINWIDDIE
Mitchell once again calls for a screen to bring Dinwiddie into the action. The Mavs give up the switch, but then spring a double on Mitchell to force the ball out of his hands and scram Dinwiddie out of the matchup.
Mitchell promptly swings it to Bogdanovic, who calls for a screen in an attempt to attack Dinwiddie. The attack fails, so Bogdanovic flips it back to Mitchell. He tries attacking Finney-Smith off the bounce, and it goes about how you would expect.
Towards the end of the drive, you'll notice Gobert exchanging sides. He ends up sealing off Brunson, but there's no real angle for a pass with Kleber sitting in the paint. There was also a potential outlet pass to a drifting Bogdanovic if Mitchell didn't like what he saw — though that would've put Bogdanovic in a tough spot to create late in the clock.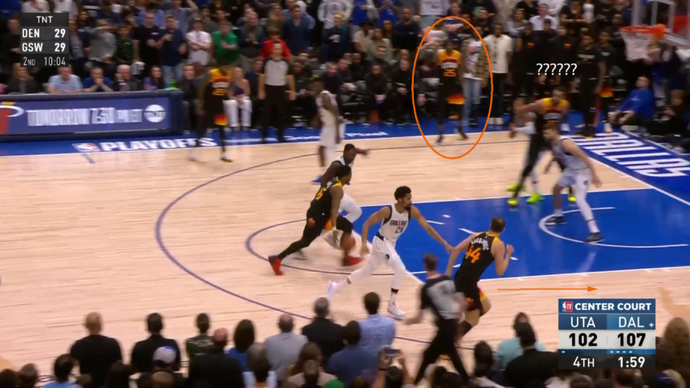 You'd think Gobert would either try to gain inside positioning on Kleber, or set a pin-in screen on Brunson to potentially set up a kick to the corner. But that effectively seals the game, because we got another one-pass possession after the dead ball.
It's a pretty decent action to spring Bogdanovic free, but Finney-Smith helps off of Mitchell on the catch. There was 6 seconds on the shot clock when the jumper was fired, so there was technically room to kick the ball out for Mitchell for a better shot. That's probably too much Monday morning quarterbacking to tap into though.
The larger point is that the Jazz shouldn't have been that late in the clock to begin with.
Zooming out, the Jazz did a poor job of forcing the Mavericks into tough positions. On the other end, the Jazz once again failed to contain the ball, which not only forced help, but also exposed how shoddy their rotations behind the help can be.
We got Bad Mitchell, Bad Gobert, Bad Bogdanovic. Bad House. Mike Conley is probably the only guy who didn't make a mistake, but his presence wasn't felt near the end of the game either.
The series is shifting to Utah now, but the return of Luka Doncic looms pretty large. The Jazz better get it together, or the blame game is quickly going to shift into (even more) trade talk.