On March 18, 1995, Michael Jordan shocked the sports world by announcing that he was coming out of retirement and returning to the Chicago Bulls with a short-and-sweet fax that read: "I'm back."
Almost exactly 27 years later, Tom Brady gave us the 2022 version of this fax, announcing that he was coming out of retirement and returning to the Tampa Bay Buccaneers with a short-and-sweet tweet that concluded: "Unfinished business LFG."
These past two months I've realized my place is still on the field and not in the stands. That time will come. But it's not now. I love my teammates, and I love my supportive family. They make it all possible. I'm coming back for my 23rd season in Tampa. Unfinished business LFG pic.twitter.com/U0yhRKVKVm

— Tom Brady (@TomBrady) March 13, 2022
Jordan sent his fax on a Saturday afternoon, taking attention away from the 1995 NCAA Tournament that had tipped off two days earlier. Brady sent his tweet on a Sunday afternoon, stealing the spotlight from the 2022 NCAA Tournament's Selection Sunday.
Rather than leaking the news anonymously or holding a press conference, both players took breaking the news of their return into their own hands. Jordan's agent, David Falk, has said that he wrote up several different press releases for Jordan to choose from, but MJ "didn't like the feel of them... He said, 'I'll do it myself.'
Email wasn't popular yet, so Alyson Sadofsky, Falk's director of media services, couldn't send out a mass message; each fax had to be sent individually (which entailed making a cover sheet, sending the fax and waiting for a confirmation receipt). The fax was sent to local media in Chicago as well as national outlets such as the Associated Press, ESPN, The New York Times and The Washington Post, and it took two hours to inform every publication.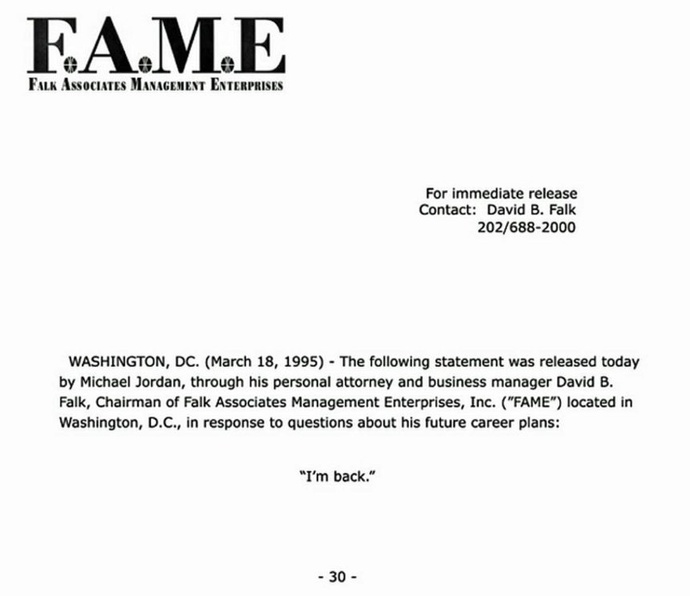 Last month, Brady was frustrated when reporters leaked news of his (short-lived) retirement before he could announce his plans, so it's no surprise that the seven-time Super Bowl champion chose to speak directly to his fans when it came time to announce his return. Using his iPhone, Brady posted the message on Twitter, Instagram and Facebook, racking up more than 3.2 million likes combined. Immediately, it became the top story on ESPN. And just like Jordan's announcement transcended the sports world, Brady's tweet was covered by basically every major media outlet (including ABC News, CNN, Fox News, The New York Times, NPR, BBC and The Associated Press).
Jordan was retired for 528 days, missing the entire 1993-94 NBA season and most of the 1994-95 campaign as he played minor league baseball for the Birmingham Barons. Brady was retired just 40 days, and he started dropping hints about a possible comeback less than a week after he announced that he was hanging up his cleats.
Neither comeback announcement came as a complete surprise. After all, Jordan had resumed practicing with the Bulls in the weeks before his fax, and there had been rumblings about a possible comeback. Brady was asked about the possibility of playing again on his podcast and responded: "You never say never." This led to rampant speculation about a possible return, but it was far from certain. Even Bucs head coach Bruce Arians didn't think Brady was coming back just a few weeks ago, saying, "That would shock me… I don't see it happening."