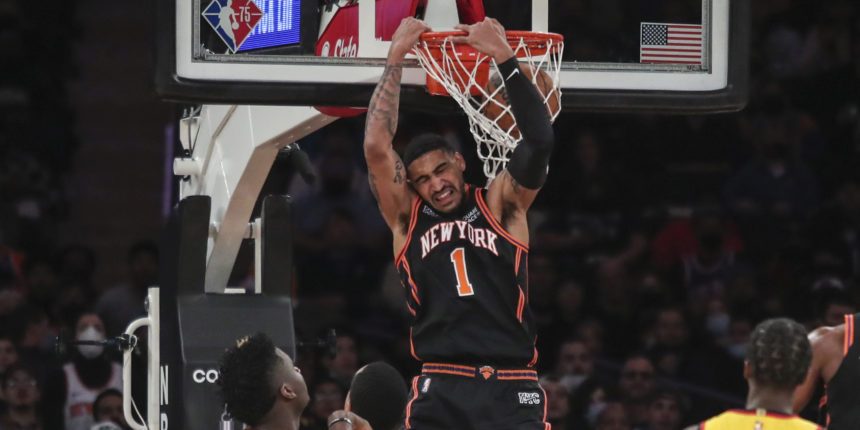 This is the opportunity Obi Toppin has been waiting for
Across the country, mostly in the living rooms of their parents' homes, the NBA's 2020 draft class sat with bated breath. Separated by physical proximity, they were united in their collective hopes and aspirations.
As expected, Anthony Edwards, James Wiseman and LaMelo Ball were the first three to hear their names called. And after the Detroit Pistons opted for Killian Hayes with the seventh overall pick, the New York Knicks were on the clock.
What was clear when the Knicks were picking at No. 8 was the perpetual truth: the team needed a point guard.
Instead, and rather inexplicably, they opted for another forward — the Brooklyn-born Obi Toppin.
Back on Nov. 18, 2020, Tyrese Haliburton was the right pick. And as he pushes incumbent De'Aaron Fox for lead guard responsibilities in Sacramento, at this moment, the same holds true.
But in the NBA, young players are like securities being traded on the New York Stock Exchange; today's value doesn't guarantee a future payoff.
And now more than ever, opportunity is knocking on Toppin's door.
On Thursday, Julius Randle was placed in the NBA's health-and-safety protocols. Slowly but surely, the sophomore highflier has forced head coach Tom Thibodeau to find minutes for him simply because Toppin's game impact and energy became impossible to ignore. He's taken full advantage of the lazy and uninspired effort of many of the team's players who were ahead of him on the depth chart. And now, he will go from being an afterthought to a feature attraction, even if only for a handful of games.
In the NBA, opportunities come and go. One minute, you're a rookie whose potential alone earns you adoration and admiration. The next thing you know, you're buried on the bench next to Kevin Knox.
Way back in 2009, the Knicks needed a point guard (surprise, surprise) and head coach Mike D'Antoni lusted over an undersized guard from Davidson University named Stephen Curry. The front office was all-in on selecting him as the mastermind of the team's offense, and the prospect was equally exciting to Curry and those close to him.
The only problem was that the Sacramento Kings and Minnesota Timberwolves had both indicated a want for depth at the guard position. The two teams owned the fourth, fifth and sixth picks. Ironically, the Golden State Warriors were perhaps the one team selecting ahead of New York that didn't appear to have a need at guard.
According to verteran reporter Marc Stein, the Warriors' ownership group traveled to Memphis to meet with promising third-year guard Monta Ellis to discuss his future with the team, including the fact that he would be handed the keys to the offense. This came after Golden State agreed to trade veteran Jamal Crawford to the Atlanta Hawks and received another guard prospect, Acie Law, in return. Aside from those two, the likes of Anthony Morrow and C.J. Watson were also demanding minutes. Curry was not believed to be filling a position of need in Oakland.
The prevailing sentiment was that Golden State would go big with its seventh pick, and when Curry was the selection, there was a belief that he would be included in a trade to Phoenix that would land Amar'e Stoudemire with the Warriors.
That obviously didn't happen, and needless to say, Curry quickly managed to work his way through the crowded rotation and become a truly revolutionary player.
He somehow managed to fulfill his mighty destiny wearing the jersey of a team that didn't seem to need him at the time.
Sound familiar?
It'd be crazy to compare Toppin, even at this stage, to Curry. But the soil must be tilled before the crop thrives. And if a player has that kind of potential in him, he'll make the most of his opportunity when it's presented.
For Toppin, now is certainly the time for him to begin to kindle.
In five of the six drafts between 2015 and 2020, the Knicks had a top-10 selection. They ended up with Kristaps Porzingis, Frank Ntilikina, Kevin Knox, RJ Barrett and Toppin.
Porzingis was obviously a good pick, and it's too soon to make any definitive declaration about Barrett or Toppin. But even with those three, it's impossible to not think of them in connection with another player who could have paid New York greater dividends.
It's easy to wonder what could've been if the Knicks ended up with the second pick in 2015 and selected D'Angelo Russell, particularly when Porzingis is now in Dallas. Donovan Mitchell and Bam Adebayo were selected after Ntilikina in 2017, while Shai Gilgeous-Alexander and Miles Bridges lead the pack of players who could've been donning a Knicks jersey rather than Knox.
As promising as Barrett has seemed at times, one must remember that the Knicks had the league's worst record in 2018 and that even the "consolation prize" of Ja Morant would've actually been the long-awaited savior. Had they won the lottery and selected Zion Williamson, Kyrie Irving and Kevin Durant may have landed at Madison Square Garden rather than Barclays Center.
Of course, none of this matters that much right now, but that historical context makes it impossible to ignore Haliburton's coming of age in Sacramento and compare it with the strides that Toppin has (or hasn't, depending on your perspective) made in New York.
Fortunately for Obi, his story is really just beginning.
And when we look back at it in the not-so-distant future, the opportunity that now avails could either be the beginning of the end, or the most important chapter.
When he heard his name called by Commissioner Adam Silver, Toppin was emotional. He vowed to do all he could to become a difference-maker.
He now has the chance to make good.